Today Samsung introduced another model that in determining a reasonable price can take over the market of mid-range smartphones. In the press release, the manufacturer emphasizes mainly the small, as for display with a diagonal of 5.25 inches, size of the Samsung Galaxy Grand 2 housing, as well as working in HD. In turn, in the pictures the attention is paid to the back cover which is covered with leatherette material, as in Note 3.
A 1.2 GHz 4-core processor (Samsung did not give the manufacturer), combined with a strong battery with a capacity of 2600 mAh are likely to ensure a long and efficient work in case of using any kind of media. Those who listen to music, watch movies and play - should be pleased. Of those who primarily call, I will not mention, because in this case the long work is rather obvious.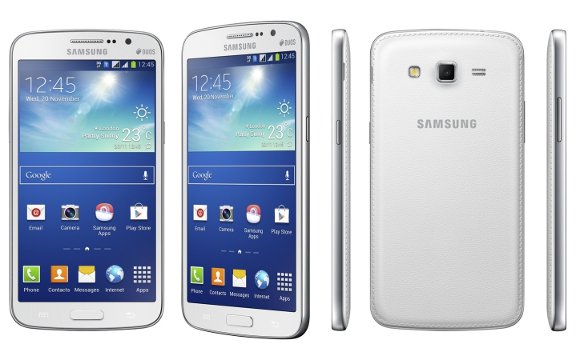 Samsung Galaxy Grand 2
photo: Samsung
Technical specification supplements the information about 1.5 GB of RAM and 8 GB of internal memory (remember that the user gets less by about 2 GB). You can of course use memory cards up to 64 GB. The camera has a standard matrix of 8 megapixels and the front camera - 2 megapixels. The device is running Android 4.3.
Samsung did not give all the technical details of the model Galaxy Grand 2, but the endorsement of HSPA+ indicates that the data transfer rate will be rather satisfactory. It's a shame that the display has a simple TFT matrix and not IPS, but perhaps it will cause that there will be a lower price of the smartphone in stores.
It is known that Grand 2 comes in three colours: white, black and pink. It is known, according to a press announcement by the manufacturer that it will support two SIM cards providing a maximum of 17 hours of talk time. It is not known where it will first appear and how much it will cost. We are waiting for further details.
Click here, to watch a quick comparison of the Samsung phones: Galaxy Grand, Galaxy Grand Duos and the most recent, also supporting two SIM cards - Galaxy Grand 2.