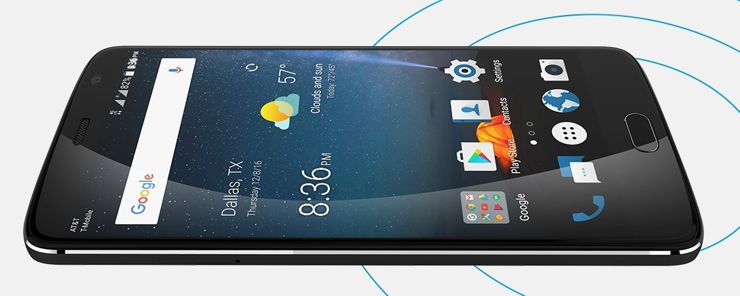 photo: ZTE
ZTE surprised us a bit. Contrary to predictions, it did not show the Blade V8 model, focusing on the second of the announced models, ZTE Blade V8 Pro. Besides it, ZTE announced still the crowdfunding campaign of an interesting Hawkeye smartphone.
Let's start with ZTE Blade V8 Pro. So, as announced, the phone received a 5.5-inch FullHD display with Gorilla Glass 3 2.5D and an octa-core Qualcomm Snapdragon 625 processor clocked at 2 GHz, supported by 3 GB of RAM and Adreno 506 graphics. The phone also has 32 GB of internal memory and a microSD card slot up to 128 GB. The battery has a capacity of 3140 mAh with a fast charging mode Quick Charge 2.0.
ZTE Blade V8 Pro is equipped with a dual camera with two 13-megapixel sensors, allowing to obtain the effect of blurring the background and to record 4K video. While the front camera has 8 megapixels. The smartphone of course supports LTE and DualSIM - but in a hybrid slot. The housing dimensions are 155.96 x 76.96 x 9.14 mm, and weight of the phone is 185 grams. The phone is valued in pre-sale at $ 229.98.
In addition to the new ZTE Blade V8 Pro, the Chinese company also announced the launch of crowdfunding campaign on Kickstarter, aiming to start production of the Hawkeye smartphone. The project is called CSX and assumes the start of phone deliveries in the third quarter of this year. In 2016 ZTE asked users about the new features they would like to see in mobiles. There were chosen a few - and on this basis there was designed Hawkeye.
The phone is to have some unusual solutions. One of them is "the back", which you can attach your phone to a flat surface, eg. a mirror or glass in the car. In addition, the phone is equipped with a tracking of your vision, allowing you to control your phone using eyes - hence the name of the model. In addition, the phone is expected to receive a large, fast-charging battery, a fingerprint scanner and a 5.5-inch FullHD screen. There will be also DualSIM, Hi-Fi sound system and a dual camera with zoom - although in the pictures of the project it cannot be seen. The phone price is projected at $ 199.
Source ZTE and Kickstarter; viewed: 1674 times.