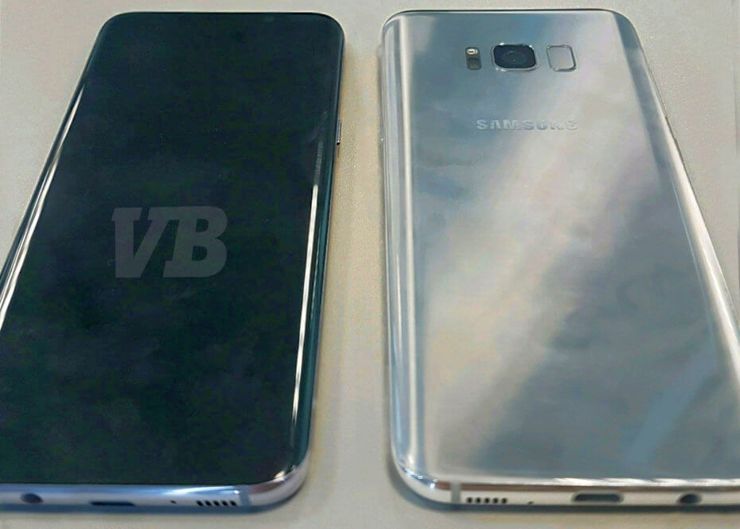 photo: Venturebeat
A new photo that is supposed to show Samsung Galaxy S8 has just appeared on the Internet. However, this time it comes from a source that is widely considered as a credible one – from Evan Blass, who in the technology world is considered as an almost a cult figure.
Evan Blass is known from short, laconic information about upcoming devices, and his "prophecies" were accurate in most cases. That is why this leak is worth being treated seriously, though still with some reserve.
Besides showing the photo, in his article (this time a surprisingly long one) Blass summarizes the most important information about the new flagship from Samsung. However, he does not specify which of them he is 100% sure about, but again I would refer to the reputation of the author. I do not think that he would risk his opinion with publishing fantasies – especially that he partially based his information on The Guardian.
And moving to more specific things: Galaxy S8 will be available in two versions, with 5.8 and 6.2-inch displays. Both of them will be bent, created in the Super AMOLED technology with the QHD resolution. Displays have unusual proportions – 18.5:9 and the technology of recognizing the level of finger pressure. Blass mentions that the smartphone will have different CPUs – for example Snapdragon 835 or the new Exynos – depending on the market. The phone is supposed to be 11% faster than S7, with a 23% more efficient graphics and being 20% more power saving at the same time.
Both models will differ with batteries – they will have 3000 and 3500mAh respectively. Both will have 4GB of RAM and at least 64GB of internal memory with the option of enhancing them with 256GB cards. The phone will have USB-C sockets but it will have the minijack.
On the equipment list we can find an 8-megapixel selfie camera and a 12-megapixel main camera, in both cases with f/1.7 lenses. In the camera software there will be icons for quickly running QR codes, texts or business cards scanners. There will be a retinal scanner as well.
The biometrical scanner – because of the lack of the "home" button will be moved to the upper wall. However, it will be unusually placed – next to the camera lens. Will it be comfortable? Blass mentioned another function that is supposed to be in S8 – that is DeX, which is a docking station that will change the phone into a desktop computer. He mentioned about the Bixby voice assistant that will have a dedicated button and is supposed to be better than the competition, supporting even complex commands.
At the end Blass confirms that this year's flagship will not be seen at MWC in Barcelona. The launch will happen on the 29th of March in the New York City and the sale will begin at the 21st of April. The prices will be 799 and 899 euro.
Source: Venturebeat; viewed: 866 times.