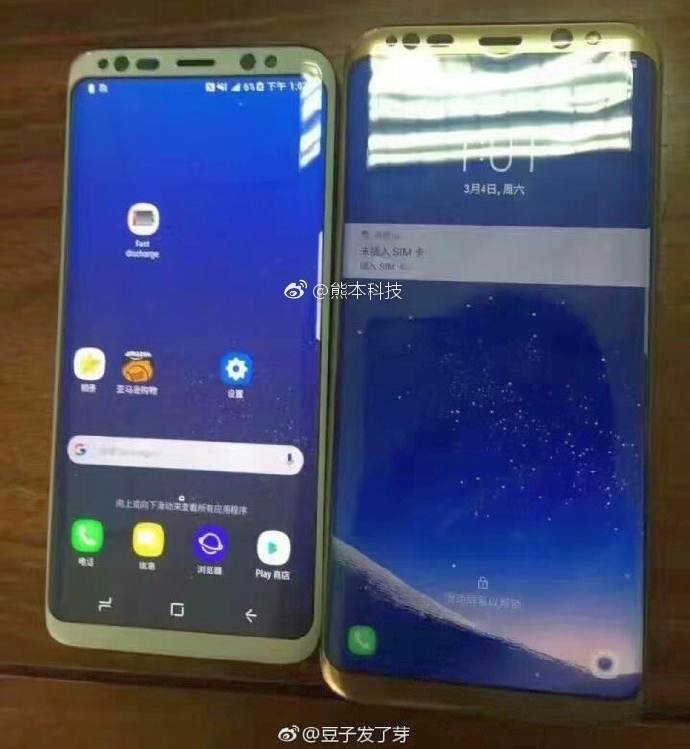 fot. Weibo via Androidpure
We start another week with a new leak on the upcoming Samsung's flagship.
How many colours?
A few days ago, Roland Quandt announced that Galaxy S8 will be offered in black, silver and purple. But it seems that these will not be the only colour variants of this model. The range of colours for both base Galaxy S8 and Galaxy S8 Plus can be wider. This is shown even in the picture that I present to you today.
Gold – only for Plus?
In the photo we can see Samsung Galaxy S8 and Galaxy S8 Plus with a white and gold bezel around the screen. There weren't shown the rear of phones, so we can only presume that these will be additional colours, in which will be offered in two models. Of course – a light frame may be accompanied by a silver colour version, but in the case of gold - such dilemmas are gone. It will be a separate variant reserved for the version with a plus.
Crowded above the screen
Besides the colours, once again, we can look at the narrow bezels around the screen, virtual buttons of the system interface and the "crowd" in the bar over the display. We've got light and proximity sensors, certainly the front camera and the iris scanner. One of the visible elements remains a mystery to me - it may be a LED flash...?
Source Androidpure; viewed: 1141 times.