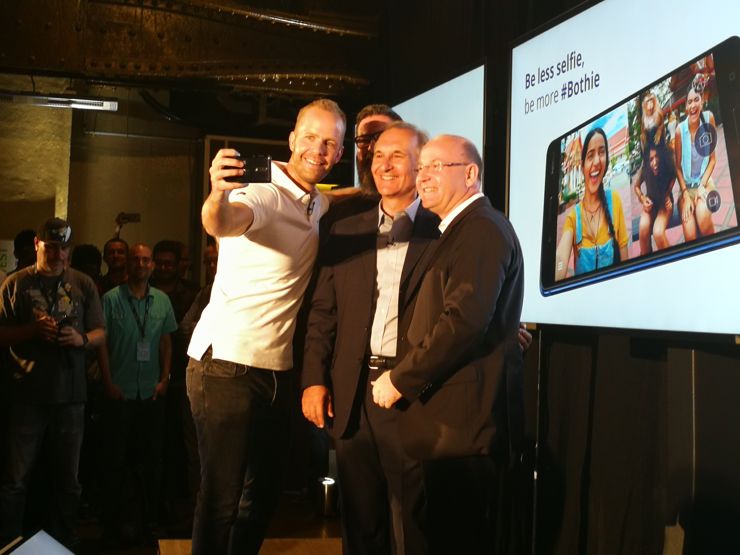 photo: Jolanta Szczepaniak/GSMchoice.com
HMD brought Nokia back to life and presented the long awaited flagship, Nokia 8. Here are our first impressions.
You have already seen Nokia 8 on the renders and various unofficial photos, which we were not sure if they actually represent the latest unit in the portfolio of Nokia? Now, with full certainty (and pleasure) we present the original, latest in the offer HMD Global, model Nokia 8. It will be available in four colour versions, from September for 599 euro.
Specification was no more a mystery, numerous leaks have revealed the most important technical specifications. Now we can verify it:
Android Nougat 7.1.1
Qualcomm Snapdragon 835 processor
5.3 inches WQHD display (554 ppi)
Corning Gorilla Glass 5
4GB of RAM
64GB of buily-in memory
13-megapixel, dual camera with Zeiss optics
13-megapixel front camera
Nokia OZO Audio technology
Dimensions: 151.5x73.7x7.9 mm
Weight: 160 g
And how does the physical contact with Nokia 8 look like? The phone definitely presents great in hand. It has a comfortable contoured rear panel and after a short contact I can say that it is ergonomically designed - I had no problem with reaching with fingers to the physical buttons and a fingerprint scanner, and while holding the device in landscape orientation I did not drown the speaker and I did not cover the finger of the camera. I must say that the smartphone is a bit slippery. But I have no objections to the software, the time that I had in hand the premiere copy, everything worked quickly and smoothly. This includes the lack of overlays, and thanks to HMD's cooperation with Google we can expect instant updates - including Android 8 as soon as it's on the market.
The multimedia, photographic and communication capabilities of Nokia 8 will be checked during our actual test, during the conference conditions it is not possible – it's too loud, too big crowd. But we have received a copy for testing - we will certainly check it out :) A feature that is strongly emphasized is the dual-sight function, which combines the image from the front and main camera, which can be used during video recording and while taking photos (it was named #bothie ). The second novelty is OZO Audio - a spatial sound, recorded by three microphones, working with acoustic algorithms. The 3090 mAh rechargeable battery is compatible with Quick Charge 3.0.
In terms of construction and quality of workmanship we get a top-notch device. The casing is made of one piece of aluminum, which has an average thickness of 7.3 mm, with edges only 4.6 mm. Available in four shades: Polished Copper, Polished Blue and Matte: Tempered Blue and Steel. In the case of these glosses, there may be a problem keeping them clean, so for future buyers I would rather recommend matte versions. The front bezel remains black, regardless of the colour of the rest of the casing.
Nokia 8 is definitely a strong flagship that can compete with high-pitched competition. It has everything we expect from a modern smartphone, and its price does not deter. The copy is already in our hands for testing, so soon we will provide more detailed information about the premiere model of Nokia.
Source: GSMchoice.com; viewed: 897 times.