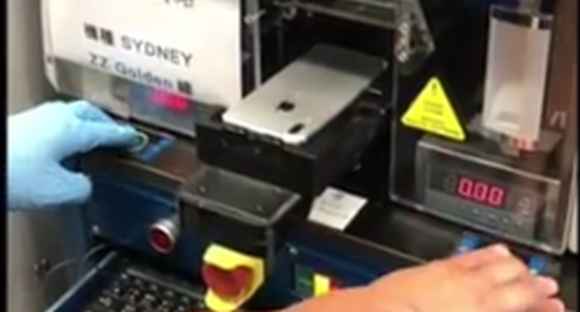 photo: Slashleaks via YouTube
The leaks on the iPhone 8 could be described with the title of the song from the previous years: "The Never-ending story" ... Today another "sensation" - to watch.
Slashleaks publishes a video on its YouTube channel to show the iPhone 8 on a production line, and more specifically on a bench test. You can see the machine in which there is placed the phone. The operator pulls the phone out of the drawer, touches – attention - the fingerprint reader placed on the smartphone back, and then looks at the screen where hundreds of digits scroll as in the Matrix. It is a sensation, isn't it?
The film is interesting, it carries important information about the reader in the iPhone 8 ... but do you believe it? I remain very skeptical. I do not believe anyone just went into the iPhone production line and calmly (no shaking hands ...) recorded a 10-second video, cutting off a chat with the employee. Impossible - but easy to explain: instead of the iPhone 8, we watch its clone going down from the test line. The fact that Chinese factories are sweating their heads now producing hundreds of cell phones that resemble an iPhone in some way - is obvious. Definitely more obvious than the fact that someone is strolling through Apple's production plant with a smartphone and is recording videos that are then posted on the web so we have something to write about and you can watch it. So shortly: how do you think - true or false?
Source Slashleaks przez YouTub; viewed: 545 times.