CAT S62 Pro is a device with increased durability, intended for a specific group of professionals. Its brightest star is the FLIR thermal imaging camera. What else does the CAT Phones smartphone have to offer?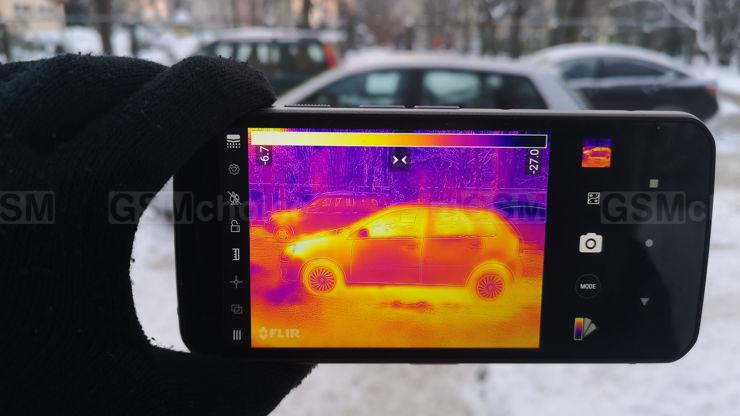 CAT smartphones (manufactured by Bullitt Group) have been on the market for many years and consistently target customers looking for durable devices for work, which are sometimes equipped with less obvious elements - for example thermal imaging cameras. CAT S62 Pro is not a universal device - it is a tool that has a specific task and is targeted at a specific group of professionals. Which, of course, does not prevent any amateur who would like to have a phone that detects heat at hand. CAT S62 Pro, in addition to the reinforced housing, FLIR sensor and the highest IP level, offers a 5.7-inch Full HD+ screen, which can be used with gloves, and is powered by the Snapdragon 660 processor, supported by 6 GB of RAM.
Compared to previous smartphones (CAT S60 and CAT S61) equipped with a thermal imaging camera, CAT S62 Pro is the most polished, has the best specification, the least bulky appearance and provides the most accurate measurements. It is also not the cheapest device - on the day of its launch, its price was 649 euros. Overall, compared to other rugged smartphones with specialized equipment, CAT S62 Pro is definitely one of the best devices.
Table of Contents
Packaging and accessories
The yellow and black, specifically decorated package contains an 18 W charger, a USB cable, some papers and a pin for opening the SIM/microSD tray.
Construction and screen
CAT S62 Pro is a rugged device, which translates into a more bulky structure and more weight. The phone is more massive (11.9 mm thick) and heavier (248 g) than modern smartphones, although some efforts were made to keep the line. There are no bright colours, protruding rubberized construction elements or a mass of unnecessary embossing, and the "strong" character of the device is emphasized by screws on the side edges and an area on the back panel with a rough finish, which guarantees a more secure grip. The device is a combination of plastic, aluminum and glass, which is solid but does not show its character excessively.
The screen has a diagonal of 5.7 inches and a resolution of Full HD+ (2160x1080 pixels), which gives a pixel density of 424 ppi. It gives good colors, supports a typical refresh rate (60 Hz), provides wide viewing angles and can be used in any orientation wearing glasses with polarization - the screen does not darken in either the horizontal or vertical orientation of the screen. The real downside, however, is the brightness level of the screen - you couldn't see much on the screen in the sun. Which is quite disappointing considering CAT S62 Pro is a device intended for outdoor use.
The screen is surrounded by powerful frames - the upper one has a selfie camera, sensors, a three-colour notification LED and a speaker for calls, the lower one remains devoid of any elements. The frames are so large that the screen takes up about 70% of the front panel. Modern smartphones fill more than 90% of the front with the screen, so the difference is significant. The smartphone can be operated with gloves as well as wet fingers. Let's add that the screen is protected by Gorilla Glass 6, there is also a foil glued here.
The backs are made of rubberized material, which partially has a smooth finish, and partially has a rougher texture to ensure anti-slip properties. And in fact, the phone will not run on not completely flat surfaces, nor will it slip from your hand by accident. In the upper part, on a noticeable protrusion, there is a module with cameras - the upper one is a FLIR sensor, the lower one is a 12-megapixel photo camera. A little lower is a LED flash, which also works as a flashlight. Closer to the center of the rear panel, there is a round, deeply recessed fingerprint scanner that works accurately, but relatively slowly. What's more, it is the only biometric security - the smartphone does not offer facial recognition. There is also a discreet brand logo here.
On the edges of the device you will notice a stripe of aluminum, interrupted by antenna stripes and screws located in several places. It includes physical buttons as well as all holes and connectors. And so on the upper edge you can see the microphone hole for noise reduction, on the right side there are buttons for volume control and the on/off screen, and on the lower edge - the microphone hole, USB-C port (USB 2.0, OTG) and an external speaker. Unfortunately, there is no headphone jack - a pity. In addition, I do not quite like the arrangement of the buttons - holding the phone in my right hand, I have a volume down button under my thumb, while there should be a key to unlock the screen. I thought that after a while I would get used to this solution - but no, the layout of the buttons annoyed me the whole time I used the phone. The upside is that all buttons are large and easy to use even with gloves.
There is the left side, on which the attention is drawn to the orange button, which we can program at our discretion - for the PTT, SOS functions, starting the flashlight or launching the selected application. In principle, you can program two actions - for a longer hold and a double click. The last element is slightly higher - a cover that hides the tray for SIM/microSD cards. Removing the cap does not require any pin or a similar tool, but removing the tray will unfortunately not be possible without it. The tray holds two SIM cards and a microSD card in a hybrid solution.
Thermal imaging camera
The thermal imaging camera - in this case it is the FLIR Lepton thermal imaging sensor, mounted above the camera - is intended for professionals - builders, rescuers - and here I have no right to comment on the effectiveness and accuracy of this element's work. For me, it was primarily a curiosity that allows you to look at the world from a completely different angle.
Thermovision in a smartphone is a great gadget for both more practical and purely entertainment applications. In fact, I used this camera more than my normal photo camera. I was able to look for thermal bridges and check the tightness of the heating installed on the block. I was able to check which cars in the parking lot came as the last ones (i.e. they have not had time to cool down yet) or how much the phone or laptop is warming up.
There are many applications for a thermal imaging camera, not only in the entertainment aspect - it is a specialized, precise tool that will show its full potential in the hands of a professional. Especially that thermal imaging sensors detect the heat emitted by objects and people without relying on visible light - thermal sensors can see in complete darkness and despite obstacles such as fog and smoke. Practical applications include locating electrical short circuits, hot spots, leaks, sources of moisture, etc. In pandemic times, the best use is to measure body temperature remotely, without even having to approach the person. However, let's add that the manufacturer points out that the thermal imaging camera is not a medical diagnostic tool and should not be a substitute for a real thermometer.

From the technical side, we have here the FLIR Lepton 3.5 sensor - it is the radiometric core of the FLIR thermal imaging camera with the highest resolution (160 x 120) in the Lepton family of sensors. As a result, it provides greater detail and quality of the thermal image. The sensor is to operate in the temperature range from -20 to 400 degrees Celsius. It is also supposed to detect heat sources at a distance of up to 30 meters. It also gives the measured temperatures with a tolerance of 5 degrees Celsius. Compared to the sensor in the previous model, CAT provides better image quality (4 times more pixels).
An essential complement to the sensor is MyFLIR Pro. Apparently, this software has been developed exclusively for the CAT S62 Pro model for 12 months - it means that you will not find this technology anywhere else. The application not only allows you to take photos and recordings - there is also a whole lot of additional functions. It allows you to prepare stop-motion animations, you can also stream video to YouTube live. Thermal images can be combined with images from a 12-megapixel camera - this is MSX (Multi-Spectral Dynamic Imaging) technology. It allows you to adjust the intensity of image detail and edges superimposed from the camera image onto the thermal image, providing overall situational awareness and context. In addition, the application provides VividIR - it is a FLIR image processing technique that improves its quality.
MyFLIR PRO can display several types of image: only from a thermal camera, combined with linear detail superimposed on the image (MSX), with an overlay of thermal and visible images (Alpha Blending), and only from the main camera. In MSX and Alpha Blending modes, you can additionally use sliders that allow you to align the thermal and visible image and change their intensity.
The user can also choose from different colour filters for the thermal imager - the default is Iron, but there are a total of nine options that are displayed as live thumbnails. What's more, you can place points and wider areas for temperature measurements (in the form of moving and scalable rectangles, circles or lines) on the images.
Using the thermal imaging camera is simple and intuitive - just launch the application and point the sensor at the area or object you are interested in. You can see that the application can load the components quite a bit, and the image appears with some delay, but it does not interfere with the use of the phone and thermal imaging in any way. The work of the FLIR module results in images with a resolution of 1440 x 1080 pixels and Full HD video. There is even an application that presents photos and recordings made with a thermal camera (Gallery). Here you can generate reports on the infrared image (date and place of measurement, temperature range, etc.).
Strength
CAT S62 Pro is a rugged device - which means that it is to withstand contact with dust and water and is to be resistant to falls and extreme temperatures. Without it, it is difficult to imagine the use of this smartphone in more difficult conditions. The smartphone has military certification MIL-STD-810H and IP68, and has Gorilla Glass 6 on the screen. In theory, CAT S62 Pro is to withstand a fall from a height of up to 1.8 meters and can survive submerged to 1.5 meters for 35 minutes . It is also resistant to vibrations.
The device can be used in the operating temperature range from -25°C to +50°C. According to the documentation for this model, CAT S62 Pro will also withstand extreme temperature changes: very quick transfer from a cold place to a hot place and vice versa. The manufacturer only adds that it should not be used in temperatures outside the range of 0°C to +45°C without protective gloves.
And in practice? The smartphone was left for 30 minutes in the aquarium, I washed it under running water, it survived several falls (one left a slight mark on the metal corner), it was also used to sweep away snow. It wasn't spared in any way... and still works fine.
System and applications
CAT S62 Pro comes with Android 10 with security patches dated October 1, 2020. This does not necessarily affect the chances of receiving an update to Android 11, but who knows? Nevertheless, the manufacturer announces that he will appear. The operation of the system itself was most often correct, although several times within three weeks there were automatic shutdowns of an application or an interface, and most often it concerned activities related to installing and working with external applications.
There is no overlay provided by the manufacturer, the modifications consist in the presence of an additional, pre-installed software (related to the FLIR sensor, as well as the camera and Toolbox application, i.e. applications recommended by CAT) and additional personalization elements (wallpapers) and in settings (e.g. configuration of a programmable button) ). CAT S62 Pro also supports Android Enterprise features, including Zero-touch, which enables easier management of Android devices in the company. The smartphone will not be the best device for multimedia fans - it supports Widevine at the L3 level, which means that the quality of the streaming video materials will not be of the highest quality.
Sound
The smartphone is equipped with a single speaker on the bottom edge. It produces a loud sound without low tones. Unfortunately, the phone lacks a universal headphone jack, so to connect headphones you need to get a wireless set, headphones with a cable terminated with a USB-C port or a mini-jack to USB-C adapter.
Photos and video
On the back panel there is a small photo module that houses, firstly, the FLIR camera, and secondly, the main camera for traditional photos. If you want more cameras then I have to disappoint you - that's it. CAT S62 Pro has only one 12MP camera with f/1.8 aperture, supported by a LED flash.
The 12-megapixel camera provides photos of satisfactory quality in good lighting conditions. However, as for a smartphone costing over 600 euros, it will not impress with the sharpness, exposure and dynamic range of photos, as well as their quality in lower lighting. It is a fact, taking into account the price segment, the CAT S62 Pro model does not stand a chance against the competition, but the device has a different purpose and equipment, justifying a relatively high price. The camera can record video in UHD quality at 30 frames per second.
The camera app provides practically only the basic functionality - there is HDR, a self-timer and several color filters, while the operating modes offered include portrait, photo, video and slow motion.
There is a selfie camera on the front panel - it has a resolution of 8 megapixels and is placed within the upper frame. The photos taken with it are of a decent standard, sometimes the colors are slightly washed out and are not well exposed. But most of the time I had nothing to complain about. Moreover, the camera can record video in Full HD resolution at 30 frames per second.
Communication
The smartphone provides the most popular communication options. There is a Bluetooth 5.0 module, NFC for contactless payments, Wi-Fi in the 802.11a/b/g/n/ac standard operating in the 2.4 and 5 GHz band and navigation supporting GPS, Beidou, Galileo and GLONASS systems. There is a round fingerprint scanner and a FLIR sensor on the back panel. I had no problems with any of these elements.
From the physical connectors we have USB-C (USB-OTG) and slots for SIM and microSD cards. Unfortunately, there is no universal headphone jack.
Voice calls
The quality of connections in CAT S62 Pro is at a good level. The microphone had no problems picking up my voice, and interlocutors could hear me loud and clear. Video calls via Skype/Facebook Messenger, i.e. with the use of the front camera, were equally seamless. It is worth adding that CAT S62 Pro supports both VoLTE and WiFi connections. Unfortunately, it is not possible to record voice calls.
Memory and performance
The smartphone is equipped with 128 GB of built-in memory - of which the user actually has 107 GB after the first start. It is an eMMC memory, so relatively slow - for a smartphone for almost 3,000 we should definitely get UFS memory. In addition, at the expense of one of the SIM cards, you can install a microSD card with a maximum capacity of 256 GB.
The specification does not knock you on your knees, but in fact we are not dealing with a smartphone in which performance would be a priority. The smartphone drives Snapdragon 660, a Qualcomm processor, which was produced in the 14 nm process and made its debut really long ago - in May 2017. It is supported by the Adreno 512 chip and 6 GB of RAM. This combination provides sufficient performance on a daily basis, although the responsiveness, smoothness and speed of the interface are not very exciting. I suspect that this is due not only to the processor, but also to free memory. In practice, I noticed some slowdowns mainly when working with many applications. CAT S62 Pro is noticeably worse when playing, which can be seen mainly in the smoothness of the animation (Real Racing 3 and Asphalt 9). On the other hand, the so-called "casual" games are not a challenge for him. It is worth adding that the reviewed CAT does not tend to heat up during intensive work.
Battery
CAT S62 Pro has a battery with a capacity of 4000 mAh. Neither the screen nor the processor are energy-efficient, and yet the smartphone can provide satisfactory working times. In practice, on average, I achieved 1.5-2 days away from the charger.
working time with the screen on (YouTube, 1 SIM card, active Wi-Fi module, 50% screen brightness, minimum sound level) - 18 hours and 9 minutes,
PC Mark battery test result - 13 hours and 55 minutes,
Geekbench result (full discharge, dim screen) - 5519 points, discharge after 9 hours and 30 minutes,
an hour of video streaming (Chrome, 1 SIM card, active Wi-Fi module, 50% screen brightness) - 7% battery less.
an hour of playing videos from the phone's memory (airplane mode, company player, 50% screen brightness) - 6% battery less,
half an hour of online navigation - 5% less battery,
half an hour of playing Real Racing 3 - 10% battery less,
12 hours in standby mode - 8-9% less battery.
While the runtime is decent, it will take just over 2 hours for the battery to charge. After 30 minutes, the state of charge is 32%, after an hour - 61%, after 90 minutes - 84%, and after two hours it is exactly 95%. The last percentages increase the slowest. Unfortunately, there is no wireless charging here.
Summary
CAT S62 Pro isn't the only smartphone on the market with an integrated thermal camera - other models include the Blackview BV9800 Pro or the UleFone Armor 9, for example - but it's arguably the best smartphone available today with such features. In addition, it is a niche product, designed for people who need thermal imaging integrated into a rugged smartphone. And certainly in this niche CAT S62 Pro will be an excellent choice. Other people, having several hundred euros at their disposal, will rather choose a more mainstream model.
Pros and Cons
Pros :
FLIR Lepton 3.5 thermal imaging camera
extensive MyFLIR heat measurement application
durable construction and appearance not suggesting the intrusive nature of the phone
dustproof and waterproof (IP68)
MIL-STD-810H certification
Gorilla Glass 6
loud external speaker
customizable button on the left edge
dual SIM support
memory card support
NFC
good working times
Cons
ergonomics - it's about the buttons on the right edge
no headphone jack
does not have the features offered by its predecessor, e.g. rangefinder and air pollution sensor
screen brightness and sunlight visibility
free internal memory
average camera
processor over 3 years ago
no face recognition
no wireless charging
Source GSMchoice.com