This is a smartphone for those, who – literally – like to shine. This is a middle-price shelf model with a big display, four cameras and a large battery, which will prove itself both in work and in more entertaining usages.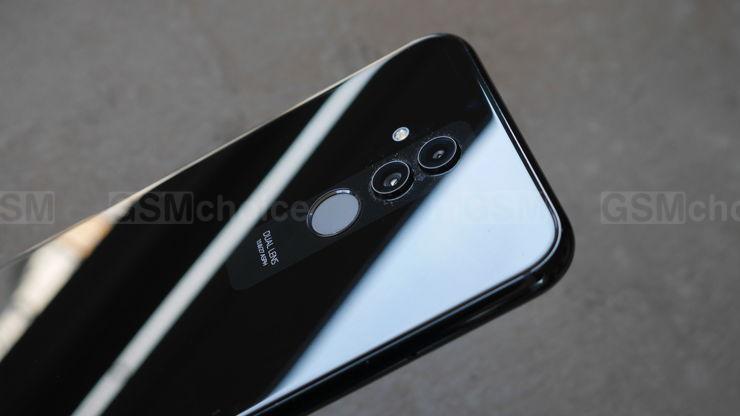 Huawei Mate 20 Lite is a model for those who like displays with a large diagonal and looks that attracts attention. This is a downgraded version of the business Mate 20 model and a direct successor to the popular Huawei Mate 10 Lite model. It offered a decent specification, high quality of construction and was reasonably priced. In addition it was supported with a solid marketing campaign and a wide availability in mobile network operators, which led to a success. Expectation for this review's model are high in comparison to such a predecessor. Will Mate 20 Lite meet them?
Contents
Packaging and accessories
Huawei has placed in the box, along with the smartphone, a charger (9V 2A), USB-USB-C cable, needle for opening the SIM cards tray and earphones with a remote (only a button for receiving calls and the microphone's hole). The manufacturer adds a protective foil to the set – it is a pity that there is no transparent etui, then the protection from mechanical damage would have been more complete.
Housing and display
As we all know, assessing the external looks depends on one's personal preferences – I consider it as a definitely positive one. At the front the smartphone cannot be distinguished with anything in particular. It has a display with prolonged proportions (19.5:9) surrounded with a rather narrow bezels, there is of course the notch as well – basically it looks just like many contemporary smartphones (it is basically as identical as Huawei P Smart+). But when you look at the back of Mate 20 Lite you will change your mind right away. Because from this perspective, the described smartphone looks great. There is a shiny glass panel, on which (on a slightly accented strap) there are centrally placed dual camera and a fingerprint scanner. The whole looks neat and lies in hands comfortably (of course for a 6.3-inch display device). There are of course some disadvantages, characteristic for all glass smartphones – the device is slippery, there can be some fingerprints on the housing (though oleophobic layers work rather well), the whole can scratch as well. I consider the device as a handy one, though of course with an over 6-inch display using it with one hand is slightly difficult.
6.3-inch display deserves to be praised. Mainly it has a high diagonal – it is great for watching videos, reading e-books and working in the divided screen mode. It has great colours, high sharpness (the resolution is 1080x2340 pixels, which gives around 400 ppi) and good brightness levels, both the minimal and the maximum one. In addition the user can change the colours mode and temperature, set a blue light filter, change the resolution and hide the notch. There can be some problems with glasses with polarizing filter – in the vertical orientation there are problems with reading the display – in horizontal orientation this problem does not occur.
The display is surrounded with rather narrow bezels – in addition, the upper one "goes into" the surface of the display, creating the controversial notch. In it we can find the speaker for calls, dual camera for selfies, sensors and a small notifications LED (under the speaker's grill). It is hidden in such a way that it is easy to miss notifications and we can basically see it only when we are looking at the phone straight from above – but it is good that it is at all.
The front camera is responsible for one of the biometric security – the facial recognition function. I have no concerns towards it, it works rather good and cannot be deceived. It works with the "Pick up device to wake up" feature, thanks to which we just need to raise the phone to unlock it – the rest will be done by itself.
The back of the smartphone will be liked by fans of glass surfaces – here the shiny panel in the black colour ensures that the device looks elegant. Our attention is drawn mainly to the upper part of the panel, in which there is the camera and the fingerprint scanner. The camera is a dual one and is placed in two separate "eyes" that stand slightly above the housing. The dirt likes to gather around it. Under these eyes there is the fingerprint scanner, placed slightly under the surface of the phone. It is easy to feel it, it is fast and precise (and a multifunctional one, it can be used not only for unlocking the display, but for securing access to files or using the system as well). Even lower we have information about the camera. There is of course a LED flash as well – it can be found on the left side of cameras.
Glass panels are connected by an aluminium frame. It is arced and highly polished, sometimes intersected with antennas' straps – and it adds to the smartphone's handiness. There are additional elements on it, thanks to which the smartphone can work properly. On the right edge there are two physical buttons – for volume control, in the form of a single bar and for turning on/locking the display in a slightly smaller button. They are made out of plastic, but it is easy to feel them and have a good "click". On the lower edge there is a universal jack, USB-C socket, microphone's hole and holes suggesting the presence of an external speaker. On the upper edge the only element is the small hole of the additional microphone. There is only the right side left, on which there is a tray for SIM and microSD cards. This is a hybrid solution, so we can either place two nanoSIM cards, or a SIM card and a memory drive.
System and applications
Huawei Mate 20 Lite works under Android 8.1 Oreo with the EMUI 8.2 add-on. The interface does not add anything new when it comes to previous Huawei models with the EmotionUI add-on. I consider this as one of the best – though it strongly interferes with the system, it is aesthetical, intuitive and it offers a lot of useful options in comparison to pure Android.
Basically the system works well, though with seldom errors and lags in apps (Camera and Chrome). But probably the manufacturer will manage to enhance them (or better optimize the system) in future updates. There is a lot of interface personalization options, gesture supports (though without a popular double knock to wake up the display), choosing the screen mode (with or without apps menu), tools for controlling apps' work in the background, as well as power management, app cloning, working on a divided screen…
As far as system's capabilities can be assessed positively, I do not enjoy the set of preinstalled apps – I am talking mostly about third companies apps – there is too much of them and they are totally useless. And we will find here Booking.com, eBay, Netflix, Amazon Assistant, and in addition five games: Asphalt Nitro, Kingdoms, Dragon Mania, Puzzle Pets and Spider-Man: Ultimate Power. Fortunately, we can uninstall all of them. I am not overly fond with the set of apps signed by the manufacturer. There are some apps that I would definitely keep, like the music player or files manager. But on the other hand, there is a lot of them that I consider useless ones, like Party Mode, HiCare, AppGallery, Mirror or Quik.
Sound
The single speaker is placed on the lower edge. I would describe its sound as a pure, though we cannot count on a high volume or bass – it completely lacks them. It fulfils its role, but it does not impress in any aspect. For a smartphone that does not have any musical aspirations – it sounds good while listening through earphones.
The manufacturer has preinstalled its own app for playing music, which offers a lot of options when it comes to managing tracks or previewing the lyrics for the song (if such is present in the file) and the possibility to configure sound parameters, that is Huawei Histen, with equalizer or 3D effect simulation. There is an FM radio as well.
Photos and video
The 20-megapixel with f/1.8 aperture camera is responsible for taking photos. It is supported with an additional, 2-megapixel unit which provides information about the depth of field. In addition there is an AI mode, which is supposed to help with recognizing the scene and adjusting photos' parameters. And it turns out that in some cases it comes in handy, but sometimes it underlines some colours in photos too much. Fortunately, the smartphone saves two versions of the shot – both with and without AI – and in the gallery, using a comfortable switch, we can compare effects and select the photo that we enjoy the most.
I have no major concerns towards photos taken outside in the day light. They have a good level of details, contrast and colours. If they are to be used for printing in smaller formats or placed in social media – the camera in Mate 20 Lite will be enough. However, in close ups we can details, which show that the camera is in fact an average one – the details level drops drastically, and we can see noises reduction and focusing algorithms in work – sometimes the smartphone worked pretty well and managed to control point light sources. Still, it is more often that photos came out poorer, they lack colours and details.
The camera app was slightly changed when it comes to older Huawei or Honor models. And I think that it did not turn out well. The camera app in models like Huawei P Smart or Honor View 10 had a set of all modes placed on a single screen – we just need to move a finger right in order to show it – but in this one all modes are on a bar in the lower part of the screen. It is easy to switch from the auto mode to the portrait or to the video mode, but in order to see them all – or, for example, run the HDR mode – we need to make more work. In addition, there is no HDR in the auto mode. But there are advantages of this app, for example an enhanced pro mode, in which we can save files in the RAW format or in the Shutter mode, in which the user has a full control over the shutter that is – the level of the background blurring (though then the resolution is decreased to 8 megapixels.
The camera at the front is a dual one as well. The main one has 24 megapixels and an f/2.0 brightness – it is responsible for the photos' quality. And the additional, 2-megapixel one is responsible for the background blurring. And just like the main camera this one works well in the day light and much weaker after dark, we will find here the AI support as well. It offers adding different AR and 3D Qmoji, but I do not think that this interests any adult owner of this smartphone.
The camera enables recording videos in FullHD resolution with 60 frames per second, but if we care about optical image stabilization (unfortunately only an electronic one), than we need to switch to FullHD but with 30 frames per second. When it comes to the quality and smoothness of recordings Huawei will not impress. Every aspect of a video – both in day light and after dark, can be ascribed only as average. I will add that there are Slow Motion and Super Slow Motion modes (16x slowdown of image). Here are video recording results:
Communication
The smartphone offers a wide range of wireless communication standards, including LTE-A Cat 12, Wi-Fi 802.11 b/g/n/ac, Bluetooth 4.2 and NFC. Of course there is navigation module, which supports GPS, GLONASS and BEIDOU systems. All these modules worked fast and stably – without any problems during the whole period of the review. There is a gyroscope, and from physical connectors Huawei Mate 20 Lite has a USB type C socket and a universal jack – both are advantages.
Voice calls
Mate 20 Lite supports two SIM cards – and both can use the 4G network at the same time. Dual SIM is in the stand-by mode, but it uses call transfer in order to receive something in shape of an active DualSIM. The quality of calls is on a very high level, neither side had any problems with hearing and understanding the interlocutor. I had no problems with the coverage, the loudness in the loud speaking mode could have been higher. There is no possibility to record voice calls – an external app can help with this.
Memory and efficiency
The User has 64GB of memory for files – in practice less than that, because after turning on the phone for the first time there is available around 50.7GB. But we have a microSD cards slot as well, though in the hybrid solution. We can place a drive of a maximum 256GB capacity.
The octa-core HiSilicon Kirin 710 CPU is responsible for the phone's efficiency. This unit connects four efficient Cortex-A73 2.2GHz cores and four power-saving Cortex-A53 1.7GHz cores. The whole is supported with Mali-G51 MP4 GPU and 4GB of RAM. And how does this set work in everyday tasks? It handles multitasking or photos' editing, Mate does not have any problems with any app from the Google store. But I cannot say that the smartphone works 100 percent ideally and fast. Sometimes we can see some slight lags, for example when switching between apps or while loading some of them. Sometimes there are software errors –one time the camera had some troubles, other time it was Chrome. But, besides that, I have no major concerns. The efficiency of the device will be enough for most users, but those more demanding might not be entirely pleased.
And how does the smartphone deals with gaming? The specification, supported with the manufacturer's GPU Turbo technology, is enough for a smooth work of most games available in the Play store. Only during longer gaming sessions we can see some slight lags or animation framing. For the so-called casual gamers it will be enough. However, it might not have enough power for the most demanding titles – though lowering the graphics will definitely help. In an everyday tasks, the phone does not have a tendency to heat up – though during benchmarks or in more demanding games it becomes slightly hotter in the upper part of the device.
Battery
Huawei Mate 20 Lite has a single cell – 3570 mAh. It provides pretty decent lifespans and usually the smartphone has accompanied me during an intensive day of work, lasting even two days with a more moderate usage. Charging the battery, using the charger from the set, takes less than 2 hours. After 15 minutes the battery will show 19%, after 30 – around 35%, after an hour – almost 70%. It is worth adding that we can find here the Quick Charger technology.
lifespan with the display on (YouTube, 1 SIM card, active Wi-Fi module, 50% brightness) – 11 hours and 11 minutes,
an hour of video streaming (Chrome, 1 SIM card, active Wi-Fi module, 50% brightness) - 13% of battery lost,
an hour of streaming videos from the phone's memory (airplane mode, 50% brightness) - 8% of battery lost,
half an hour using online navigation - 7% of battery lost,
half an hour of playing Real Racing 3 - 9%,
PC Mark battery test results – 11 hours and 3 minutes,
8 hours in the standby mode - 2%.
Summary
Huawei Mate 20 Lite is an interesting proposition in the middle segment. The smartphone can be distinguished mainly by its great display, nice looks (to of course this is a matter of one's personal taste), good efficiency and pleasing lifespans. I am mostly bothered by the average camera work or housing that is difficult to keep clean. The price can be a bit of a problem as well. Mate 20 Lite launched in a typical middle-shelf price – 369 euro. With whom it will compete? Mainly with Pocophone F1, and with Honor Play, Honor 10 and Xiaomi Mi A2 as well. Let us add last year's flagships, like Huawei P10 or LG G6, and whole other models, which in a similar (or a lower) price offer similar parameters and capabilities.
Advantages and disadvantages
Advantages:
big display with great parameters
attractive looks
NFC
FM radio
dual SIM support
can use microSD cards of up to 256 GB
dual-channel Wi-Fi module
minijack socket
great lifespans
quick charging function
fast, precise and multifunctional fingerprint scanner
high amount of internal and REM memories
Disadvantages
glass panels can get dirty easily and are slick
the notifications LED is basically invisible
cameras stand slightly above the housing and gather dirt around them
notch is a bit too wide – it does not leave much space for icons
I have expected a better efficiency and performance from the Mate series representative
lack of water- and dustproofness (at least one confirmed with an IP standard)
no display polarization in the vertical position
I am not entirely convinced with the AI in the camera
average quality of photos and videos from the main camera
high price – if we will take the competition into consideration
Source: GSMchoice.com; viewed: 1367 times.