A middle-price shelf model that uses solutions already developed by the brand, which cover both premium smartphones and devices with more friendly prices.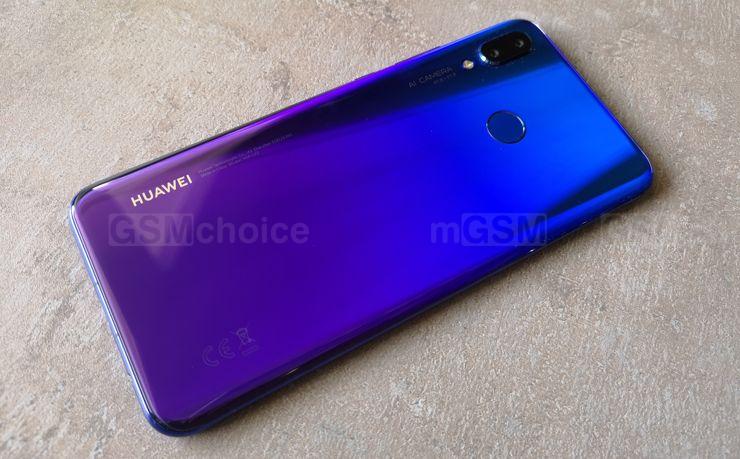 photo: Jolanta Szczepaniak/GSMchoice.com
Huawei Nova 3 complements – an already rich one – portfolio of the Chinese manufacturer's smartphones. This model is already a hit – after a month from the launch on the Chinese market it has sold in 2 million devices. And how its popularity will look like on other markets?
I must admit that Nova 3 has everything that it needs to achieve a success. Attractive looks, great specification, good camera, perfected software and reliable work. At the beginning it was priced at 460 euro, but now we can find it in lower prices in different stores.
Contents
Packaging and accessories
The packaging of the Nova 3 model does not stand out with anything in particular – the white box has modest information about the product that can be found inside of it, and the set itself covers, besides the phone, a charger (5V/2A or 9V/2A), a USB to USB-C cable, nice earphones and a silicone cover. There is a needle for opening the SIM and microSD cards tray as well. I think that there should be some paper documents or a shortened manual – but, apparently, it got lost somewhere among other offices…
Housing and display
When it comes to visuals, Huawei Nova 3 looks similar to Honor 10 and Huawei P20. There is nothing wrong about it – the phone benefits from solutions used in models liked by users around the world. And it is more and more difficult to create a smartphone that could be characteristic enough to distinguish itself from the crowd. The front is boring – basically the same as in most smartphones with a notch. The biggest attention is drawn by the back panel – dual coloured, shiny, it attracts attention of everyone in its vicinity. Here Huawei used an attractive combination of blue and purple – these gradients are gorgeous in the Nova 3 model.
The smartphone uses a 6.3-inch IPS display with the Full HD+ resolution (2340x1080 pixels, which gives a density on the level of 409 ppi) and 19:9 ratio. There is of course the controversial detail – notch. It is a rather wide one, and will not be enjoyed by some users, but at least we can cover it (and it does not eliminate notifications icons like in Xiaomi models). There are two cameras for selfies in the notch: 24 MP and 2 MP, a speaker for calls, in which there is a notifications LED (under the grill, hardly noticeable), sensors and infrared, responsible for the facial recognition feature. The latter works ably in a good lighting, at evenings it has some problems – then it is best to use other security methods.
But let us get back to the display's parameters – I have no concerns neither towards the brightness nor the colours or view ability angles. Working with the large display with curved edges is a pure pleasure, I had no problems neither with the touch panel nor with using the device while wearing glasses with polarizing filters. It is worth adding that the display has a protective foil attached to it from the start.
The back panel, shinning, smooth and colourful, has elements typical for any smartphone. In the upper left corner we have the vertically placed dual camera, which is on a module that slightly stands above the housing. Below it we can find the LED flash and markings about the camera. Closer to the middle there is a fingerprint scanner – it is fast and precise, like in almost all Huaweis, but it is slightly too convex with the rest of the housing. On the disadvantages side we can write the fact that the glass panel gets dirty easily and that phones with such a finish are slippery. But there is an easy solution – a cover form the set. It decreases the attractiveness of the gradient housing, but it prevents the phone from sliding, it solves the problem with the camera and it adds the level difference when it comes to the scanner.
The frame of the device is a metal one, comfortably curved, sometimes intersected with antennas' bars. On the left edge there is a tray for SIM cards – in the nano size and for microSD cards (hybrid solution). On the right there are volume control and power/lock buttons. They are metal, easily noticeable and they stand above the housing appropriately. On the lower edge there is a USB type C socket, external speaker and the microphone's hole.
The whole looks great, all elements are where they should be – in the reach of our fingers. The smartphone is well-thought when it comes to the housing, created and finished with the highest attention to details, and what is more it lies in hands perfectly, is comfortable in usage and most of all eye-pleasing. It is a pity that in this price class there is no hardened glass, like Gorilla Glass or waterproofness.
System and applications
The device works under Android 8.1 Oreo with the EMUI 8.2 add-on and security updates from the 1st of October 2018. EMUI is a mature, perfected, friendly and an aesthetical interface – personally I like using it, though it is of course your own preference. This is definitely not a solution for fans of a pure Android. I will add that the device came to me with an unlocked boot loader, which after every restart greeted me with such a message:
Still, EMUI is an add-on, which gives a wide manoeuvring ability when it comes to personalizing the interface (those simple wallpapers with animals, which are creatively using the notch are advantage), managing notifications, adjusting apps' scaling to display's proportions, changing the display's resolution, changing the navigation mode...
Additional interface functions are, for example, the floating button, eye-protection mode, the possibility to control the temperature and colours' saturation (Normal and Vivid), possibility to change the main desktop (with or without the apps' menu) and system buttons, simple mode, themes, facial recognition system (using infrared), app cloning, gestures support and so on. If you have ever read a review of any of the newest model from Huawei or Honor, you already know what you can expect from EMUI.
As usual, next to the standard set from Google and preinstalled utility and multimedia apps, Huawei preinstalled a number of abundant apps and fames – which, from many users points of view, are totally unneeded. While the presence of the Netflix app might have some sense, placing five poor games in the demo version is too much – Huawei could stop placing bloatware in the soft.
Sound
The single speaker placed on the lower edge of the device is responsible for playing music. It is loud, it sounds good even on the highest volume level and it works while playing Netflix series or while gaming. Though those, who are sensitive to the audio quality might not be entirely happy from the sound – we can always influence its quality by using the Huawei Histen equalizer.
The manufacturer prepared a clear and aesthetical Music app for playing audio files, unfortunately there is no FM radio. Though in the hour of web stations and streaming services (and the lack of a minijack in most modern smartphones) this is not a problem for most people.
Photos and video
In total, Huawei Nova 3 has four cameras. Two are placed in the notch and are used for selfies. While on the back panel there is a dual camera, which has 16- (main) and 24-megapixel (additional) sensors, both with f/1.8 lenses. The additional sensor is a monochromatic one, and its job is, first of all, to measure the depth in photos, second of all it provides a 2x zoom, and third of all it enhances the photos' quality, especially in weaker lighting. Ale cameras are supported with an AI, which is responsible for recognizing scenes and using the best settings.
The camera app is provided by the manufacturer and it offers a wide range of functions, though it is difficult to call them over the standard ones. One of the edges is taken by icons for settings, AI, moving pictures, LED flash and the scanner (QR codes and objects that are supposed to be searched for in Amazon), in the centre of the shot we have the zoom switch (1x or 2x), on the opposite side the edge is taken by the slider with particular modes, as well as the trigger shutter, photo's preview (moved to the gallery with a click) and a switch between the main and the front camera. Unfortunately, we need to make some effort in order to get to the HDR mode – and it does not work in the auto mode. In general, the mode set is pretty impressive:
Aperture – we can choose the appropriate depth of field,
AR lens –here we can find 3D Qmoji, effects, backgrounds and 3D objects,
Portrait – it adds bokeh and make up effects to photos,
Photo – auto mode,
Video – recording videos,
More – here we will find the Pro mode (white balance configuration, exposure time, exposure value, focus and ISO) Slow-mo, Night, Panorama, Monochrome, Light painting, HDR, Time-lapse, Filter, 3D Panorama, Watermark and Document scan.
The camera is supported with AI, which the smartphones owes it to the NPU in the Kirin 970 CPU. Sometimes it gives nice results, but more often I did not enjoy its work. It recognizes the scenery and, according to what was recognized, adjusts the shots parameters, but often photos were overexposed, colours were unnatural and the whole was too focused and with a too intensive HDR. Personally I prefer photos without AI – but maybe future buyers of Nova 3 will have other opinion. Basically photos came out really decently, even during the night – this might not be the level of the P20 Pro model, the details' level is much lower and it takes a bit longer to capture the photo, but they are bright enough and colours are natural. Just see for yourself:
The front camera is a dual one, in this case the main camera has 24 megapixels and an f/2.0 aperture, it is supported by an additional 2 megapixel sensor, which in this case is used only for measuring the depth of field. The app adds a portrait mode and HDR Pro for controlling overexposures, and the quality itself is great. Photos have a high level of details and great colours representation, we cannot complain about the focus either. Background blurring works great. If you are a selfies fan, Nova 3 will definitely not disappoint you.
Videos can be recorded with the maximum resolution of 4K with 30 frames per second, the standard resolution is Full HD with 30 and 60 frames per second. Unfortunately, there is no image stabilization, even a digital one. That is why videos recorded (without a gimbal) while moving will not have the best quality. Besides this the overall quality is rather decent – I have no concerns towards the smoothness and colours representation, and the autofocus usually works good.
Communication
The smartphone has all communication modules that a contemporary smartphone user might need. It supports 4G (LTE) networks, it has a Bluetooth 4,2 module, NFC, dual-channel Wi-Fi, in addition it has a navigation that uses GPS and GLONASS. From physical sockets there is a USB type C socket with the OTG function, minijack, it can read memory cards and has a socket for two SIM cards in the nano size (the second slot is a common one with the memory card). None of these modules made any problems during the whole review time, and the navigation passed the test both while driving and while walking.
Voice calls
Voice calls are on a high level as well. The good loudness and the sound quality from the speaker for calls, just like the great microphone, supported by the additional one at the top, contributed to my wholesome satisfaction from the quality of calls – my interlocutors did not have any concerns as well. Configuring two SIM cards is simple, the smartphone works nice in the loud speaking mode as well. I will add that the smartphone does not have a built-in function of recording calls.
Memory and efficiency
For data and apps there is 128 GB of space – of course in practice the user is left with less of it, around 122 GB. We can always enhance the memory using microSD cards of a maximum capacity of 256 GB – by removing one of the SIM cards.
Nova 3 can boast with an efficient set of hardware. The smartphone runs on one of the most powerful CPU from Huawei, HiSilicon Kirin 970 (4 x 2,4 GHz i 4 x 1.8 GHz), which is supported by Mali-G72 MP12 GPU and 4 GB of RAM. This makes the phone fast, it works great in multitasking, it will handle basically every game and app. I did not notice any lags while running apps or switching between them, loading or playing bigger files or while gaming – titles like Asphalt 9, Tekken and Real Racing 3 worked without any problems. It is worth noting that the smartphone has a tendency to heating up, especially in the vicinity above the fingerprint scanner. And not only during longer gaming sessions – but even during a video streaming or while downloading larger apps from the Google store.
Battery
The smartphone is equipped with a 3750 mAh cell with a quick charging. In practice it is enough for a 1.5-2 days of work, though if you really put your effort into it, you can discharge it in less than a day. It all depends on how intensively you are using your smartphones.
lifespan with the display on (YouTube, 1 SIM card, active Wi-Fi module, 50% screen brightness) – 11 hours,
an hour of video streaming (Chrome, 1 SIM card, active Wi-Fi module, 50% screen brightness) - 11% of battery lost,
an hour of video streaming from the phone's memory (airplane mode, 50% screen brightness) - 9% of battery lost,
half an hour of using online navigation - 6%,
half an hour of playing Real Racing 3 - 10%,
PC Mark battery test result – 8 hours and 16 minutes,
8 hours in the standby mode - 7-8%.
The smartphone supports quick charging and has a pretty powerful charger in the set. After 30 minutes the charging level has 35%, while after an hour – 60%. We need another hour to fully charge the battery. So in practice, from zero to 100%, it takes around 2 hours to charge the device.
Summary
Huawei Nova 3 is a smartphone towards which I have no major concerns. The device is attractive, fast and efficient and reliable as a tool for work and entertainment. We cannot even complain about its price.
Through the whole period of testing I had basically no reasons to complain about the Huawei Nova 3 model. And if not this one, which models will be its biggest competition? I think that ASUS ZenFone 5Z (ZS620KL) and Honor 10 can threaten it, it has a similar specification and equally attractive looks, and it is cheaper. In this price shelf there are some novelties and still great flaghsips from the last year – models such as Pocophone F1, Xiaomi Mi 8, LG V30, Samsung Galaxy S8...
Advantages and disadvantages
Advantages:
great parameters
attractive looks and high quality of construction
gradient housing
amount of memory
handy shape and ergonomically placed elements
minijack
etui in the set
great efficiency and smoothly working system
a lot of functions in EMUI
effective biometrical security
support for two SIM and microSD cards
good lifespans on a single charge
photos quality, especially from the front camera
NFC
quick charging
silicone cover in the set
Disadvantages
the housing is slick and it easily catches fingerprints
night time photos could have been better
no OIS in the camera
weak notifications LED
AI in the camera does not always enhance photos' quality
lack of FM radio
hybrid dual SIM
single external speaker
Source: GSMchoice.com; viewed: 359 times.