Among the newest smartphones from the P series, the biggest media noise is of course generated by the top P30 Pro model, but in practice the biggest sell can be generated by the cheaper, slightly slower and worse equipped P30 Lite. This was the case with the P20 series and the P20 Lite model. Does P30 Lite have a chance to repeat this success?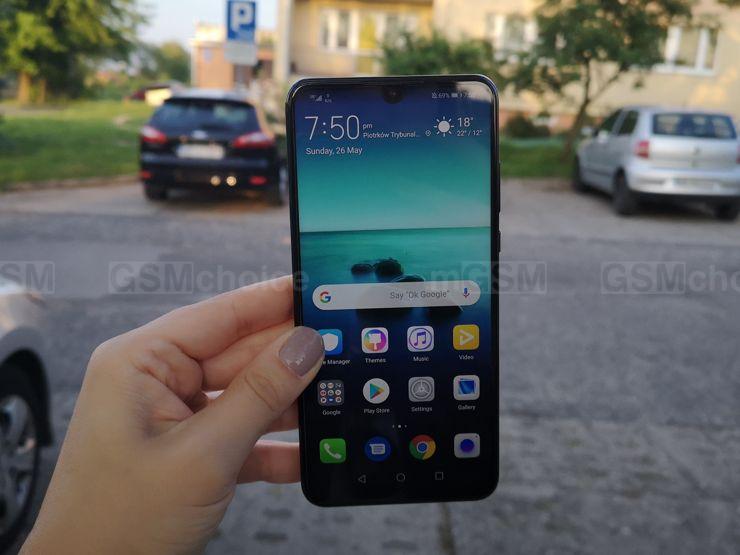 I doubt that any smartphone from Huawei can achieve a market success nowadays. I do not think that there is anyone who would not have heard about the decision of the president of the USA, when it comes to Chinese companies, by placing Huawei on a "black list" and with other manufacturers withdrawing from cooperation with Huawei… This does not look well and it already has an impact on the brand's popularity on different markets. Media declare that clients are returning ordered smartphones and they choose competition products instead of those from Huawei – even though already produced smartphones will have a set of Google services and they are going to be supported and updated. The ban is for those devices that will appear on the market later on.
Unfortunately, the damage is done and users stopped looking favourably at Huawei's smartphones. Smartphones, which were extremely popular – even Lite versions. That is why I do not think that P30 Lite is going to be a hit sale – still, let us look at what it has to offer and whether or not it is worthy of its price…
Contents
Packaging and accessories
In the white box, besides the smartphone, we can find simple earphones (in-ear with a remote in the white colour), a USB cable and a charger (5V-2A, 9V-2A). Apart from that we can find a needle for opening the tray for SIM cards – if the manufacturer added a paper manual or other accessories – the reviewed model did not have anything more in the set.
Housing and display
The P30 Lite model is visually similar to Huawei P30 and Huawei P30 Pro, but is more compact and made out of other materials, mainly a combination of glass and plastic. The phone is handy and rather light, and in addition the manufacturer offers it in a few different colours versions – besides the reviewed black version there are blue and white versions as well. The smartphone is well-made and elegant, and it is not that difficult to keep it clean – there is some form of an oleophobic layer, thanks to which it catches way less fingerprints than typical glass panels. It is a pity that the smartphone is not waterproof – but basically not many of its competition can boast with the IP standard in this price shelf.
The display can be considered as an advantage, though it is a pity that the manufacturer used a cheaper IPS panel instead of an AMOLED one. It has a 6.15-inch diagonal and a 2312x1000 pixels resolution, which translates to 415 ppi. We cannot see single pixels with the naked eye. Displayed colours are natural (we can adjust the colours mode and their temperature), and the brightness (both minimum and maximum) are on an appropriate levels, so that we can use it both at night and in a strong light (in a direct sunlight it is more difficult because of reflexes and reflexions on the display).
The camera at the front has 32 megapixels and it will work when taking selfies. It is responsible for the facial recognition function – it works well enough with an appropriate amount of light. It is a nice complement to unlocking the phone with the fingerprint scanner. The camera is placed in a small notch in the shape of a water drop. On the top, relatively narrow bezel, there is a cavity for the receiver and the notifications LED. It is worth adding that the display has a protective foil placed on it from the start.
The back panel is comfortably arced, black and shiny – and at the same time is slick and susceptible to fingerprints. In its left corner there is an oblong, vertically placed module with a triple camera. It strongly stands above the housing, and what is more it has a rather sharp edges. Below cameras we can find a LED flash, and in the more central place of the housing – a round fingerprint scanner. It is placed slightly lower than the rest of the housing, but I had no problems with using it – thanks to the fact that it was nicely designed and our finger rests naturally on the scanner. There is the manufacturer's logo and a printed camera marking, and a barely noticeable information about the model, manufacturer and certificates.
On the upper edge there is the hole of the microphone used for reducing noises and a tray for two nanoSIM or one SIM and one microSD card. On the right side there are volume control and power/lock buttons, and at the bottom there is a universal jack, USB-C socket, microphone's hole and the external speaker. The left side is free from any additional elements.
System and applications
the smartphone is equipped with Android in the 9 Pie version (with security updates from April the 1st 2019), hidden under the Huawei's EMUI add-on in the 9th version. This is not the lightest add-on, but it is enhanced and user-friendly, with wide personalization options (we can control the phone using buttons or gestures, we can choose the interface without or with the apps' menu, we can select themes, additional menu on the lock screen, we can hide the notch and others). In settings we can find a lot of functions connected with displaying image: colours, blue light filters or we can decrease resolution.
We can complain about the software from external manufacturers and apps offering the same functions as the software from Google (Gallery – Google photos, e-mail – Gmail, App Gallery – Google Play Store). Useless apps (at least for some users - Booking.com, Amazon and Ebay) can fortunately be uninstalled.
Sound
The smartphone has a minijack, which is always an advantage, unfortunately it is not the best. After plugging in earphones the sound is rather quiet and average when it comes to the quality. Using Huawei Histen does not help that much. I have similar feelings towards the external speaker. In addition its location makes it easy to muffle it while holding the smartphone horizontally. The presence of an FM radio can be an advantage for many people.
Photos and video
The main camera consist of three units: the main sensor has 48 Mpx and an f/1.8 lens. It is supported by 8-megapixel camera that offers a wide angle (120 degrees) and a 2-megapixel lens for measuring depth. The main camera offers more megapixels than the rest of flagships from the P30 family – but it is a well-known fact that the number of megapixels not necessarily translates to the quality of photos. Those taken with Huawei P30 Lite look great on the screen of the smartphone, but they lose details when they are viewed on a monitor. However, in its class this is still a good camera, though it cannot hold its ground to the one placed in P30 Pro - even despite the difference in resolution.
The app is simple in usage and it has numerous work modes. There is a dedicated night mode (though effects are not as impressive as in more expensive models, night time photos are rather average or even of a poor quality) and the possibility to use the wide angle (then the resolution is limited to 8 megapixels). The last one will work in good lighting, in night-time photos they lack details, they have a lot of noises and it is best not to show them.
The selfie camera has 32 megapixels and an f/2.0 brightness lens. It is supported by AI, in addition we can use different effects, lighting modes and beautifying. There is a portrait mode with background blurring and AR stickers. The camera does a bit worse when there is a strong light source behind the photographed person. And here are photos taken with it in practice:
The smartphone records videos in the maximum quality of Full HD with 60 frames per second – for many the lack of 4K can be a big disadvantage.
Communication
The Internet connection is made through a fast WLAN network that works in the 802.11ac standard in 2.4GHz and 5GHz frequencies, and through LTE as well (on both SIM cards). In addition, the smartphone has Bluetooth 4.2, NFC, FM radio, ably working navigation module… From physical sockets we have USB type C and the 3.5mm minijack.
Voice calls
The smartphone supports two SIM cards in the hybrid solution and it allows using LTE on both of them. With using the mobile network operator services we can set switching calls between cards. The quality itself is impeccable, but we cannot record calls.
Memory and efficiency
The smartphone has only one version of a built-in memory – 128GB. The user is left with around 104GB, the rest is taken by the system and preinstalled apps. By removing one SIM card we can place a memory drive – the smartphone supports microSD cards with a maximum capacity of 512GB.
Kirin 710 is responsible for the efficiency – this is a characteristic CPU placed in the middle-price shelf offer of the manufacturer. We can find it in numerous smartphones – very often in those that cost a hundred euro less… The CPU has four Cortex-A73 cores with 2.2GHz frequency and four Cortex-A53 cores with 1.7GHz frequency. The CPU is made in the 12 nm technology – and when it comes to power saving it is far from Kirin 980 (7 nm). The ARM Mali G51 GPU is responsible for graphics, in addition we receive 4GB of RAM. How does the smartphone work with such hardware? The system works fast, smooth and without any delays. Sometimes we can see some small lags, we need to wait for the keyboard to pop-up occasionally or when there are many apps working in the background. It does not have a tendency to heating up – it can have a slightly higher temperature while gaming, but it does not exceed 37 degrees. Its efficiency is more than enough for playing simple 2D and 3D games, it can deal with more demanding ones (with lower graphics settings). It does not change the fact that Huawei P30 Lite is not the most efficient model in its shelf price - Pocophone F1 has a 200% more power…
Battery
The smartphone has a 3340 mAh battery capacity, which does not offer impressive lifespans. One day is a standard, P30 Lite usually finished a day with a battery charge on the level of around 15%.
And what about charging? Huawei P30 Lite does not support neither wireless nor reverse charging. With the cable and the charger from the set we can fill the battery in around 90 minutes. After 15 minutes the smartphone shows 20%, after 30 minutes – 35%. This is not the fastest charging on the market, but when we will take the battery capacity – 3340 mAh – into consideration, it is satisfactory.
lifespan with the display on (YouTube, 1 SIM card, active Wi-Fi module, 50% screen brightness, minimal sound level) – 10 hours and 46 minutes,
PC Mark battery test result – 9 hours and 49 minutes,
Geekbench result (full discharge) – 4030 points, discharge after 6 hours and 43 minutes,
an hour of playing videos from the phone's memory (airplane mode, 50% screen brightness) - 8% of battery lost,
half an hour of using online navigation - 8-10%,
half an hour of playing Real Racing 3 - 11%.
Summary
Lite versions are slightly castrated versions of flagships. They have similar looks, but are usually made out of less prestigious materials and with a weaker specification – this types of economical procedures are necessary for the price to remain on a rational level. And this is the case with P30 Lite. P30 and P30 Pro are made out of metal and glass, while the Lite model connects glass and plastic. Contrary to the stronger two it has an IPS instead of an AMOLED display, and instead of Kirin 980 it is powered by Kirin 710, instead of an UFS 2.1 memory it has a slower eMMc, weaker camera (for example without the telephoto lens) the fingerprint scanner placed at the back, not under the display. But the price of P30 Lite is much lower at the same time, which is 370 euro – for P30 it is 750 euro, and P30 Pro - costs 1000 euro.
Its direct competition are Xiaomi Mi 8 Lite, Honor 8X, Redmi Note 7 or Asus Zenfone Max Pro M2 - all of them offer similar capabilities and specification and cost less than P30 Lite. For the equivalent of 370 euro we can buy Samsung Galaxy A50, LG G7 ThinQ or Huawei P20. With such a competition, Huawei P30 Lite would not have been my first choice.
Advantages and disadvantages
Advantages:
looks and quality of assembly
NFC
presence of a minijack and FM radio
good night time photos
possibility to place a microSD card
notifications LED
fast and precise fingerprint scanner
lots of internal memory
photos in good lighting
Disadvantages
hybrid slot for SIM/microSD cards
relatively slow CPU
does not record in 4K
the main camera stands above the housing a lot
night time photos
competition offers more in the same price
lack of dust- and waterproofness
average battery
Source: GSMchoice.com