I have held the Huawei P series for years in high regards, first as a user of the P10 model, and now as a user of P20 Pro. P30 Pro, though has some disadvantages, is a great continuation of the series, with a great camera, strong CPU, attractive looks and perfect work culture.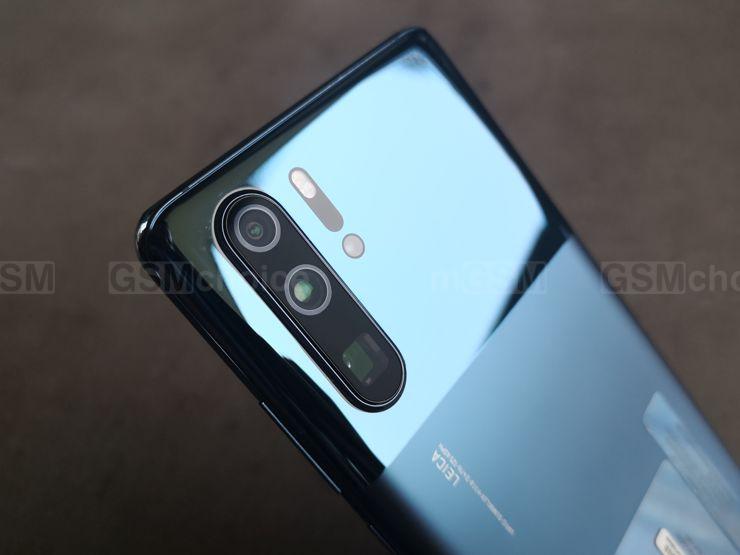 Huawei P30 Pro is a smartphone that can appeal to those who care about the best photos. The quad camera takes great photos both during the day and at night, it provides numerous work modes and settings, which should please every user. They are so good, that having a separate camera for photos – whether a compact one or a reflex camera – is obsolete. But P30 Pro not only takes great photos, this is an attractive, fast, efficient and an all-having smartphone.
P30 Pro hit the market a few months ago in four colours: Breathing Crystal, Amber Sunrise, Aurora and Black. But now it is available in two new ones: Mystic Blue and Misty Lavender. I received the Mystic Blue version, which looks like Google Pixel.
Contents
Packaging and accessories
In a rather small, minimalistic box, Huawei placed a 5V-2A/9V-2A/10V-4A charger, a USB-C cable and earphones with a remote for receiving calls and controlling the volume. All accessories are in the white colour. It is a pity that we cannot find even the simplest silicon etui or an adapter to the minijack in the box (at least there were none in the set sent to our office).
Housing and display
Assessing the looks is always a subjective criteria – I definitely have a positive opinion about it. The phone is slim, neat, appropriately curved and it lies in hands perfectly. It has a slightly Pixel looks, with the backs in two colours and a finish, its display is curved – which is supposed to look prestigious, and the whole is dust- and waterproof – the smartphone can boast with an IP68 standard.
The front of the device shows that we are dealing with a higher shelf smartphone. Narrow bezels, a small notch in the shape of a water drop, curved display near edges, the lack of a cavity of the speaker, in which dust can gather – the whole looks nice. The effect is better after unlocking the display. There is a 6.47-inch OLED with a Full HD+ resolution, which gives a pixel density on the level of 398 ppi. We can of course complain about why there is not more, like a higher resolution, just like in Mate 20 Pro. In practice this would not have translate into a better image detail – you cannot see a single pixel with your eyes – and the power consumption would have been higher than with 2K+ or FullHD+. Colours are deep and saturated, the contrast or brightness levels and the display responsiveness are impeccable. We can change the colours mode and their temperature in their settings. I will add that the panel supports HDR10, it has a 19.5:9 ratio, and the display has a preinstalled protective foil.
Under the display there is an optical fingerprint scanner, located in the lower part of the panel. It is a fast one and it does not generate that much errors – for 10 scans maybe one was faulty, and mostly because I held the finger on the display too short. For many of you it will be a much more comfortable solution than a scanner at the back (for example while driving a car with the phone placed in a holder), though in practice it is slightly slower than traditional ones. This is not the only biometrical security – the facial recognition works great, it usually managed to recognize me even before I managed to touch the screen. But this is not some advanced solution like Face ID, but a less reliable one that uses the image captured by the camera for selfies.
The display is surrounded by a relatively narrow bezel, and in its upper part there is a notch with the camera for selfies, which is responsible for the facial recognition. The notch can be hidden by finding an appropriate function in settings – a dark bar will be displayed, making the notch invisible. You will not see a cavity of the receiver – because there is none. The speaker is hidden under the display (Acoustic Display Technology). There is no notifications LED as well. Its function is taken by the Always-On Display function, which shows the hour, date, battery level and notifications from apps.
The backs of the device look equally attractive, though they have some flaws. I like the differentiation of patterns and colours on the back panel. The upper part is shiny and can be used as a mirror, but it catches fingerprints instantly. In its vicinity we can find cameras and the LED flash. Three lenses are in a common module, which stands above the housing a lot, unfortunately. The fourth camera, along with the LED flash, is placed next to it and they are levelled with the glass layer. The upper part of the housing is matte, with a toned, blue colour, and it is very nice in touch. We will see here some printed information about the camera and the smartphone, as well as some certificates and markings – but they are subtle enough not to be noticeable. It is a pity that Huawei did not add a cover in the set, that could protect the backs from any damage or dirt.
The metal edge of the device is intersected with antennas' bars and it has all typical elements and sockets. On the upper one there is a microphone and an infrared sensor. On the right side there are physical buttons for volume control and a power/lock button (with a characteristic red accent). They are noticeable and have a good click. On the lower edge there is an external speaker – it is covered by 5 round holes, there is a USB-C socket, a microphones hole and a slot for SIM and memory drives cards. The smartphone stores nanoSIM cards, out of which one can be exchanged for NM (Nano Memory). The left side has no additions.
System and applications
At the beginning of my work with Huawei P30 Pro I was dealing with EMUI 9 and Android in the 9th version. After a few days an update appeared and now the smartphone works under EMUI 10 and Android 10, with security updates from the 1st of November 2019.
As it usually is with EMUI, the user has a verity of options with the interface personalization. It supports themes, there are numerous wallpapers, transitions between desktops, we can hide the notch, use a blue light filter, change the display resolution, use Always-On display, change the colours mode, the size of the font – all of this is known from other Huawei models.
This is of course not everything that is offered by the Huawei add-on. Among other things, which are worthy of our attention, we can mention:
navigating through system based on gestures, system buttons or the floating button,
dark theme,
different battery modes: efficiency, power saving, ultra,
digital hygiene,
gestures support,
simple mode,
App Twin,
possibility to use the interface with or without apps' menu,
numerous technologies and apps signed by Huawei: Huawei Share, HiTouch, Phone Clone, Optimizer and others.
numerous utility apps: AR Measure, recorder, Health, Weather etc.
As always, Huawei smartphone has preinstalled apps from external sources, like Facebook or Booking.
Sound
On the lower edge we can find a single, external speaker. It provides a sound with a good timbre and depth and it is loud enough, though it leaves something to be desired when it comes to the lack of stereo. Flagships from the competition, like Samsung, sound definitely better. To be honest, there is no second speaker that could create the stereo effect – there is no cavity of the receiver, the sound during calls is generated by the display by appropriate vibrations. The display works as a speaker only during calls, it cannot be used for stereo. It is a pity.
The single speaker is all right for most usages, it works well while using a loud speaking mode and multimedia. I will add that the smartphone sounds well through earphones. The lack of a minijack is a disadvantage, of course, but if you have a decent set with USB-C (or a wireless one), the sound quality will not disappoint you. I will add that Bluetooth supports aptX, aptX HD and LDAC.
The quality of sound can be enhanced using the Dolby Atmos technology, which helps us modify the sound. There is a preinstalled player, but the phone lacks an FM radio.
Photos and video
Main camera
If you care about the quality and the versatility of photos, Huawei P30 Pro can be one of the best smartphones now on the market. If you trust the Internet benchmarks, this model was at the top of the DXOMARK mobile list for some time. Currently, with 116 points, it is placed on the 6th place among all analysed smartphones. But if you trust what Huawei P30 Pro has to offer in practice more, you can see photos in our gallery.
The smartphone is equipped with a quad camera, which has the following lenses:
the main sensor, 40 MP, f/1.6, OIS, RYYB matrix;
wide-angle used for close ups as well, 20 MP, f/2.2;
a 5x zoom lens, 8 MP, f/3.4, OIS, periscope construction;
ToF sensor (time-of-flight) for depth measurement.
The camera is set at 10-megapixel by default (in which it connects 4 pixels in a single one), but there are no problems in forcing 40 Mpx in settings – but only when we are not using a wide angle or an optical zoom. The 5x optical zoom and 10x hybrid zoom are a great proposition. It is worth adding that in the situation, when the 5x zoom is too much, we can pinch the screen and change the level – then, the phone does not use the telephoto lens but the main sensor, and the close up is a digital, not an optical one (that is in the range from 1.1 to 4.9). The wide angle gives great effects, it is used in macro shots as well – and from the 2.5cm length as well.
The quality of photos from the main camera is on the level characteristic for flagships. I have no concerns towards colours or details. There is a support for AI and numerous modes and settings, which are supposed to provide better photos. And they are great not only during the day – night time photos are the biggest stars. In places where we (and most smartphones) see only black, Huawei P30 Pro can take nicely saturated and readable photos. We do not even need to run the night mode, we receive great effects in the auto mode as well. There can of course be complaints that photos taken in such conditions are far from natural. And yes, it is sometimes difficult to notice that the particular shot was taken at night. But personally, I prefer to have a bright and sharp (though sometimes an artificial and effective) night shots than more natural, but dark and lacking colours from the competitions' smartphones. What is more, the night mode can be used for each of the lenses, not only the main one.
Camera app
A lot is changing when it comes to the resolution, number of cameras or the level of zoom, but the camera app have basically remained unchanged for a long time. If you have previously used other Huawei or Honor devices, you will be immediately at home. The app is simple, intuitive and user-friendly, it does not need any major changes in theory, though I would be really happy to see the HDR mode working in auto – and not as a separate mode in the additional menu. And there are a lot of modes. From the level of the main interface we have: Photo, Video, Portrait, Night, Aperture and Pro, while in the More menu there are: Slow-mo, Panorama, Monochrome, AR Lens, Light Painting, HDR, Time-lapse, Moving Picture, Stickers, Documents, Underwater and Super Macro. In the Pro mode we can save photos in the RAW format.
Video recording
While Huawei P30 Pro rocks when it comes to photography options, when it comes to the video recording there are some fields for improvements. We can switch between lenses while recording videos, but it is not instantaneous and it does not look great in recordings – especially that each matrix has slightly different colour scheme. There is no 4K recording in 60 frames per second, and the level of details gives way to what Samsung has to offer. Basically it is not bad, but I think that Apple or already mentioned Samsung smartphones work better in this area.
The camera for selfies
The front camera has 32 megapixels and an f/2.0 brightness lens. It provides photos with a good quality, though I expected an autofocus from a flagship, not a fixed one. In addition, even though the resolution is impressive, video recording is limited to 1080p.
Communication
When it comes to communication standards, the smartphone has them all: LTE cat. 21, dual-channel Wi-Fi that works in the 802.11b/g/n/ac standard, Bluetooth 5.0, navigation working with numerous location systems – GPS, GLONASS, BeiDou, GALILEO and QZSS, as well NFC, which is required from every modern smartphone from the middle or a higher shelf. There is an USB-C socket with the USB 3.1 interface and an infrared sensor. There is a set of sensors complemented by ToF, which works great while taking different measurements (there is an appropriate app).
Voice calls
As I have already mentioned before, P30 Pro does not have a typical speaker – the sound comes from behind the display. And I was slightly worried how this solution would work out in practice. It turns out that I was worried for nothing. The sound is loud and clear. Microphones work great, just like systems for reducing noises – even in a noisy surrounding my interlocutors heard me loud and clear, and the external sounds were ably removed. The smartphone support two SIM cards in the hybrid solution and it provides settings, thanks to which we can configure particular cards. It supports VoLTE and Wi-Fi Calling technologies as well.
Memory and efficiency
The smartphone offers 128GB of internal memory – out of which the user is left with around 115GB. We can use memory cards, however these are not typical microSD drives, but a less popular and a more expensive Nano Memory format. It can use drives of up to 256GB.
The specification does not disappoint. Huawei has equipped P30 Pro with a strong Kirin 980 CPU, supported by Mali-G76 MP10 GPU and 8 GB of RAM. The CPU itself gives way to Snapdragon 855 (this is in fact a unit slightly stronger than Snapdragon 845), but it provides computing power strong enough for any usage. It works well in all multimedia solution, it works without any lags while playing the most demanding games or with numerous apps working in the background. However, when using the smartphone in games, with the highest graphic settings, after several minutes we can notice some lags – such things should never happen in flagships, even those advertised as smartphones for photography.
Battery
Huawei P30 Pro is equipped with a 4200 mAh battery. And it is difficult to discharge such a cell in one day. In practice, during a typical usage, the smartphone worked well for two days away from a charger. We can of course prolong this by turning the AOD off, using the dark mode or by running the ultra-power saving mode.
The smartphone offers not only great lifespans, but it charges the battery quickly as well. Using the charger from the set (40W) it only needs 65 minutes to fully charge a completely depleted battery. But we just need 15 minutes to charge the cell in half, and after 35 minutes it is on the level of 80%. We can of course charge the smartphone wirelessly – it supports inductive charging. What is more, it supports the reverse charging technology as well, in which the smartphone can charge different accessories, using the Qi technology.
lifespan with the display on (YouTube, 1 SIM card, active Wi-Fi module, 50% screen brightness, minimum sound level) – 17 hours 1 minute;
PC Mark battery test result – 14 hours and 57 minutes;
Geekbench score (full discharge) – 7790 points, discharge after 12 hours and 53 minutes;
an hour of streaming videos (Chrome, 1 SIM card, active Wi-Fi module, 50% screen brightness) - 5% of the battery lost;
an hour of playing videos from the phone's memory (airplane mode, 50% screen brightness) - 4%;
half an hour of using online navigation - 4%;
half an hour of playing Real Racing 3 - 6%;
8 hours in the standby mode - 4%.
Summary
Huawei P30 Pro connects an attractive looks with a strong hardware, great lifespans and a brilliant camera. The price is worthy of a flagship, but functions and capabilities are on a flagship level as well. If I was looking for a smartphone that would be used mostly for taking photos, the reviewed model would be at the beginning of the list. However, in a similar price shelf (that is around 676 euro) the choice could be more difficult, because there are perfect flagships here, full of what is the best. Huawei Mate 20 Pro could be a good choice, it has many great features of P30 Pro, but it has a LED flash and a stereo speaker as well. Samsung Galaxy S10 can be an alternative, it has a great camera, stereo speakers and a minijack. Other propositions are the V series from LG or Mi 9 from Xiaomi. We can choose last year's iPhone as well.
Advantages and disadvantages
Advantages:
looks and the quality of construction
quality of photos, especially at night
quad camera with a telephoto lens and wide-angle
appropriately working fingerprint scanner
facial recognition
loads of gigabytes of RAM and internal memory
sound through speakers
EMUI 10 with Android 10
system works fast and without any errors
interesting idea with the speaker under the display
infrared sensor and NFC
good lifespans
quick charging
dust- and waterproofness (IP68)
Always-on-Display, dark theme
wireless and reverse charging
Disadvantages
single external speaker
lack of a minijack
memory drives supported in the not popular Nano Memory standard
module with cameras stand above the housing
GPU efficiency during longer gaming sessions
"jumping" zoom during video recording
the housing, especially the shiny part of the backs catches dirt easily
lack of a notifications LED
no cover in the set
Source: GSMchoice.com