An interesting model, which from the one side has some hardware and capabilities from flagship smartphones of the manufacturer, but on the other it provides some thriftiness, thanks to which it can remain in the middle-price shelf.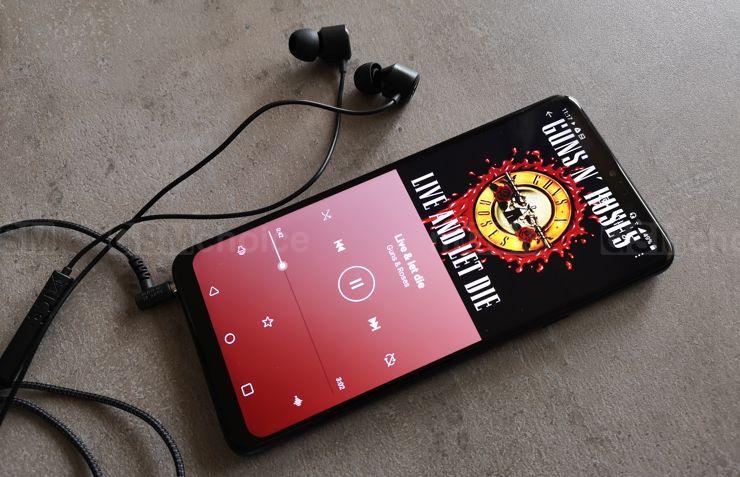 photo: Jolanta Szczepaniak/GSMchoice.com
Contents
Packaging and accessories
The set covers, besides the smartphone, earphones with replaceable plugs, a powerful Fast Charger charger (9 V/1,8 A, 5 V/1,8 A), USB cable, tool for opening the tray for SIM and microSD cards and a cloth for wiping glass panels.
Housing and display
When it comes to visuals, the smartphone has basically nothing extravagant or distinguishable. The design looks like dozens other models, but we need to underline that the quality of assembly is on the highest level. At the front there is a great display, protected by Gorilla Glass 5, the profiled, arced edges are metal, and the back, curved panel is an another layer of glass, reinforced by the Corning company as well. The whole is handy, solid, resistant to falls (MIL-STD-810) and waterproof (IP68).
The display in LG G7 Fit deserves a commendation. It has a high QHD+ resolution, that is 1440x3120 pixels, which with a 6.1-inch diagonal gives 564 ppi. With such a pixel density per inch everything that is shown on the display is perfectly readable, sharp and clear. The display supports HDR10 as well. There is of course the notch, which can either be hidden or masked with different colours (in settings look for the "New Second Screen" option). In the notch we can find the speaker for calls, camera, sensors and notifications LED. The latter is supported with Always-on Display that is notifications shown on a dimmed screen – what is more, we can personalize them in different ways.
On the back panel there is a single camera that almost does not stand above the housing, LED flash, small, round fingerprint scanner, the name of the model and the logo – ale these elements are placed in one line, in the middle part of the phone. The housing itself is interesting as well – on the first sight it is black. Only after a while I have noticed that it has glitter in it, which – when we look closely and under an appropriate angle – can be seen as toned, bluish reflexes.
The housing of the smartphone looks like many contemporary smartphones' constructions, in which two glass panels are connected with a metal frame, intersected by antennas' bars. On it we can find typical elements:
physical (plastic) buttons for the volume control on the left side,
power/lock button on the right side,
minijack, microphone's hole, USB type C socket and the external speaker – on the lower edge,
additional microphone and a tray for SIM and microSD cards (in the hybrid solution) on the upper edge.
All of this is placed intuitively and ergonomically, though I needed to get used to the volume control placed on a different edge than the lock screen. The disadvantage is a problem that touches all glass smartphones: it is difficult to keep them clean and they are slick.
System and applications
The smartphone works under Android in the Oreo 8.1 version – it is a pity that it is not being offered with Pie, because that could have been one of the strongest feature of this model. The security update is from the 1st of October 2018. Android is of course not in the pure version – like in every smartphone from LG, it has their own add-on. It changes the standard interface rather strongly, but it is aesthetical, friendly and intuitive. However, it has some problems with smoothness of work.
Wide interface personalization options deserve a commendation, including changing wallpapers, themes, icons and displays when it comes to the Always-on Display, that is a screen showing the hour and notifications on a dimmed screen.
Another functions of the LG G7 Fit interface is New Second Screen, thanks to which we can hide the notch with traditional, black fields or we can give them a completely different colour. We can choose to what degree we can curve edges of apps. The main desktop can be adjusted to our own preference as well. For example, we can choose a mode in which apps will land directly on the main screen, we can choose a screen with apps' menu or a simplified Easyhome. The interface allows to fully configure navigation system buttons – we can change not only their order and work, and we can add two additional ones: switching SIM cards or running QSlide or Captrue+ apps.
In the screen settings we can change the screen's colour mode (Auto, Eco, Cinema, Sports, Game and Expert) and change the resolution (between QHD+, Full HD+ and HD+), adjust colours temperature and RGB levels. The enhanced brightness function (1000 nits), which the user can use depending on one's needs, after sliding down the shortcuts and notifications bar, deserves a commendation. It is worth adding that the enhanced brightness is not run automatically and can only function for a few minutes (in order to save the battery). But it is handy, for example when we need to use the smartphone in a bright lighting or in a direct sunlight.
LG adds a lot of preinstalled apps – those are mainly tools and utility apps, as well as Amazon Assistant, Update center, File Manager, Smart Doctor, LG Mobile Switch and McAfee Safe Family package... Some of them are definitely useful, however I would prefer if the user could have choosen which of these apps we really want to have installed in the smartphone after running the phone for the first time (Sony does that) and which to delete.
Sound
You could think that the single speaker placed on the lower edge is responsible for playing sounds. By holding the phone horizontally, while gaming, it is easy to muffle it. But in practice there is a boombox feature used here – an LG patent, in which the sound is enhanced by the whole housing, more specifically by the resonance of the back panel. It sounds interesting and in addition it provides some tactile impressions, when the back panel vibrates in the rhythm of music.
However, what is more important is what we can find inside the smartphone - LG G7 Fit can boast with the Quad DAC CPU (ES9218+ SABRE HIFI from the ESS Technology company). I am no audiophile, so I will not dwell on the sound quality – the smartphone plays loud and clear, and after connecting good earphones – the sound is great. In addition it has a minijack, LG's own music player and an FM radio – when it comes to the sound, LG offers the full package.
Photos and video
I was slightly surprised with the presence of the single camera on the back panel – lately I had an impression that a dual camera is a norm. In addition the one placed in LG G7 Fit is not too impressive. It offers 16 megapixels and an f/2.2 brightness lens. There is an autofocus with phase detection, as well as a support of an artificial intelligence – AI CAM. It can recognized a photographed scene and choose appropriate settings: brighten the shot, adjust colours, launch HDR. There is QLens as well, that is their own version of Google Lens, thanks to which we can search for the photographed object on Amazon or in images browser (in settings we can change that the default visual browser can be Google Lens). This is theory, but in practice it does not astonish. First of all it lacks image stabilization, second of all the brightness of the lens is an average one, and third of all without the additional wide-angle camera LG G7 Fit loses an important asset against its competition.


It is time to move to actual photography results – and they are not satisfactory. Photos in the daylight, or in good lighting can defend themselves, but those taken in poorly lighted rooms or after the sunset are simply bad. Without image stabilization it is difficult to achieve a properly focused photo, particular shots have good colours, but they often have poor quality. Here is a taste of LG G7 Fit camera's capabilities:


The selfie camera offers an 8-megapixel resolution and an f/1.9 lens brightness. AI CAM works here, there is a portrait mode, which blurs the background in shots. And how does they look like? They are decent, with natural colours and good focus. They are enough for social media, but in weaker lighting it is best to forget about photos due to a high noise level.




The camera can record in 4K, but due to the lack of image stabilization it does not look the best. Just like recordings in Full HD. Here are video recording results:



Communication
LG G7 Fit has everything that a contemporary smartphone needs. There is Bluetooth 5.0 Low Energy with aptX HD, navigation (GPS with aGPS, with support for GLONASS and Galileo) and NFC. There is a dual-channel Wi-Fi and an LTE cat.11 module. On the back panel there is an active fingerprint scanner, which works fine and basically recognizes the fingerprint every time. I tested the smartphone from LG as a car and walking navigation. I connected it with a smart watch from Samsung and wireless earphones from Motorola. For most of the time it was connected to a Wi-Fi network. And in all these communication methods it worked without any problems.
From physical sockets there is USB type C with OTG and a minijack. The smartphone supports two SIM cards in the nano size, out of which one can be replaced with a microSD card of a maximum capacity of 2TB.
Voice calls
Making calls with LG G7 Fit is nice and easy – just as it should be. The smartphone ensures a basic functionality in this field – unfortunately without recoding calls. Their quality and loudness is impeccable. Our interlocutor's voice is clean, loud and clear. The fact that we can install two SIM cards that work in the stand-by mode is an advantage.
Memory and efficiency
I do not know what the manufacturer wanted to achieve by placing only 32GB of internal memory in a middle price model – out of which the user is left, in reality, with only 17.2 GB after running the phone for the first time. Among models priced similarly as LG G7 Fit, 64GB is a norm, and we can even see some models that have 128GB. We can of course place a microSD card (up to 2TB), but for a cost of a one SIM card.
The smartphone runs on a unit that launched over two years ago – Snapdragon 821. It achieves decent results in benchmarks – for a quad-core unit – but it is not entirely reliable in work. I have some concerns towards the work of the interface, which can sometimes lag. Sometimes it was due to running or closing apps, loading icons on the screen or animations, but more often lags appeared while multitasking. Partially we can blame the system optimization, but I think that the hardware is to blame as well. Fortunately, during an everyday usage we do not notice this that much. I had some occasional lags and lost frames while gaming (Real Racing 3, Asphalt 9), especially during longer gaming sessions. The smartphone likes to heat up on the right side as well.
Battery
The smartphone does not work too well when being away from a charger. It has a 3000 mAh battery and with a less intensive usage it can work for around 1.5 day. However, if you are actively using social media, you have a few mail boxes and like to use multimedia, you will definitely charge LG G7 Fit everyday.
Charging the smartphone using the charger from the set takes around 1.5 hour – from a depleted to a full battery. After 30 minutes the charging level shows around 45%, after an hour it exceeds 90% - the last part takes the longest to charge. This is a satisfactory result, achieved thanks to the Qualcomm Quick Charge 3.0 technology and the Fast Charge 1.8 A charger.
lifespan with the display on (YouTube, 1 SIM card, active Wi-Fi module, 50% screen brightness) – 6 hours 27 minutes,
an hour of video streaming (Chrome, 1 SIM card, active Wi-Fi module, 50% screen brightness) - 16% of battery lost,
an hour of streaming videos from the phone's memory (airplane mode, 50% screen brightness) - 11%,
half an hour using online navigation - 10%,
half an hour playing Real Racing 3 - 12%,
PC Mark battery test result – 5 hours and 48 minutes,
8 hours in the standby mode - 5-9%.
Summary
A few elements in this model really deserves a commendation, for example the great display, enhanced and sealed housing or features connected with the sound – first of all the boombox speaker, and second of all the sound through earphones. But there are some that irritate a lot – for example the lifespan and photos' quality. And the launch price, which is 399 euro for this phone is definitely too much. However, as it is often a case for LG models, it quickly drops down. For a similar price we can get Pocophone F1 or smartphones from Honor. LG V30 or G7 ThinQ models are slightly more expensive – and they are more interesting devices, if you like to be close to LG products.
Advantages and disadvantages
Advantages:
minimalistic, elegant looks
wide personalization capabilities
notifications LED and Always-on display
parameters and brightness of the screen
brightness in the special mode achieves 1000 nits
Boombox speaker and Quad DAC Hi-Fi converter
quick charging
durability: IP68, Corning Gorilla Glass 5 both at the front and at the back,
Dual SIM support
possibility to hide the notch
NFC
minijack
Disadvantages
housing gathers fingerprints easily
the smoothness of the interface is not perfect
relatively small internal memory
single camera and average photos' quality
lack of image stabilization
poor lifespans
too high launch price
Source: GSMchoice.com; viewed: 241 times.