The smartphone that launched with a too high price in order to make some noise in the middle-price shelf. But its novelty time is gone, and the market has already verified its real value. So what can we expect from LG Q7?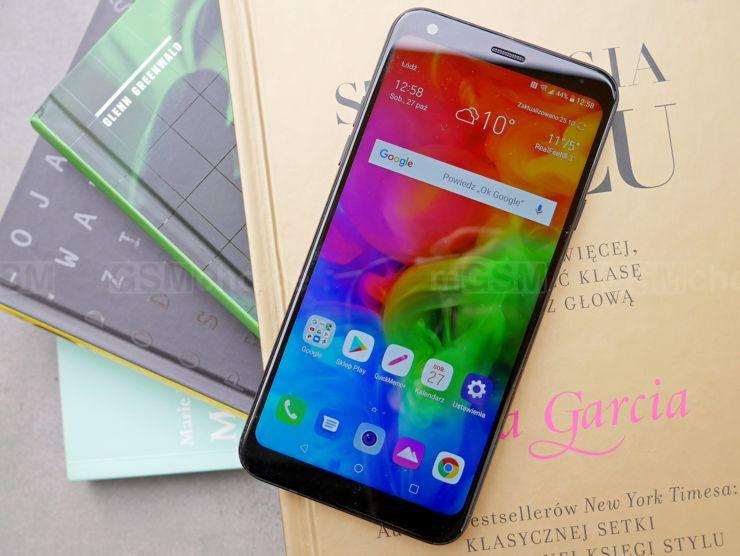 Smartphones from LG often get positive reviews, but it is always better to buy them when the price will drop down to a more reasonable level. The Korean devices have this problem that they are often priced too high and it is difficult for them to stand against their competition. On the other hand, their price can quickly drop down and then they are an affordable investment. And this is the case of LG Q7, which launched with the price of 350 euro, and after a few months we can buy it in a price that does not go over 200 euro.
LG Q7 is a small, neat and a handy phone. It has a 5.5-inch FullHD+ display with prolonged proportions, single main camera, USB-C socket and a minijack. It works under Android in the 8th version, and it has an octa-core MediaTek MT6750S CPU, supported with 3GB of RAM and Mali T-860 MP2 GPU. What is interesting is that the phone has a quick charging function and a dust- and a waterproof housing, which has successfully survived the durability tests specified in the MIL-STD 810G norm. In short this is how LG Q7 looks like – and now let us move to details.
Contents
Packaging and accessories
The sales set is not enhanced in any way. Besides a charger (5 V - 1,8 A/9 V - 1,8 A), there is a USB cable, needle for opening the tray for SIM and microSD cards and a microfiber cloth, which can help us to clean the device.
Housing and display
The smartphone looks neat and elegant. There are no designers extravaganzas, but the smartphone can be likeable. Especially for those who prefer small and light devices - LG Q7 weighs only 145 grams. The phone is handy – this is thanks to the well-profiled, oblong housing, metal frame and an arced 2.5D glass that protects the display of the phone. I must underline that the housing is water- and dustproof – not only does it fulfils the requirements of the IP68 standard, but the military norm MIL-STD 810G as well. LG Q7 is available in three colours versions: Aurora Black, Moroccan Blue and Lavender Violet. I received the black one.
The display, just like in the LG Q6 model, is the strongest part of the device. In the review model we will find a 5.5-inch IPS 18:9 ratio display with the Full HD+ resolution – that is 2160x1080 pixels. It gives a nice pixel density, which is on the level of 442 ppi. I have no concerns towards colours, viewability angles, sharpens or responsiveness. If it only had a slightly higher brightness level (I had some troubles with seeing what was going on the screen in the full sunlight) and a better contrast, I would not have had any more concerns.
The display has arced edges and it is surrounded by noticeable bezels, thicker at the top and at the bottom – the screen takes around 77% of the front panel. On the upper frame there is a speaker for calls, the lens of the front camera, sensors and notifications LED. The lower frame provides some symmetry, but it does not have any additional elements, buttons or logo.
On the back panel, besides the single camera and a LED flash, we can find a fingerprint scanner. It is placed under the camera, in the place where we usually put our finger. It works moderately fast and precise. But, what is more important, not only it can be used to unlock the screen, but we can take screenshots, slide the notifications bar or take photos with it. It is worth adding that the panel is made out of plastic and it has a shiny finish. It gathers fingerprints easily, and it scratches equally fast.
The frame of the device is metal, arced and in some places intersected with antennas' bars. Traditionally, we have everything that is necessary to use the phone. On the lower edge there is a USB-C socket, minijack, external speaker and a microphone's hole. On the upper one – the hole of the additional microphone. On the right there is a single power/lock button, while on the left – divided ones for volume control and the tray for a SIM card in the nano size and microSD cards.
System and applications
In Q7 we can find Android 8.1 Oreo, which is hidden under the LG UX interface add-on. I did not expect Android Pie from LG Q7, but the manufacturer should take care of more often security updates. At the turn of October and November the smartphone used Android security updates dated 1st May 2018.
The LG add-on is aesthetical and enhanced, it offers a lot of personalization and useful functions (for example KnockON, that is waking the display with a double tap), a dedicated gaming mode and multitasking physical buttons, as well as the fingerprint scanner, thanks to which we can take screenshots or photos. Icons are placed on main desktops, but in settings we can change the mode that has the apps menu.
LG has definitely placed too much preinstalled apps in the system, out of which some double the functions of the mandatory set from Google. For creating and managing notes LG has preinstalled QuickMemo+, there is a task manager, recorder, FM radio, music player, files manager, as well as update centre, Smart Doctor – an app that is supposed to help controlling the battery consumption, power saving and diagnosing and testing the device. For transferring data from an old smartphone to the new LG we can use the LG Mobile Switch, and if we will change our mind about deleted apps, it will be possible to revert this for 24 hours thanks to the app recycle bin. But there are more. In the Services tab we will find a launcher for the SmartWorld app, a technical phone support called RemoteCall Service and Safe family – an app for securing data in the smartphone, signed by McAfee. You think that this is all? No, LG has preinstalled Facebook, Instagram and Amazon Assistant…
Sound
The external speaker is a single one and it is placed on the lower edge. It is average in quality and not too loud. The quality is better when we are not using the full volume scale, but it is still flat and it lacks lower tones. The smartphone shows its power only after plugging in earphones - there is a 3.5 mm jack. Q7 has on board a DTS:X surround system, which ensures the 7.1 sound effects on earphones. And in this form it works much better.
For playing music LG has preinstalled its own player – it is aesthetical one, with a basic functionality and with the possibility of sorting songs. There is an FM radio as well.
Photos and video
Usually when I am asked to help choose a new phone, two basic criteria have the biggest meaning: the price and the camera. A few months after the launch the price of LG Q7 is on a reasonable level, but how does it look like when it comes to the camera? It does not offer neither a large matrix nor a bright lens or an optical image stabilization – the camera has an f/2.2 aperture, 13 megapixels and a LED flash.
And how does it translate to the quality of photos? The camera works well in a good, daylight lighting, with indoors photos we must put more effort (and still it is difficult to achieve satisfactory results), and for photos taken during the night it is best not to use it at all. It resembles what smartphones from the lower or medium-lower shelf represent. And it is easy to notice where the manufacturer was trying to decrease the production cost.
The camera is rather friendly in usage, it provides many work modes – including an automatic HDR. Other modes are:
Food,
Match shot – here we use the main and the front camera. Photos are either taken at the same time or one after another,
Guide shot – here one shot is used as a pattern for taking another one,
Snap shot,
Grid shot – connecting a few photos in a collage,
Panorama,
Flash Jump-cut – for creating GIFs.
Besides these mode we can use colour filters and set the lighting. Those who are looking for more advanced possibilities of influencing the photo's parameters have nothing to look for. We cannot forget about another function – QLens. Thanks to this we can search in web stores for objects that we are pointing the lens at, it can recognize them and it can scan QR codes as well. It works with Amazon and Pinterest. This might not be the most popular thing, but in the time of AI system – this is a developmental feature. Though at this moment we can achieve better results using Google Lens – QLens has still some work to do. And here are photography results:
At the front there is an 8-megapixel camera with an f/2.0 lens that uses Fixed Focus and lighting the shot with the display. Photos taken with it are acceptable, though it is sometimes difficult to focus with it. There are of course beautifying modes, though in comparison with the competition the functionality of the app is not particularly enhanced.
We can record videos in the maximum resolution of FullHD with 30 frames per second. Unfortunately, there is no form of an image stabilization, which translates to the quality of recordings.
Communication
LG Q7 has everything that is needed in a contemporary smartphone. There is Bluetooth 4.2 BLE, single channel Wi-Fi 802.11 b/g/n, it supports LTE and NFC module for making payments using the phone. The navigation system supports GPS and GLONASS, and its work is accurate – the navigation quickly fixes on the position and ably guides us to our destination.
Voice calls
The smartphone supports one SIM card in the nano size and it ensures a decent quality of calls. I had no problems neither with the coverage nor with hearing my interlocutors. Conversations in noisier surroundings are made easier thanks to the additional noise reducing microphone. We cannot record calls, but we can add this function by installing an app from the Google store.
Memory and efficiency
The smartphone provides 32GB of RAM – out of which 38% is taken by the system and preinstalled apps. The user is left with 19.64GB, but we can always use a microSD card. There is not enough memory at the start, the competition in the middle price shelf can offer us twice as much capacity.
Mediatek MT6755 CPU (Helio P10 platform), built out of eight Cortex-A53 1,5 GHz cores, supported by Mali-T860 GPU and 3 GB of RAM is responsible for efficiency. This is not a specification worthy of a model that costs 350 euro – but in the segment of phones, which price does not exceed 200 euro - Q7 will not have bigger complexes. We cannot fail to notice that the smartphone gives way to its competition with its computing capabilities – when it comes to the efficiency it will work in everyday activities and simple games (or in older titles), but if anyone would like to use it for more ambitious solutions or more demanding games – you can be strongly disappointed. The fact that the device has no problems with overheating is an advantage – it tends to be warm (it goes up to 37-38 degrees), but not so much to become uncomfortable for the user.
The smartphone is definitely not the fastest middle-price-shelf-guy. Sometimes it slows down, not only in apps but the interface itself lags. Q7 is sensitive to multitasking – there are problems with speed and efficiency of work if there are too many apps with synchronization working in the background. And it might have been acceptable in a budget device, but in a device that originally cost almost 350 euro this is unacceptable.
Battery
Q7 has a 3000 mAh cell. And it ensures average lifespans. With a moderate usage it will last until the end of the day, but if we game a lot or use multimedia, it can be problematic and we will be looking for a charger or a powerbank before the evening. The fact that it supports the quick charging Pump Express technology is an advantage, the battery will be fully charged in around 1.5-2 hours.
lifespan with the display on (YouTube, 1 SIM card, active Wi-Fi module, 50% screen brightness) – 8 hours and 11 minutes,
an hour of video streaming (Chrome, 1 SIM card, active Wi-Fi module, 50% screen brightness) - 20-22% of battery lost,
an hour of playing videos from the phone's memory (airplane mode, 50% screen brightness) - 10% of battery lost,
half an hour of playing Real Racing 3 - 9-10% of battery lost,
PC Mark battery test results – 6 hours and 17 minutes,
8 hours in the standby mode - 4% of battery lost.
Summary
LG Q7 is not the newest model from LG – it has launched in June. And it had an absurd price of around 350 euro. No, it definitely was not worth it, but after a few months it costs almost a half less (180-200 euro) – and it is a lot more interesting proposition now. If we will turn a blind eye on the old CPU, not so impressive battery and an average camera, we can appreciate the great display, sound through earphones, small sizes or the housing resistant to dust, water and falls. But still it might not be enough when we consider offers from Xiaomi or Honor in a similar price shelf.
Advantages and disadvantages
Advantages:
compact size and comfortable usage
display's quality
multitasking fingerprint scanner
dust- and waterproofness - IP68 and MIL-STD 810G standards
notifications LED
minijack
DTS:X surround system and the sound quality on earphones
USB-C socket
FM radio
good quality of calls
quick battery charging
NFC
Disadvantages
specification is not impressive
not a lot of memory left for the user
not the fastest device in its price shelf
software has some errors, there are occasional lags
the back panel catches dirt and scratches easily
poor lifespans
single-channel Wi-Fi module
photos' quality in weaker lighting
a lot of preinstalled apps
old security updates
Source: GSMchoice.com; viewed: 264 times.