We have already checked the work of the series' foundation - Moto G7, as well as lifespans of Moto G7 Power. Now it is high time to check the biggest representative of the seventh G series, that is the Moto G7 Plus model.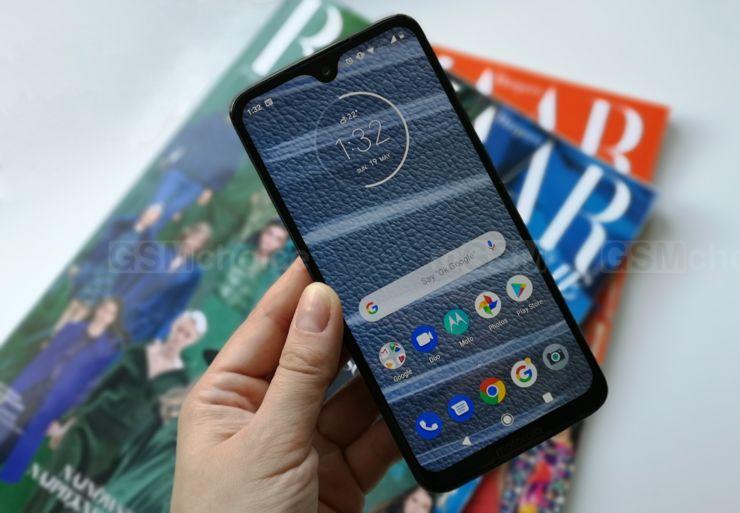 photo: Jolanta Szczepaniak/GSMchoice.com
Models from the G series, offered by Motorola, are probably one of the most popular smartphones in the middle price shelf. And since 2013. They have just received its seventh version and they have been praised for years for their capabilities and quality to price ratio – is it the same for the Moto G7 Plus model?
Contents
Packaging and accessories
The smartphone is packed in a green box, in which we can find a paper manual, tool for opening the tray for SIM/microSD cards, cable with two USB-C ends and a turbo Power (5V-3A/9V-3A) charger. I assess the presence of a silicone, transparent etui positively, thanks to this the camera does not stand above the housing, the phone loses its slick character and we cannot see fingerprints on its glass panel.
Housing and display
Moto G7 Plus has a housing based on two glass panels, connected with a plastic frame (some sources claim that the frame is made out of aluminium, but looking at cut-outs for sockets and the tray for SIM and microSD cards I say that there is no metal, just plastic). This is a construction with few elements typical for the brand, like the placement of the main camera and the characteristic ring that surrounds it. In time, when manufacturers are inspired by what the competition creates and they release almost identical smartphones, it is worth appreciating elements that distinguish a particular brand. Though of course not everyone must like such design. Still, I rate the quality of construction, as well as the ergonomics of the smartphone, high. It is a pity that it is neither dust- nor waterproof – it can only ensure a basic resistance to splashes thanks to the P2i layer. In practice it worked during a rain and it handled usage with a wet hand.
The work on an IPS LCD 6.2-inch diagonal display, with a 19:9 ratio and 1080x2270 pixels resolution (which gives 403 ppi) makes no problems. The display is big, clear, repressive, with vivid colours (though colder than warmer) and appropriate brightness (some problems can occur in a direct, bright sunlight, when the work is made harder due to reflexes). There is the eye protection mode, that is the blue light filter. In addition, in settings we can find the option of changing colours profiles and theme (light or dark) – unfortunately, there are no more advanced settings, like configuring particular colours or a white balance. People who wear glasses with polarizing filters will notice a darker image in the horizontal orientation, which is a disadvantage.

The display is surrounded by rather large bezels (on the lower one we even have the manufacturer's logo), and in the upper part there is a notch in the shape of a water drop, which hides the front camera. Truth to be told, taking the shape into consideration, I enjoyed the notch in the G7 Power model more – and if there had been none – it would have been much better… And unfortunately, we cannot hide it (neither from the settings level nor from the dev's options). Above the notch, on the connection of the glass and the frame, there is a cavity with the receiver, in which dust likes to gather. There is no notifications LED – it is supposed to be replaced by the Moto Display function, which is showing notifications on the display when we receive them or when it will detect any motion (for example when we will move our hand closer or when we will take the phone to our hand). It is worth noticing that this solution drains the battery more than similar solutions used in AMOLED displays. Under the display, in the lower frame, besides the Motorola brand name, we will notice a cavity, which indicates the location of the microphone. The front panel is protected by Gorilla Glass 3 panel.
The back panel is slightly arced on edges, thanks to which the smartphone lies in hands comfortably. It has a fingerprint scanner (round element with the Motorola logo) and a dual camera with a LED flash, placed in a characteristic ring. It has markings and, in the lower part, microphone's hole used for noises reduction. The fingerprint scanner is placed on an appropriate height and our finger reaches it without any problems. The scanner is fast enough and almost errorless – errors only happened once or twice, in all other occasions there were no problems. It is supported by the facial recognition system, which can work especially well in good lighting – this is a nice, though a bit less reliable and slightly slower companion of biometrical securities than the fingerprint scanner.
It is high time to move what can be found between glass panels. At the top there is the hole of another microphone used for noises reduction and the tray, which hides slots for placing two nanoSIM one microSD cards. The left side has no additional elements, while on the right there is volume control (in the form of a single bar) and power/lock button. The lower edge has a single external speaker, USB-C and minijack sockets.
System and applications
The smartphone works under Android 9 Pie with fresh security updates – April the 1st 2019. There is no "heavy" add-on that could change particular aspects of using the smartphone – the software was not modified, we have only a few useful elements. For example Moto Actions (for running the camera, turning on the torch and making screenshots) and Moto Display (showing notifications, battery level and the clock on the locked screen), which as always can be found in the Moto app.
Besides Moto app another addition for the pure Android by the manufacturer is Dolby Audio, which is an app dedicated for configuring sound profiles – and nothing more than what Android provides was preinstalled in Moto G7 Plus. For lack of bloatware in the software and a good system optimization the manufacturer deserves a commendation.
Sound
A sort of stereo system is used for playing sound. It uses the external speaker placed on the lower edge and the speaker for calls, placed in the cavity above the display. Of course these two sound sources are not equally loud, but they offer a form of a stereo sound. The quality of sound is an advantage, I assess it positively both when using speakers and earphones. From the software side we can underline the presence of the Dolby Atmos system, in which the user can choose one of modes (Smart audio, Music, Film) or select our own (Custom). There is an enhanced FM radio app with RDS, thanks to which we can record broadcasts to the AAC format.
Photos and video
The main camera covers 16-megapixel main sensor and an f/1.7 brightness lens with optical image stabilization and additional, 5-megapixel one for measuring depth. For a middle-shelf camera this is a configuration, which ensures really good quality of daytime photos, but it is decent for taking photos in poorly lighted rooms and after sunsets when, despite noises, photos remain relatively clear. The problem can occur when we are trying to achieve sharp photos of moving objects in weaker lighting, when the camera work is noticeably slower.
Still, the camera is one of the most important difference between the base Moto G7 model and Moto G7 Plus, which has a higher resolution of both cameras, optical image stabilization and a slightly brighter lens. It translates to better and more detailed photos and smoother video recordings, especially in 4K.
Here are photography results:
The app is rather friendly, though it has a lot options, which could have been more at hand, and the manufacturer has hidden them in settings, to which we can get to by opening the window with modes selection. In the main app panel there are icons for HDR, LED flash, timer, moving photos and switching to the manual mode, in which we can save photos in RAW format (DNG). Modes that we can use in camera settings, cover manual mode, Portrait, Cutout, Spot colour (only one selected colour remains), Cinemagraph, Panorama, Live filter, Slow motion, Timelaps and AR stickers. The app works with Google Lens for recognizing objects in photos and reading QR codes.
The front camera has 13 megapixels, beautifying mode, HDR and manual mode, in addition we can record videos in the maximum resolution of 4K. Results of its work can be uploaded to your social media profiles without any shame.
Videos can be recorded in the maximum resolution of 4K. There is the possibility of recording in Full HD with 60 frames per second, but we can only use the image stabilization after switching to 30 frames. Here are video recording results:
Communication
The set of module and connectivity options in the G7 Plus model is complete. From wireless option we can mention Bluetooth 5.0, Wi-Fi in the 802.11 b/g/n/ac standard (it works in 2.4 and 5 GHz channels), LTE cat. 13, NFC and navigation system that uses GPS, GLONASS and Galileo. Physical sockets and connectors consist of 3.5mm minijack, USB type C for charging and data transfer and a slot for a memory card and two SIM cards in the nano size – there is no hybrid solution, so each card has a separate slot.
Voice calls
Thanks to the active noise reduction voice calls are not problematic. Interlocutors heard me loud and clear even when the call was taken in a rather noisy surroundings. The smartphone can use two SIM cards and each can use LTE. It supports VoLTE and Wi-Fi calling as well, we can adjust the usage mode of SIM cards (intelligent, division to private and business ones and a manual mode) as well.
Memory and efficiency
64 GB of internal memory is an appropriate amount for a middle-shelf smartphone (though no one would complain if it had twice as much). In practice, after running the phone for the first time, the user is left with around 50.5GB – the rest is taken by the system and preinstalled apps. That is why it is worth using the microSD cards socket. First, it supports drives of up to 512 GB, and second the memory drive has a separate slot which does not disturb using two SIM cards at one.

The computing power is provided by Qualcomm snapdragon 636 with Adreno 509 GPU, supported by 4GB of RAM. In an everyday usage this configuration is impeccable, it ensures smooth and fast work of the system, it quickly runs apps, it fully supports multitasking and multimedia usage. In these usages we will not see any slow-downs or lags – only when we are going to run more demanding titles we are going to see the border of Moto G7 Plus efficiency. Lacks in frames can sometimes occur in titles like Real Racing 3 or Asphalt 9. I have noticed that the smartphone sometimes needs a moment to rescale photos in the gallery and load their miniatures.
Battery
3000 mAh is now not a value that could impress us. And it is not enough for the smartphone to last on a single charge until the end of the day with a rather intensive usage (mainly the navigation and the camera). With a more economical usage it can maybe achieve a day and a half. But I could not manage to achieve two days of work even once. In some way, the average results of the battery can be compensated by the quick charging Turbo Power technology, as well as the cable and the charger from the set. After 15-20 minutes the charging level exceeds 50%, after 30 minutes there is over 85%, and achieving 100% does not take even one hour. It does not support wireless charging.
lifespan with the display on (YouTube, 1 SIM card, active Wi-Fi module, 50% screen brightness, minimal sound level) – 11 hours and 53 minutes,
PC Mark battery test results – 10 hours and 50 minutes,
Geekbench results – 4674 points, discharged after 8 hours,
an hour of streaming videos (Chrome, 1 SIM card, active Wi-Fi module, 50% screen brightness) - 9-10% of battery lost,
an hour of video streaming from the phone's memory (airplane mode, 50% screen brightness) - 8% of battery lost,
half an hour using online navigation - 7-8%,
half an hour playing Real Racing 3 - 10%,
8 hours in the standby mode - 3% (with inactive Moto Display).
Summary
Motorola Moto G7 Plus is priced at 499 dollars. And this is not an excessive price, though the specification could have been more powerful. Good quality of construction, fast charging, nice camera with optical image stabilization and an almost pure system with useful manufacturers add-ons speak in favour of this review model. If lifespans had been better, there would not have been anything to complain about. And the competition, especially from the Chinese manufacturers side is strong, for example Xiaomi (Redmi Note 7, Mi 8 Lite), Huawei (for example Honor Play), Nokia (like Nokia 7 Plus) or Samsung (for example A6 Plus). Which does not change the fact that G7 Plus is a good proposition, which is worthy of considering, provided that you do not care too much about the efficiency and lifespans.
Advantages and disadvantages
Advantages:
quality of stereo speakers' sound
fast and precise fingerprint scanner
good photos quality
FM radio
silicone etui in cover
NFC
minijack socket
fast charging
dual SIM cards support and memory card in separate slots
almost pure Android 9 Pie system
useful manufacturers additions, like gestures support
camera with optical image stabilization
hydrophobic layer, which ensures protection from splashes
Disadvantages
unattractive notch that cannot be hidden
average lifespans
lack of notifications LED
battery's capacity
lack of dust- and waterproofness
the camera module stands out slightly
competition in this price segment offers more efficient smartphones
Source: GSMchoice.com