This is a reliable smartphone that looks great and has pure Android on board. This is one of the most interesting propositions among models for up to 300 euro.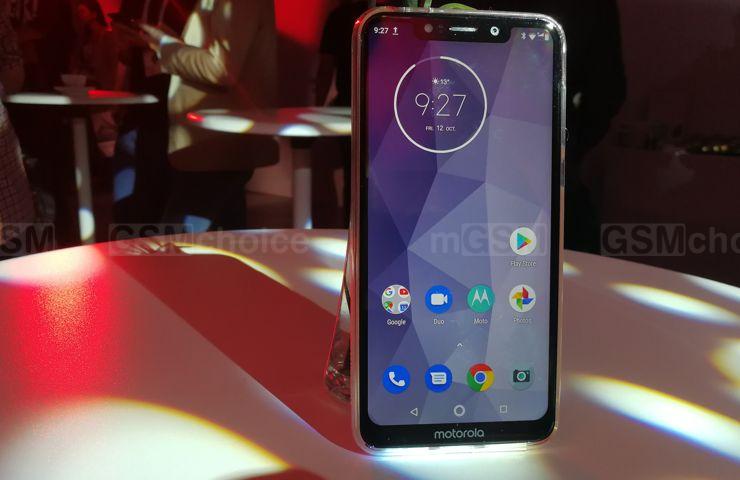 photo: Jolanta Szczepaniak/GSMchoice.com
The new product from Motorola - Motorola One - is a model that can be placed between a more budget G series and the more prestigious Z series. From the first one it took the affordability, and from the second one – attention to an attractive design. The smartphone has a 5.9-inch IPS display with a 720x1520 pixels resolution and a 19:9 ratio, it is powered by Snapdragon 625, supported with 4GB of RAM and 64GB of internal memory. The whole runs on a 3000 mAh cell. This model comes in the stronger Motorola One Power version as well. Unfortunately, it was designed for the Indian market.
Motorola One offers a lot for a relatively small amount of money – for 299 euro we receive a model that not only has a big display and an elegant looks (visually it looks to me like iPhone X or XR - but it costs a lot less) but it has pure Android and a dual camera as well. The smartphone surprised me positively with its work and capabilities, as well as its affordability. Though maybe decreasing costs of productions were the reason of placing over 2-year old CPU and a display with a relatively low resolution. Because of this Motorola One might have problems with matching the competitions' offer. Let us move to details.
Contents
Packaging and accessories
In the purple box we receive, besides the smartphone, a USB cable and a 15-watt USB charger (Turbopower), there is a needle for opening the tray for SIM/microSD cards and a silicone, transparent etui for the phone.
Housing and display
One presents a successful and eye-catching effects of its designers' work, which is clearly based on Apple's smartphones. Still I like the combination of a white housing with metal elements (the black version looks less effective) and the looks of the glass, back panel, which draws our attention with a fingerprint scanner with the Motorola logo. Basically the reviewed smartphone is a neat device that lies in hands comfortably. Holding it is made easier due to curved edges and damage protection is offered by Gorilla Glass panels at the front and at the back, and a transparent etui added to the set. Unfortunately, the device is neither dust- nor waterproof, though is uses the P2i technology, which is supposed to protect it from water splashes.
The display takes around 80% of the front panel. If it was not for its resolution I would not have any major concerns towards it. The manufacturer used a 5.9-inch HD+ resolution display, which gives 287 ppi. With such a pixel density we are able, in theory, too see single points. Why did the manufacturer decided to save costs on the most important element, when the rest of the specification (4GB + 64GB, USB-C) looks really positive? If we are not going to draw particular attention to whether we can see pixels or not, the display in Motorola One turns out to be bright enough, with good colours (we can configure them additionally in the menu) and with a proper responsiveness. It is worth adding that the display has curved edges and it dims intensively when we are holding it in a horizontal position and looking through glasses with polarizing filters.
Motorola One has a notch. We all know that this is a controversial element when it comes to the practical and visual aspect, still in some way it looks more like other models from this year thanks to this solution. And it looks even more like iPhone thanks to this. In the One model it is a wide one, which leaves not too many space for icons and notifications. And unfortunately we cannot hide it. In the notch there are sensors, 8-megapixel camera for selfies with a f/2.2 lens, speaker for calls and a LED flash. Unfortunately there is no notifications LED, but Motorola enabled the Moto Display function, which provides information about missed calls and unread messages.

Motorola One looks much better from the back. At least in the white colour version. The glass panel looks elegant (and it makes the device slick), the white colour of the housing looks great with the metal insertions, I really like the divided camera (though it stands above the housing) and the Motorola logo placed on the fingerprint scanner. Though it is a pity that Motorola has dropped its characteristic design and a typical for this manufacturer round camera module – here we receive another device inspired by the iPhone's design.
Elements are placed ergonomically, especially the scanner, which location is coherent with the natural placement of our index finger when we are holding the device in our hands. This element works fast and accurately, I did not have slightest problems with unlocking the device, I did not have to repeat scans as well. It is worth adding that this is not the only biometrical security – the smartphone supports facial recognition as well – this feature is available through Smart Lock.
Two glass panels are connected by a chrome frame – plastic one, but unless we take the phone to our hands and feel this ourselves, it imitates metal really well. On the lower edge there is the USB-C socket for charging the device and data transfer. It is surrounded by two rows of holes, out of which one hides the external speaker (the one on the right side), and the second one provides symmetry – and hides the microphone. On the opposite edge the manufacturer has placed a minijack socket and a hole of the additional microphone.
On the right edge there are volume control buttons (in the form of a single bar) and the power/lock button. They are placed on an appropriate height, under the thumb, though there is a noticeable difference in their "click". The volume button is placed slightly higher and has a better "click", while the lock button seems to be more shallowly placed. On the left side there is the tray for two SIM cards in the nano size and a separate slot for a microSD card.
System and applications
The review models takes part in the Android One program. The advantage of this initiative is the fact that it offers a pure Android software, free from additions and add-ons from manufacturers, and it promises to deliver the newest Android updates directly from Google. Manufacturers do not have a lot of space for diversity – when the software and hardware are basically the same, all is left is the brand, looks and some details in software allowed by Google. For example your own camera app, single manufacturer's apps that introduce some facilities or ones connected with a technical support. Motorola used both options.
So we have a pure system with promised, quick software updates for the next 3 years. It covers not only security updates, but delivering the Android 9 Pie system and the next version, Android 10 (Q). It would be perfect if the 9 version had been already preinstalled in Motorola One. For now we are left with Oreo. And there are no reasons to complain about this system. It works fast and smooth, it does not generate lags or any errors in apps.
The far left screen is Google Assistant, and personalization options cover changing wallpapers, widgets, icons' grid, and icons' placement in the shortcuts bar. The software allows choosing the display colours mode, their temperature and the night time mode. The gestures support is a big advantage – it is provided by the Moto app. In the Moto Actions tab we can set, for example, to turn on the torch after shaking the phone twice or to run the camera by twisting our wrist twice.
Motorola One does not have a notifications LED, but the manufacturer ensures a different kind of notifications – Moto Display. These are power-saving notifications, which appear on the dimmed display. I like this solution, mainly due to its readability and a great widget with a clock (and a circle surrounding it, which shows the battery level). Though a regular notifications LED would have been great as well. The pure software is an advantage of this model – the only bloatware are the preinstalled Google apps.
Sound
Motorola One has a single speaker placed on the lower edge. While holding the smartphone horizontally it is easy to muffle it. And it is not a brilliant one either, it simply works. It is moderately loud (I had no problems with hearing the navigation while driving a car) and in addition we can use the Dolby Audio technology. The "bare" sound is not the best in the upper volume scale, but Dolby Audio eliminates distortions and provides some form of bass – it is definitely worth using this function.
The advantage of Motorola One is the presence of the minijack and an FM radio with RDS and the possibility to record broadcasts (to *.aac files).
Photos and video
On the back panel there is a dual camera, which has a 12-megapixel matrix with autofocus and phase detection and an additional, 2-megapixel camera, which is responsible for measuring the depth of field and it provides the background blurring effect in photos. The camera can record videos in the maximum resolution of 4K with 30 frames per second. However, in this price shelf we cannot expect miracles. The camera can take great photos in the daytime and it has a nice portrait mode – however, when lighting conditions deteriorate, the quality drops down significantly. Noises, blurs, dimmed photos, flares from any light sources – I did not enjoy its work effects after dark.
We can control this a bit using the camera app – in this aspect Motorola did not fail us. It offers a professional mode with setting focus, white balance and ISO, we can take panoramas, portraits with blurred backgrounds, we can record in slow motion, there is Google Lens and HDR in the auto mode as well.
And here are photography results in different lighting conditions:
The camera at the front, with 8-megapixel resolution and an f/2.2 brightness lens, provides photos with natural colours and a good level of details. It offers a good enough quality so that we can share these results in social media, and in weaker lighting we can use the LED flash to light up our face.
The main camera can record in the maximum resolution of 4K Ultra HD (30 frames per second), but if we are going to use the electronic image stabilization, we need to record in FullHD with 30 frames per second. Here are video recording results:
Communication
We can find here the most popular – and the most needed in a contemporary smartphone – communication options. Motorola supports 4G LTE Cat.4 networks, it has a dual-channel Wi-Fi module and Bluetooth 4.2 with BLE. There is navigation that worked without any problems, it quickly caught the fix and guided me both when driving and walking. Fans of mobile payments should be pleased with the presence of NFC.
Voice calls
The smartphone supports two SIM cards in the nano size – in the stand-by mode. In the settings menu we can choose which card will support voice calls and which data transfer. Both slots support 4G networks, but not in the same time. When one of cards works in 4G, the other one switches to 3G. The quality of voice calls is decent, I had no problems with hearing and understanding my interlocutors. And they had equally positive opinion about the call as well. The noise reduction works great, I had no problems with the coverage, the only thing that is missing is the possibility of recording voice calls.
Memory and efficiency
The smartphone has 64GB of internal memory, out of which the user is left with 53.04GB after running the phone for the first time. Let us add that the phone can use microSD cards – of up to 256GB.
Snapdragon 625, supported with 4GB of RAM can handle everyday tasks without any problems. But let us face it – this is an old CPU. Fortunately, it does what it should – but there is something left to be desired. The smartphone works without any problems in an everyday usage, it has no problems with multitasking or even gaming, though we must choose less demanding titles.
Battery
Motorola One will not beat lifespans records. Its 3000 mAh battery ensures decent lifespans. Provided that we will not fulfil more ambitious tasks, the smartphone will work for a whole day, but with a more intensive usage we must be ready to charge the cell before evening. And how long does it take? In the set we can find a quick charger, and thanks to the support of the TurboCharge technology, it takes less than two hours to fully fill the battery. After 15 minutes we have 24%, after 30 minutes – 37%. After an hour the cell will be charged in 70%. Unfortunately, the smartphone does not support wireless charging.
lifespan with the display on (YouTube, 1 SIM card, active Wi-Fi module, 50% screen brightness) - 11 hours and 39 minutes,
an hour of video streaming (Chrome, 1 SIM card, active Wi-Fi module, 50% screen brightness) - 10% of battery lost,
an hour of playing videos from the phone's memory (airplane mode, 50% brightness) - 12% of battery lost,
half an hour of using online navigation - 7% of battery lost,
half an hour of playing Real Racing 3 - 9% of battery lost,
PC Mark battery test results - 8 hours and 46 minutes,
8 hours in the standby mode - 3% of battery lost.
Summary
Motorola One is an interesting model and it can be a solid – and a really elegant – tool for an everyday work. It is reasonably priced and if it was not for the display's resolution, old CPU and a rather average camera, it would have beaten down the competition in its price shelf. And now it has to face strong rivals, among which are Honor 8X, Huawei P20 Lite, Nokia 7.1, Xiaomi Mi A2 and Motorola Moto G6 Plus.
Advantages and disadvantages
Advantages:
elegant, attractive looks
pure Android and membership in the Android One project
updates promised for the next 3 years
a lot of memory: 4 GB of RAM and 64 GB of internal memory
minijack
FM radio
separate slots for two nanoSIM cards and a microSD card
great everyday efficiency and work comfort
glass panels protected with Corning Gorilla Glass
NFC support
dual channel Wi-Fi
silicone etui in the set
quick and smooth work
Turbo Power quick charging technology and an appropriate charger in the set
Disadvantages
lack of notifications LED
competition in this price shelf can offer better specification and better cameras
photos quality after dark
wide notch with no option of hiding it
old CPU (2 years old)
screen resolution is "just" HD+
efficiency might not be enough in games and more demanding apps
Source: GSMchoice.com; viewed: 476 times.