Nokia 7.1 has many advantages, which can attract potential buyers. These are, among others, pure Android, great assembly, elegant looks and a display that supports HDR10. And what can we dislike?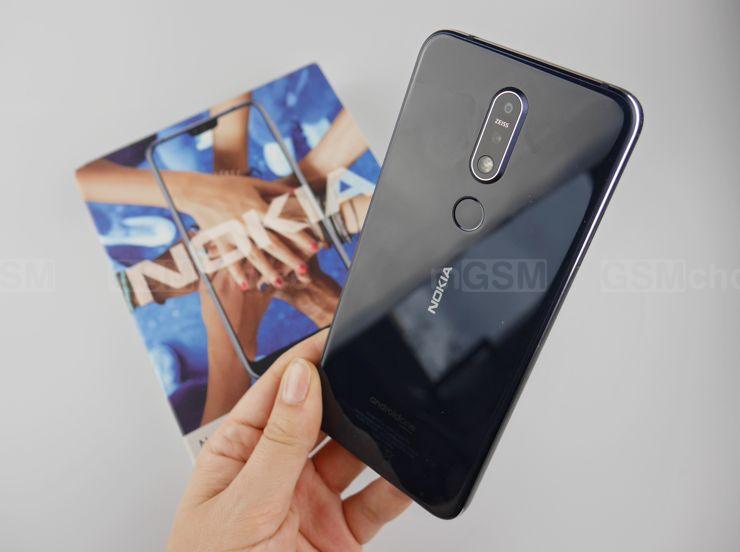 photo: Jolanta Szczepaniak/GSMchoice.com
Nokia 7.1 launched in Autumn and is the first device of the company that uses the PureDisplay panel. Besides, it looks like a device from a much higher shelf, it can count on quick software updates and it works nice as a multimedia and an everyday, communication-internet device. If the price had been better, Nokia 7.1 could have been a hit. Meanwhile, a quick glance at what models are offered by competition from a similar place shelf clearly shows that other manufacturers can offer more efficient smartphones, with more powerful CPUs and bigger memories for the same price. You can see how the middle-price shelf proposition from HMD looks like in comparison to its competition and what it can surprise us with…
Contents
Packaging and accessories
The package content of Nokia 7.1 is not particularly rich. Besides the phone we can find a charger (5V-3A / 9V-2A / 12V-1,5A), USB cable, simple earphones with a microphone, as well as a paper manual and a needle for opening the tray for SIM and microSD cards. It is a pity that the manufacturer did not want to add a silicone cover, thanks to which the smartphone would not have been so slick and its housing would not have been a magnet for fingerprints.
Housing and display
The quality of construction is one of the most important features of the Nokia 7.1 model – here we have a nice combination of a tempered glass and 6000 series aluminium (CNC milling). Our attention is drawn by finished details, well-thought construction and overall ergonomics. Let us divide some time to the frame, which – according to materials provided by the manufacturer – was anodized two times. The touch of the cold metal makes us feel like handling a solid, upper-shelf price device, our attention is drawn by milled edges, which show clean aluminium, adding shinning accents. The same feature was used along buttons and the camera module. The body itself is solid and stiff. Nokia 7.1 is impeccable when it comes to the quality of construction and attention to details. It is a pity that the housing is not dust- and waterproof and it does not have an enhanced resistance to falls. As a consolation we have Gorilla Glass 3 protecting the display.
I have mixed feelings when it comes to the display that takes most of the front panel. On paper it looks impressive – this is a 5.8-inch PureDisplay with 19:9 ratio and a Full HD+ resolution (1080 x 2280 pixels). It supports the HDR10 mode, thanks to which the image has live and saturated colours and the smartphone can instantly enhance the image and convert to HDR contents that were not originally saved in this standard. I do not know if it is really like that – but the image looks great.
However, I wish there was some colours calibration or a possibility to change the white balance – in my opinion the display moves towards colder colours and during this review I enjoyed working with the active blue light filter the most.
The display in its upper part has a small notch, which hides the speaker for calls, front camera and sensors, while in the lower part the front panel was taken over by a rather wide bezel, on which there is the brand's logo. At the first glance it looks like we cannot hide the notch – neither Android Oreo nor Android Pie have this feature. However, we can find it hidden deeper – it appears only when running the developer mode. Then, in the Developer Options we just need to tap the "Full Bezel" option, in which the background colour around it will turn black.
The back panel is made out of glass, which looks neat and elegant, though it "suffers" from the same condition as other smartphones with glass backs. It is slick and it catches fingerprints. It does not draw our attention with different colours, it maintains its dark elegance.
On the central place there is a module with the dual camera and a LED flash, which slightly stands above the housing, below it we can find the fingerprint scanner, further down there is vertically placed Nokia logo, a more subtle AndroidOne logo and printed certificates. All elements are placed logically and ergonomically. While using the camera we will not cover it by accident with our finger, and the index finger reaches the scanner without any problems. I will write more about the camera later on – right now I would like to mention a few words about the fingerprint scanner. It works without any errors, though it slightly lacks the precision and speed of scanners in, for example, Huawei models. This is not the only biometrical security of the smartphone – in the SmartLock tab we can find the "Trusted Face" function for facial recognition.
The metal frame has a dark colour, though it shines on milled edges. Sometimes it is intersected with antennas' bars. The frame has typical elements placed on it, that is a USB-C socket, microphone's hole and the external speaker on the lower edge, physical buttons on the right, tray for SIM and microSD cards on the left and finally a universal jack and an additional microphone at the top.
System and applications
Nokia 7.1 works on the pure version of the Android system and it takes part in the Android One program. And I knew that it will receive a quick update – which has happened in the middle of December. Then the smartphone notified me that it will update the system to Android 9 Pie along with the December security updates. A big advantage for this. The pure Android is usually associated with a lack of additional modifications (and enhancements) of the interface and the lack of useless, preinstalled apps.
There are no major modifications and additional functions as in smartphones with manufacturers' add-ons. But it does not mean that pure Android is completely deprived of them. There is something similar to Always-on-display – here under the name of "Ambient display". Thanks to this on an almost completely dimmed display we can see notifications. Due to the lack of a notifications LED it is better to at least have this alternative.
There is some gestures support, for example flipping the phone in order to reject a call or lifting it up in order to mute it. Personalization covers changing wallpapers, widgets or icons' shape, there is a dark mode as well, in which the background of apps' menu, shortcuts and notifications bar and some of the basic apps is black – instead of a standard white one.
Sound
The external speaker can be found on the lower edge. It offers a relatively loud and a clear sound – of course when we will take into consideration the fact that it is a single one and it has a small size – though it lacks a more powerful bass. It works in the loud speaking mode, though while gaming – and holding it horizontally – it is easy to cover the speaker and muffle the sound. For playing music we have an app from Google, but there are no more advanced sound equalizers (besides the one built-in into the Play Music app) or an FM radio. Traditionalists will be pleased with the presence of the minijack, but the Bluetooth module works perfectly for transferring music as well – I tested it with wireless Motorola Pulse Escape earphones.
Photos and video
Besides the display and a pure system another feature of the Nokia 7.1 model advertised strongly is its camera. It has optical elements from the ZEISS company, and the main module has a 12-megapixel matrix (f/1.8) with autofocus based on the phase detection and a secondary, 5-megapixel matrix (f.2.4), which is used to measure the depth of field.
It is worth to mention about numerous functions available in the camera app. Among them we can find the Pro mode (with a manual white balance, ISO, aperture and shutter opening configuration), background blurring in the portrait mode, built-in Google Lens service and an enhanced dual-sight mode (the so-called bothie, which is a simultaneous recording using both cameras). HDR is in the auto mode, there is OZO Audio as well – a Nokia technology for recording sound. Of course we can get used to the looks of the app and it is basically intuitive, but at the beginning the overabundance of icons makes it look unreadable. Sometimes the shutter works too slow, that is why the photographed object moves in the shot before it gets captured – which makes it come out of focus.
However, users should not be disappointed with the photos quality. The smartphone works great if it has enough lighting. It properly blurs the background and has a good HDR. The autofocus works fast and precise, photos are properly focused and have a high number of details, though of course they look better in a smaller display of a phone than on a PC. This is thanks to the display, which enhances the image to some degree and increases their dynamics. On a monitor, with a zoomed-in image, they lose some details. Still, as a middle-price shelf, Nokia 7.1 does not need to have any inferiority complex. For sharing in social medias or taking photos during holidays it will be more than enough. Those who need something more can buy a smartphone from a higher shelf.
The smartphone works a bit worse in night time photos and with a weak lighting – but this is a no surprise in this price shelf. On a smartphone they look nice, but we just need to zoom in a bit to show a complete lack of details – this is an effect of noise-reducing algorithms, which contribute to such effect.
And here are sample photos:
There is an 8-megapixel selfie camera with a wide lens (84 degrees) and an f/2.0 brightness, to lighten up the shot we can use the display. The photos quality is pretty good, provided that we will focus properly.
Nokia 7.1 can record in 4K, though it lacks an optical image stabilization – it is best not to record over 1080p. Then the video quality is decent and the electronic image stabilization helps maintaining an appropriate smoothness. Here are video recording results:
Communication
Bluetooth 5.0 worked well with Motorola Pulse Escape earphones and with other smartphones while sharing files. I had no problems with other modules, like Wi-Fi, 4G LTE (Cat 6.), GPS with aGPS, GLONASS, NFC, USB type C with OTG and a 3.5 mm minijack.
Voice calls
I have no concerns towards the quality of calls - Nokia 7.1 is a solid model in this matter. It does not have problems with maintaining the coverage, everything is loud, clean and clear enough. The smartphone uses two SIM cards and we can choose which will be default for calls, texting and data transfer.
Memory and efficiency
After running the phone for the first time, the user has around 22.46GB left for apps and files – 30% out of declared 32GB of internal memory is taken by the system and preinstalled apps. We can of course place a memory card, though then we cannot use two SIM cards.
The unit is powered by an octa-core Qualcomm Snapdragon 636 with 1.8 GHz clock, supported by Adreno 509 GPU and 3GB of RAM. The efficiency was fine most of the time, but the smartphone had this irritating manner of not being able to respond to touch and the apps stopped. This happened on different occasions, with different frequency – there was no rule to it. Sometimes the camera app or Chrome closed up – the software definitely needs some updates. But maybe this is not a global problem, maybe this is just this particular device…
Nokia 7.1 is not a gaming smartphone, but it can run simpler and some more demanding ones. Titles like Asphalt 8 or Real Racing 3 or playable, though we cannot use higher graphics settings. I will add that the smartphone can heat up noticeably both while working and while charging.
Battery
The 3060 mAh battery supports the Quick Charge 3.0 technology. It does not ensure outstanding lifespans, usually at the end of the day I was left with around 20-30% of the battery with a moderate usage. Using the charger added to the set the smartphones charger moderately fast. After 30 minutes the level is over 45%, after an hour – 75%. But in order to fully charger the cell we need to wait around 1.5-2 hours. Despite the glass housing the smartphone does not support wireless charging.
lifespan with the display on (YouTube, 1 SIM card, active Wi-Fi module, 50% screen brightness) – 10 hours and 6 minutes,
an hour of video streaming (Chrome, 1 SIM card, active Wi-Fi module, 50% screen brightness) - 13% of battery lost,
an hour of playing videos from the phone's memory (aeroplane mode, 50% screen brightness) - 12% of battery lost,
half an hour of using online navigation - 7% of battery lost,
half an hour of playing Real Racing 3 - 12%,
PC Mark battery test result – 8 hours and 18 minutes,
8 hours in the standby mode - 5-10%.
Summary
The price with which Nokia 7.1 appeared on the market was not particularly attractive. For 319 euro there is a lot more devices with a similar or a better specification. In the same price shelf we can have Moto One or Xiaomi Mi A2 - they work on Android One as well, and recently reviewed HTC U12 Life, let us not forget about Honor Play or Pocophone F1. Why is it worth being interested with Nokia 7.1?
Advantages and disadvantages
Advantages:
great looks and a high quality of assembly
Android in the pure version, without manufacturer's add on
lack of bloatware
update to Android 9 Pie
updates guaranteed due to the Android One program
precise fingerprint scanner
minijack
loud external speaker
presence of all necessary connectivity modules and sensors
dual SIM support with an option to place a memory card
camera with ZEISS components
sound recording in the OZO technology
Disadvantages
lack of notifications LED
the display has a slightly bluish shade, and we cannot calibrate colours in settings
specification is slightly weaker than in the competition in a similar price shelf
occasional hang ups
lack of an FM radio
the phone is neither dust- nor waterproof
slick housing that catches fingerprints
lack of optical image stabilization and a night time mode in the camera
not so impressive lifespans
Source: GSMchoice.com; viewed: 262 times.