Today I invite you to a meeting with a truly unique and exotic phone. Please welcome Nubia Red Magic 5S - filled with unusual solutions and closed in a truly characteristic, eye-catching housing.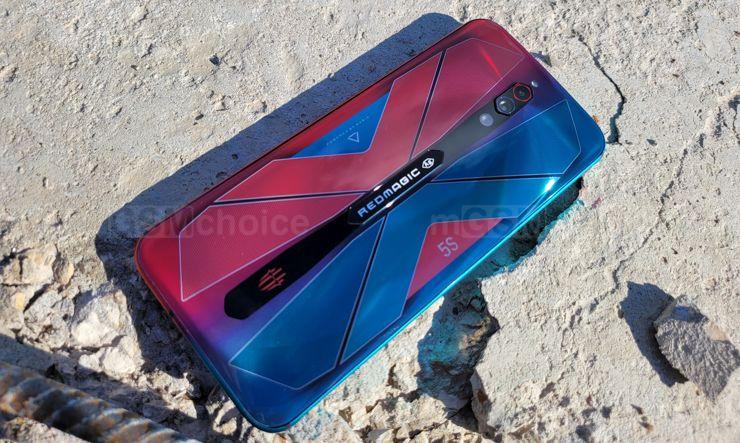 photo: Adam Łukowski/GSMchoice.com
Nubia Red Magic 5S is a smartphone for gamers. It has an efficient CPU, loads of memory, an active cooling system (like in a laptop!), a high refreshment rate display, additional buttons and a special gaming menu, while still being a useful smartphone. And an extremely original one.
Contents
Construction, set, quality of assembly
Nubia Red Magic 5S is offered in an aesthetical box, with a set that consists of a cable, a charger, a cover and necessary "papers", and a needle for opening the tray for cards. The added cover is simple, but practical. It has thicker corners, which are supposed to save the smartphone in case of a fall.
It is important, because the phone has the back covered with a slick glass and it likes to slide down from flat surfaces. The previous Red Magic model that I had the pleasure of reviewing, ended up poorly because of this feature - this one, until this moment, withstood it nicely, thanks to this simple piece of silicone added to the set.
The charger and the USB cable look "battle-ready" – they are black and red. Unfortunately, here we have the first issue – though the phone itself supports charging with the 55 W power, in the European version we receive an 18 W one. If we want a stronger one, we need to buy it on our own, and what is worse, Nubia does not plan to change this "policy". Pity.
To say that Nubia Red Magic 5S looks unusually is to say nothing. Just look at photos. The dual-coloured housing might be appealing or not, but it definitely distinguishes the smartphone among its competition. There is not anything like this, unless we think about some previous Red Magic models.
If the red and blue colour version is too bold for you, I have both good and bad news for you. The phone can be bought in a silver colour as well, but with a more modest set of the memory – "only" 8GB+128GB. The Pulse version reviewed by me has a 12+256GB. So – more demanding gamers are doomed to more eye-catching colours.
The stylization of Red Magic 5S might be controversial, but I really enjoy it. Maybe because I am slightly bothered by classic colours of other models that I review. This one is a nice change, and it will definitely distinguish yourself among your friends.
Besides these two colours, the back is ornamented by a "gaming" pattern, which can be "duplicated" on the other side of the phone, by choosing an appropriate wallpaper on the screen. Across the centre of the back wall there is a black bar, in which we can find three lenses of the camera, with a red backlight and a plate made out of… silver. It replaced the backlighted inscription, which we remember from the previous model. So – if you do not like these bells and whistles – this is a pro of the 5S model.
The front is a nod towards those who like classic solutions and those who hate displays with notches or holes. Here we have an "old school" bezel, thicker along the upper and the lower edge of the display. This is an advantage for gamers, because while holding the phone horizontally, we do not cover even the smallest portion of the display.
The core of the phone consists of a solid, metal frame, and the upper and the lower wall are slightly curved. At the top we can find a microphone and a minijack (bravo!), while at the bottom there is a speaker, a microphone, a USB-C socket and a tray for two nanoSIM cards. Unfortunately, there is no space for a memory drive. Sides of the housing are slightly indented, flattened. On the right side we have two touch sensors that can be used in games, as well as volume control and a power button.
In my opinion, they are placed slightly too low – but you will find out in a moment why it is this way. First of all, we need to look at the opposite side, on which we see a row of mysterious connectors. We can attach a docking station in the form of a stand, which has a minijack, a USB-C socket and a… LAN port. However, we need to buy it separately. On the left side of the upper wall we can see another hole of a microphone and a slider, which runs the games menu.
More about it – later. There are cooling holes on sides of the housing as well. On one of these sides there is an intake, while on the other there is an outtake, and between them, inside of the housing, there is a fan that can achieve 15 000 rpm. Now you know why these buttons cannot be higher…
I asses the ergonomics of the device positively, though I must draw your attention to the fact that the phone is rather big and not that light. The quality of assembly is perfect, the housing is stiff and it does not have any cavities. It is a pity that the device is not waterproof – but how could it be, with such cooling holes…?
Display
The display of Red Magic 5S has a diagonal of 6.65 inch, a Full HD+ resolution, and – as I have already mentioned – a classic bezel with slightly curved corners. This is an AMOLED screen with a full coverage of DCI-P3 palette – so the quality of colours representation leaves nothing to be desired. We can of course control the intensity of colours, and use the eye-protection mode.
The most important thing is that the display offers a high refreshment of the image – of up to 144 Hz. And though the number of games supporting this function is really modest – we can see the difference when it comes to standard or even 90 Hz displays. The frequency of the refreshment can be changed (60/90/144 Hz), but with higher levels it can be automatically lowered, depending on the displayed image.
The display offers a high brightness, which ensures a comfortable usage in sunny days, and the lowest level is so low that it does not bother our eyes at night. Readability angles are good, just like the work of the touch panel, which works with a 240 Hz frequency. The only thing that needs to be criticized is the high susceptibility of the glass to gathering fingerprints. We need to wipe it frequently.
Sound, communication
Nubia Red Magic 5S has stereo speakers in a typical arrangement – one at the bottom wall, and the other – above the display. The lower provides slightly more bass, but together they play surprisingly even, the difference is not that noticeable. What is more, both speakers have a lot of power and they play rather clean. It is a pity that there is no equalizer in the software.
The quality of sound during voice calls is equally good. The smartphone has no problems with maintaining the coverage or working with Bluetooth accessories or Wi-Fi access points. The GPS works appropriately as well. Red Magic 5S has all necessary connectivity interfaces, while calls are done through a comfortable and a simple dialler – of course with the function of blocking unwanted calls.
Typing was handled to Gboard – so everything is in order. I usually do not pay attention to this, but when it comes to a gaming smartphone – I must. The vibration mechanism provides nice feelings. Maybe if I were an experienced gamer, I would appreciate the additional 4D vibration – but since I am not, I can only say that while gaming it is a good, unobtrusive addition to image and sound.
Security
Nubia Red Magic 5S offers a typical set of security. We can use the facial recognition system, based on the front camera, or the rather nice, display fingerprint scanner. It is rather fast and basically errorless, achieving an average of 8 out 10 successful tries. The scanner is placed in a comfortable location, and in addition – it is an active one, which means that we do not need to wake up the display in order to use it (though we can – with a double tap). The field, on which we need to place our finger, backlights as soon as we lift the phone. A small thing, but so comfortable!
Interface
Nubia Red Magic 5S uses a preinstalled Redmagic 3.0 interface based on Android 10. The interface reminds the pure Android with its looks, it is not too weird or overcomplicated. It is not overburdened with useless apps as well.
At the beginning we receive only what we need. In the interface we can find typical options, like the possibility of switching between a tray or a flat mode, we can change the grid of icons, there is a dark mode as well. Because of the AMOLED screen, there is an Always-On-Display, but the manufacturer did not forget about the notifications LED, it is placed on the frame above the display.
We can navigate through the interface using classic buttons at the bottom of the display, or with gestures. The shortcuts and notifications panel look typical, they are readable. Shortcuts can of course be edited. In the settings menu we can find separate tabs for managing the fan and the docking station, there is a whole section called Neo AI, which only function is too… describe how does the AI optimizing the system works. There are enhanced functions connected with taking screenshots or recording the screen, sharing it between two apps or decreasing the interface to be used with one hand.
We can minimize apps to a floating window (from the shortcuts panel), unfortunately, this options only works with apps from Nubia. Basically, the interface is simple, friendly and it can be likeable.
Functions for gamers
As I have already mentioned, Nubia Red Magic 5S has additional buttons for gamers, as well as a special Game Space menu, activated by a switch on the side of the housing. Besides the list of games, we have a special set of settings.
In the tray, which can be extended from the right side of the desktop, we can find shortcuts, thanks to which we can switch the fan, change the refreshment and 4D vibrations, or we can take a screenshot. We can block calls or notifications. We can configure two additional triggers on the housing as well, there is a CPU management and we can control the fan. In the personal submenu in the corner of the display there are options connected with network settings, we can see our gaming statistics as well.
CrosshairAssist is an interesting addition. This is a specific "helper" in games, which, to put it shortly – it corrects mistakes while shooting. It might not be entirely fair against other gamers in online games – but it works. The Game Space menu is a functional complement to the smartphone's interface. You might get the feeling that some functions in this menu are doubled – especially the ones connected with the cooling system.
However, I think that it was intentional, so that a gamer would not be disturbed, by providing the most important functions without looking for them in the menu. Among these option there is a function called Touch Choreographer, which adjust the refreshment rate while gaming dynamically – the ensure the smoothest image. It can, for example, decrease the refreshment, if a given game does not support a fast one, or use the frame interpolation in the case when the games is "slightly close" to the expected level – for example, it renders 85 instead of 90, or 139 instead of 144 frames per second.
Efficiency
Does Nubia Red Magic 5S have a high efficiency? This is a rhetorical question, considering that it has Snapdragon 865, 12GB of LPDDR5 RAM, UFS 3.1 internal memory, and in addition a unique cooling system. It is called ICE 4.0, based on three elements – a rod with a cooling liquid, a fan and a silver plate visible at the back of the housing. As an option – we can buy a fan with a radiator, which can be placed on the phone, which achieves 8000 rpm.
What can I write to you? This is simply one of the fastest, the most efficient smartphone on the market. Its power is uncompromising. We just need to look at benchmarks. For me, as a casual gamer, the most important thing was for the device not to have a tendency to overheat. When it comes to such an enhanced cooling system, there are no reasons to be afraid that the temperature will exceed values of decency and will decrease the efficiency of the device in any way. However, there is a drawback: the fan is loud and it can bother you while gaming, and it will definitely bother you while watching videos. It is best to turn it off while doing this.
In my opinion, the additional, optional Ice Dock fan is useless. I did not notice that adding it enhanced the work of the phone, however, it really bothers us after putting it on the smartphone. What is more, it cannot draw power from the phone, so you need to plug it to a power source. And if you would like to cool and charge the phone at the same time, you need to use a cable added to Ice Dock, which is short enough that it requires to move the add-on. And then, Ice Dock can press power or volume control buttons. Someone did not think this through. As a consolation – this add-on can be used for other phones, of up to 93mm width.
Battery
Nubia Red Magic 5S is equipped with a 4500 mAh battery, which is relatively small for the level of advancement of this construction. It is difficult to assess these lifespans, because they mostly depend on the way we are using the phone. If we use it as a regular smartphone, with the basic refreshment, turn off the backlight and the fan, we will choose the auto brightness control, our Nubia can work without any problems for 2, even 3 days.
However, if we use full capabilities of the phone (and it was created for this), we must be ready that it will work much shorter. Only for a few hours. The difference can be easily seen while comparing that time of playing a looped video. Depending on scenarios described above, it can reach up to five hours.
Lifespans are not that bad, but the impression is ruined by a weak, 18-watt charger from the set. It takes an hour and a half to fully charge the phone with it. By using a stronger charger – we can decrease it by a lot. A charger "borrowed" from a competitive smartphone filled the Nubia's battery in 40 minutes. So it is best to order an optional, stronger charger – I will remind you that the smartphone supports 55 W charging.
Photography and videos
It has become a commonplace that gaming smartphones are models that are not distinguishable when it comes to photography. Nubia Red Magic 5S is not a breakthrough in this matter, but it has nothing to be ashamed of either.
The base of the photography side of the phone is a 64-megapixel matrix, with the 1/1.72" size and 0,8 micrometre, working with an f/1.8 aperture. At the back there is an 8-megapixel wide-angle camera, with an f/2.3 aperture and a 2-megapixel eye for macro. An 8 Mpx camera with an f/2.0 aperture takes care of selfies. So we should achieve good photos, at least from the main camera.
And it is so. Photos taken with the basic matrix are all right. Colours are reflected appropriately, just like details. In a close up, along contrasted edges, we can see effects of an aggressive noises reduction, but they should not ruin our positive reception of photos. Turning on AI sometimes increases the quality of photos, and sometimes – on the contrary. We just need to test it by taking two shots. AI usually recognizes photographed objects rather fast and accurately, but it sometimes exaggerates the reality.
Though there is no telephoto lens in Red Magic 5S, the camera interface proposes three zoom levels – 3x, 5x and 10x. They are taken by framing a shot from the big matrix – and the best quality is of course realised by the 3x one.
The next one – looks like with a good, but a digital zoom. We cannot see the access to the wide-angle lens on the desktop. It is hidden in the Pro mode – which is the manual one.
This does not make much sense, but maybe because Nubia does not necessarily want to boast with this camera. Photos taken with it stand a bit from the main matrix when it comes to the quality. They are decent – but this is all.
Night time photos are not impressive. We can see a lot of noises, details representation is not as good as during the day – but, as a consolation, the colours representation is rather natural and there are not many overexposures even without using the night mode.
The mentioned mode is best to check in an urban photography, while trying to dim too bright fields and trying to extract some details from shadows. However, when it will be too dark – there is too much noise. It is best not to use the digital zoom and the wide-angle lens after dark. They are much worse.
The macro camera could have been better, but its 2-megapixel resolution is the least of its problems. The lack of autofocus is a bigger problems, it forces us to maintain an appropriate distance from a photographed object. A magnifying glass appearing in the interface might help us, but it will take some time to learn to use it.
Selfies are rather good, for an 8 Mpx camera. The skin colour is reflected naturally, the background at most times as well. The camera – which is obvious – can sometimes overexpose a too bright background, but this is a typical problem, not only in this model. In the front camera we have beautifying and background blurring modes as well – their work is decent, though not amazing. In the back camera we can find numerous other functions – like light painting, object cloning, or photographing stars. Most of them work appropriately, though in some cases we would benefit from having a manual on how to use them. Not all of them work in an "obvious" way.
Basically, the camera interface is rather clear. I will of course complain about the lack of possibility to arrange particular modes in the photography menu, that could be comfortable for us.
When it comes to video recording, Nubia Red Magic 5S comes out decently. It can even record in 8K with 30 frames per second, but videos in other resolution come out decently as well – both during the day and at night. Unfortunately, there are some problems with AF after dark. The image does not give major reasons to criticize, but the sound – does. It is weirdly distorted, especially when recording with the main camera. And this is not because of covering one of the microphones… However, it can boast with an electronic image stabilization – still, we must remember that it will result in a tighter shot – the stabilization "cuts" edges. You can find a compilation of sample videos below.
Summary
Nubia Red Magic 5S costs 579 or 649 euro (like in the reviewed 12+256GB version). With such a low price, Nubia Red Magic 5S does not have too many competitors. I am thinking mostly about ASUS ROG Phone 3 – in theory, it is similar, but is more expensive. Unless, instead of a gaming one, you will decide to buy an ordinary, flagship smartphone… I recommend not to buy Ice Dock for 45 euro, the Pro Handle for 40 euro looks like a better proposition – this is an add-on with additional buttons and a stick. Gamers can think about a stronger charger as well.
What is so convincing about Nubia Red Magic 5S? Mostly what gamers need: a high efficiency, a great display, an efficient cooling, an additional menu, decent speakers and nice vibrations. Besides these elements, in an everyday usage, the smartphone can convince us to itself with nice lifespans, errorless usage of communication functions and a reasonable interface. The camera is not perfect, but it is not bad either, just like the looks of the phone. We can either love it or hate it. I loved it.
I will criticize the phone for the fact that in the set there is an 18W charger, while in China there is one adequate to the phones capabilities, a 55W one. Gamers who download a lot of "large" titles might be bothered with the lack of a microSD cards support and the sound of the fan working inside. The camera interface could have been better, the phone could have benefited from a sound equalizer. And maybe from a radio, since we have a minijack…? Basically, with these prices, Nubia Red Magic 5S might be an interesting purchase, which will bring a lot of joy, under the condition that these shortcomings mentioned above will not bother us.
Advantages:
Great display
High efficiency
Additions for gamers
unusual stylization
Minijack
Reasonable interface
Good speakers
Quick charging
Cover in the set
Average:
Decent battery lifespans
Rather errorless fingerprint scanner
Photos and videos from the main camera
Disadvantages
Average night time photos
Lack of a microSD cards socket
Weak audio in videos
Lack of waterproofness
Loud fan
Lack of a fast charger in the set
Source: GSMchoice.com