Galaxy J6 is a representative of the middle-lower price shelf, an elegant smartphone with an AMOLED Infinity display and Dual SIM support. This is a weaker version of the Galaxy A6 model, which can be popular in mobile providers' offers.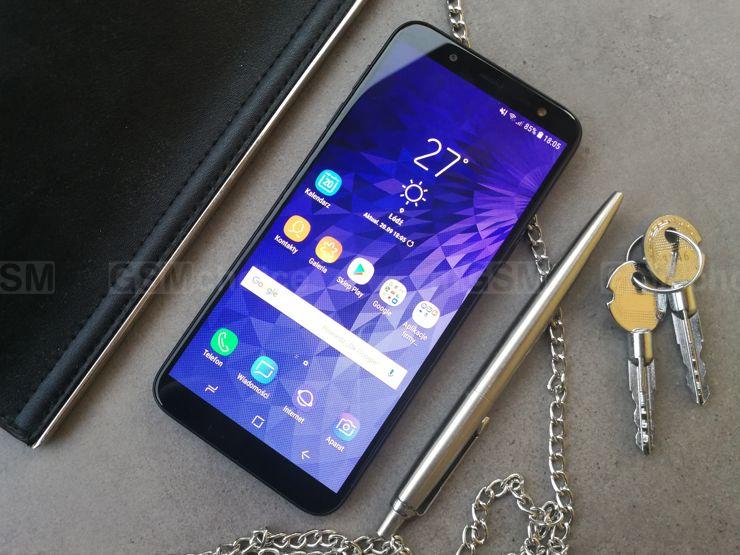 Samsung Galaxy J6 (2018) offers a lot good things in a reasonable price. It has a 5.6-inch Super AMOLED HD+ display, it supports two SIM cards, while its efficiency is provided by an octa-core CPU. It is well-made (though from plastic) and handy. And the price? First it came out for 269 euro, but the market has already verified the real value of the device – and now it is much lower.
Contents
Packaging and accessories
The set of accessories that we receive with the described smartphone is average. There are rather simple earphones, a charger (5V – 1A), USB-microUSB cable, paper manual and a tool for opening a tray for SIM and microSD cards.
Housing and display
By looking at the Galaxy J6 model we cannot say that it looks like a budget unit. This is a perfected device with a decent construction quality, which visually takes inspirations from the medium-shelf A series (this one, on the other hand, is trying to mimic the highest shelf, that is the S series). The Infinity display, with narrowed bezels around it, draws our attention – fortunately, the symmetry of the device is not disturbed by a notch. The plastic housing is nice in touch and really well profiled – I especially enjoy how J6 lies in hands, but it is a true magnet for dirt as well.
The 5.6-inch AMOLED 18.5:9 ratio display could have been one of the strongest features of the smartphone if it had not been for its resolution. It has 1480x720 pixels (HD+) and it offers 293 ppi. If you will try hard you can notice single pixels, because 300 ppi is a limit after which the human eye cannot see single pixels. With a FullHD display there would have been nothing to complain about, though of course the battery would have run out much faster. Still, colours and contrast deserve a commendation, I had no reasons to complain about the brightness level (including the Outdoor mode, which additionally enhances the brightness) nor the sensitivity of the touch panel. Unfortunately, there is no automatic brightness adjustment – this feature is being offered by even cheaper models, so it definitely should be present in a smartphone from a middle-lower shelf.
The frame under the display has no additional functions, the upper one has a speaker for calls, sensors, front camera and a LED flash – unfortunately there is no notifications LED (as well as Always-On Display feature). The display is covered with an arced glass. This is not Gorilla Glass, so it is best to buy a protective one.
The back panel is made out of plastic. It has a matte finish and, unfortunately, it is difficult to keep it clean – it easily catches dirt and fingerprints. I do not think it is durable as well. At the back we can find a 13-megapixel camera, supported with a LED flash, and under it a small fingerprint scanner. The location of the latter element is appropriate, it basically is where our index finger usually lands, though I would have preferred if this element had been slightly bigger and more noticeable. It works moderately fast and precise – but do not count that you will unlock the phone with a wet finger. On the back panel there is the manufacturer's logo as well.
There is a lot of additional elements on edges of the device. On the left we have a volume control, one tray that can store a nanoSIM card and another that has a place for a nanoSIM and a microSD card. On the right we have a power/lock button and a small external speaker. On the lower edge there is a microUSB socket, microphone's hole and a universal jack. It is difficult to have any complaints towards such placement, we just need to get used to the fact that volume and lock buttons are on the opposite side of the housing. The upper edge does not have additional elements.
When it comes to the housing I asses the smartphone positively, though in comparison with the Galaxy J5 (2017) model it does not have a metal housing. It is worth adding that the smartphone will be available in three colours versions: black, which I reviewed, gold and lavender.
System and applications
Galaxy J6 2018 works under Android 8.0 and the Samsung Experience 9.0 interface. There is a preinstalled set of apps from Google, a few signed by Samsung (for example a browser, Recorder, Smart Things, Samsung Health and Galaxy Apps) and a software from Microsoft (Word, Excel, PowerPoint, OneDrive and LinkedIn). From external sources we have Facebook. The whole works fast and smooth, during the whole usage of Galaxy J6 there were no lags no errors forcing me to close apps or restarting the device.
The smartphone offers a lot of personalization options, we can change wallpapers, themes, adjust widgets, choose the screen options (only the main screen or a screen plus apps menu) or change the icons' grid. In addition, we can adjust to some extent the displayed image to our own preferences – besides the mentioned brightness enhancement there is a blue light filter and configuring the display's mode, that is predefined display settings (Basic, AMOLED Cinema, AMOLED Photo) and the Adaptive Display option, in which the colours, saturation and sharpness are adjusted automatically, with the possibility to control the white balance and colours (red, green and blue). We can change the looks of the navigation bar and icons' frame. In Advanced Functions of settings we will find Game Launcher and some gestures support. Other options are, for example, the one hand usage mode and dividing screen for two parallel apps.
It is worth mentioning about the biometrical security. The smartphone can be unlocked using facial recognition – and it works selectively. The fingerprint scanner turned out to be more effective and faster. Besides unlocking the device it ensures access to two other security functions: Samsung Pass card (logging into Samsung account, Internet websites or apps without providing authorisation data) and Safe Folder app, that is a private space in the smartphone, locked from access from a third party. There is the Smart Lock function as well – that is keeping the device unlocked in a certain location, in proximity to certain devices, during a contact with a body or after recognizing a voice.
Sound
The speaker is on the right edge. It provides a rather loud and clear sound, though because of its location I have constantly covered it with my finger while gaming. After plugging in earphones we can use the equalizer and Dolby Atmos settings.
The presence of the minijack and an FM radio with the function of recording broadcasts (to the M4A format) is an advantage.
Photos and video
In the J6 (2018) model its photography capabilities resemble its price shelf. The main, 13-megapixel camera with the f/1.9 lens provides photos in the maximum resolution of 4144x3106 pixels and videos in the FullHD quality (1920x1080 pixels). It is supported with an autofocus and a LED flash.
The camera app is rather simple in usage. Modes can be change by moving a finger across the display right or left. Available work modes cover HDR, Night, Panorama, Pro, Beauty, Auto, Stickers and Series.
The camera takes good day time photos, but it does not work well during a night. In good lighting the 13-megapixel camera captures photos that are usually good when it comes to sharpness and colours. Sometimes in the auto mode there are shots with faded colours, I had to use the HDR mode numerous times, which unfortunately does not work in the auto mode. Photos taken in poorly lighted rooms and at night are bad. They have a low level of details and a high noise level. On the other hand, the camera works poorly when the light is too bright – it instantly overexposes the image.
Here are photography results:
The front camera, with fixed focus and LED flash, offers photos in the maximum quality of 8-megapixel and a 3280x2458 pixels resolution. Just like the main camera, it records FullHD videos. It offers different effects in photos, like background blurring, group selfie (panorama), stickers and a selfie with different beautifying options. The results are usually pleasing, provided that we are not using it in motion (and we are not taking a photo of a moving object). The LED flash can be an advantage, it works in pair with display lighting – in this way, we can easily illuminate and blind the person taking a photo :)
When it comes to video recording the smartphone cannot be distinguished with anything in particular. It works in weaker lighting, but basically I think that the competition works much better. Sometimes there are problems with maintainig the focus, there is no image stabilization either:
The Galaxy J6 model was never supposed to be a smartphone for photos. But it will be more than enough for those who are sometimes using the camera to take photos outdoors, on a beach or in a garden.
Communication
The smartphone supports LTE, VoLTE and has two slots for SIM cards. There are Bluetooth, NFC for wireless payments, navigation (GPS, GLONASS and BeiDou) and WLAN modules – though the latter is limited only to the 2.4 GHz channel. For the whole duration of the review these modules worked without any problems. From physical sockets we have a universal jack and a microUSB socket with OTG.
Voice calls
The smartphone supports two SIM cards in the dual standby mode. It allows using something similar to an active dualSIM by transferring calls. From the settings menu we can easily configure which card should support voice calls, texting and data transfer. One of cards can works in 4G networks, while the other one switches to 2G/3G. The quality and loudness of calls is good from the point of view of both sides, there are no distortions either. There is no additional microphone for noises reduction (including earphones), so it is best to find a quiet place for making calls.
Memory and efficiency
The user receives 22.6GB of space for data (after turning the phone for the first time, from declared 32GB). But we can use microSD cards of up to 256GB capacity as an external memory without any problems. In addition, it does not deprive the user of having two SIM cards. The memory drive has an additional slot. What is more, Samsung offers clouds: Samsung Cloud Drive, Google Drive and/or OneDrive.
Inside Samsung Galaxy J6 we can find the Exynos 7870 (8x ARM Cortex-A53 1.6 GHz, 14 nm) CPU, supported with 3GB of RAM, and Mali-T830 GPU. This is not a configuration that could beat any speed or efficiency records, but it is more than enough for everyday tasks, using social medias, multimedia and playing popular 3D games. There were no problems with Dead Trigger 2 and Real Racing 3. We can have some concerns towards graphics, and with longer gaming sessions there can be some lags in animations. However we must remember that in this class of devices the hardware is supposed to ensure a smooth work in everyday tasks and not change the phone into a game console. Sometimes we can see some slight delays directly after running apps or while switching between them. I will add that the smartphone has no problems with temperature – it remains cold even during longer gaming sessions or while taking benchmarks.
Battery
Samsung Galaxy J6 2018 has a 3000 mAh battery. It is not particularly impressive, but it ensures great lifespans. In the PC Mark benchmark the battery achieved over 10 hours of work, and this is a great result. It translates into a two standard days of work away from a charger.
lifespan with the display on (YouTube, 1 SIM card, active Wi-Fi module, 50% brightness) - 14 hours and 41 minutes,
an hour of video streaming (Chrome, 1 SIM card, active Wi-Fi module, 50% brightness) - 9% battery lost,
an hour of video streaming from the phone's memory (airplane mode, 50% brightness) - 6% of battery lost,
half an hour of using online navigation - 6-7% of battery lost,
half an hour of playing Real Racing 3 - 8%,
PC Mark battery test - 10 hours and 41 minutes,
8 hours in the standby mode - 2%.
The smartphone does not support a quick charging function. When using the charger from the set (1A) the whole time of charging the cell takes exactly 3 hours – after 30 minutes the battery level has 20%, after an hour – 43%. It is best to charge it during the night, than at dawn, because a several minutes of charging will not be of much use.
Summary
Samsung Galaxy J6 (2018) does not look like a budget model. On the contrary, it is a neat, handy and well-made device. It will be a reliable companion for an everyday usage, and in addition it introduces a display with prolonged proportion in the Super AMOLED technology to the lower price shelf. Of course there are some compromises, like a relatively low resolution, no support for the 5GHz channel or a plastic housing, however this will not disqualify this model for all. I suspect that in mobile operators offers it will be a popular model. On a free market it might be slightly different – here is a competition in the last year's Samsung Galaxy J5 (2017) model, Asus ZenFone Max Pro M1, Honor 7X, Motorola Moto G6 Plus, Nokia 6, Sony Xperia XA2 or Xiaomi Redmi Note 5.
Advantages and disadvantages
Advanatges:
compact housing and handy shape
separate slots for SIM and microSD cards
Android 8.0
precise and fast GPS module
properly working biometrical security
bright AMOLED display with a great contrast and colours
great lifespans
sound quality from the external speaker
Disadvantages
lack of notifications LED
Wi-Fi without 5 GHz channel support
display resolution could have been higher
the back panel catches dirt easily
slow charging
the fingerprint scanner is too small and is hard to notice
microUSB socket instead of a USB-C
no automatic brightness control
lack of gyroscope
efficiency is not high enough for more demanding games
the speaker can be easily muted while holding the phone horizontally
average cameras
Source: GSMchoice.com; viewed: 1080 times.