There is no application in which the newest smartphone from Samsung would not work. With each and every version of the device, the Note series is being perfected and it evolves into an ideal tool for work, communication and entertainment.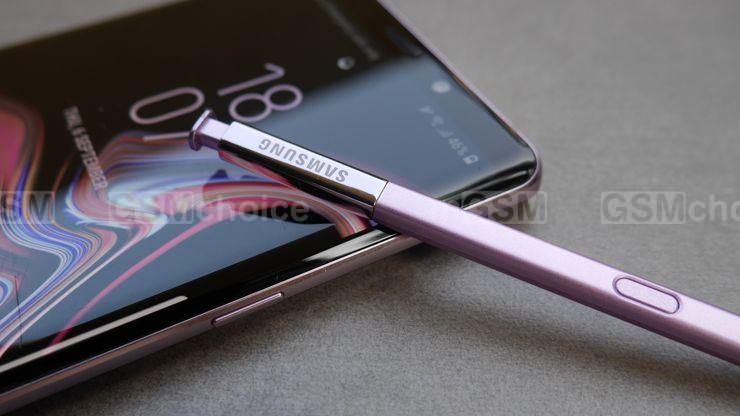 The launch of Note 9 is not so revolutionary – the stylus is a breath of a fresh air, which can be used for a remote control.
Contents
Packaging and accessories
The manufacturer took care about the sales package, so there is everything there. Next to a quick charger (9V/1.67A or 5V/2A), USB cable, short manual and a tool for opening the SIM/microSD card tray, there are additional ends for the stylus and a tool for replacing it, two adapters (from microUSB to USB type C) and from a "full" USB to USB-C. The first one can be used by those who are switching from smartphones with an older version of the USB socket, and the latter one – for those who like to plug in an additional memory or charge the phone through another device. There are decent earphones from AKG with a set of additional plugs as well.
Housing and display
You probably do not remember this, but the first model from the Note series did not have an easy start. Samsung has equipped it with a 5.3-inch display – enormous at that time – which was criticized in all media. After years it turned out that what was abnormally big back then, now is basically a standard. In the Note 8 had a 6.30-inch display, so there is not much revolution here.
The display is perfect – big, bright with great colours, high contrast and perfect sharpness. Its resolution is 1440x2960 pixels, which gives an impressive pixel density of 516 ppi. The display is supported with HDR10 and it has the Always On Display function – that is highlighting date, hours and notifications on a dimmed display. I can only complain about curved edges of the display – they are attractive, but can be slightly bothersome while gaming (due to reflections of curved edges and it makes gaming more difficult in fields where to display is arced).
The bezel under the display has no additional elements or prints, while on the upper part the manufacturer has placed a speaker for calls (which is a part of stereo system as well), front camera, light and proximity sensor, notifications LED, retinal scanner and an IR LED which lights up the face at night. Basically the front of the device is elegant and perfected, and narrow bezels around the display and the arced surface of the glass increase the attractiveness.
The front and the back parts are made out of glass, they are connected by an aluminium frame. On particular edges there are physical buttons and connectors. On the left there is the volume control and the Bixby button, which presence – and the impossibility of deactivating it – is the biggest disadvantage of this model. I simply managed to press it too often and too easily, by simply holding the phone in hand or trying to change the volume – it results in running the Bixby assistant. If running this app was random, I would not have to bother with describing it. But – based on numerous comments from the web – I am not alone in my aversion to the Bixby button.
But let us move to other housing's elements. On the right edge there is a single lock/power button. On the upper one there is a tray for SIM/microSD cards and a microphones hole. The lower edge is complemented by a universal jack, USB-C socket, external speaker, microphone's hole – and the S-Pen stylus. I will speak more about it in the later part of the review. The socket itself is constructed in such a way that it cannot slide out by accident and we cannot place it in the wrong way. There is a system which is supposed to prevent us from losing the stylus – it alarms us when we will move from the device further than would result in a normal usage.
On the back panel we can see the module with the dual camera and a LED flash and a set of sensors for measuring our pulse and oxygen level in our blood (we can use them in the Samsung Health app) – it is slightly above the housing. Below it we can see a small, square fingerprint scanner. I would prefer it to be slightly bigger, but its location is far better than it was in Note 8. In the lower part we can see printed markings and certificates.
The whole looks modern, though we must underline that Galaxy Note 9 has an almost identical hardware and software as the previous flagship representative of the Galaxy S line. So what distinguishes these two series? Mainly the presence of the stylus. S-Pen is the trademark of the Galaxy Note series and basically this is the most important element in press materials of Note 9. Through the years the stylus got thinner, became more sensitive, but mostly its functionality has increased. In


Samsung provides a comfortable app for configuring the stylus. It has configured a few of its built-in apps for work with S-Pen – including PowerPoint, Gallery, Camera, Recorder, playing multimedia and many others – and each of them can set different actions for a single and a double press of the button. Holding it a bit longer can, for example, run a particular app and then, depending on the app, it can execute additional activities. For example in the camera app a single press takes a photos, while a double one switches between the front and the main one – but we can choose for a single one to take a photo and a double one to record a video. It can be used for controlling the music as well. We can talk a lot about the usage of S-Pen (as a trigger, for signing documents and controlling music) – it can be used by artists as well. In the Google store there is a wide range of apps that can use the stylus (I will add that it is very sensitive – it has over 4 thousands pressure points) for creating digital images.




The power supply of the stylus is a novelty as well – it is a supercapacitor. The biggest advantage of supercapacitors is a short time of charging and discharging in comparison with other devices for storing energy (for example batteries). S-Pen can be charged fully in 40 seconds – we just need to place it in the phone. And for how long can it work? The manufacturer states that it is enough for 30 minutes of work or for 200 button clicks. But even if it runs out of energy, it can be used for writing and using the interface.



Biometric security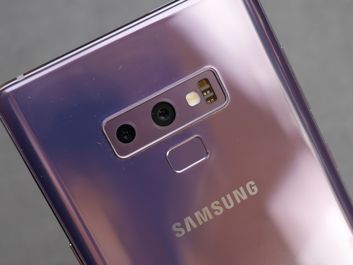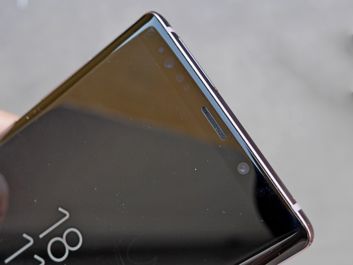 When it comes to facial recognition and retinal scanner, saving the record takes literally a second, but the work of the system is not ideal. Unlocking the display takes even 1-2 seconds – depending on the lighting. Unfortunately, for unlocking the phone we cannot simply raise the phone and scan our face (or eye) – we need to wake up the display first with the power/lock button. These biometrical securities do not work while we are wearing sunglasses, but glasses with corrective lenses are no problem neither for the facial recognition nor the retinal scanner. They cannot be cheated by a printed photo as well. The retinal scanner proved to be least comfortable in usage, mainly because we need to be looking at the upper part of the phone. And this is not always possible, for example when we are driving a car and the smartphone is plugged into a holder.



System and applications



I can write for a long time about functions that we can use. So I will describe only the most important elements in Experience UI:
we can choose between a classical interface with apps menu or with the main screen and consecutive desktops as in iOS
we can quickly change wallpapers and whole themes
"quick menu" (that is a button with handy options) which appears after holding down an icon
one hand usage
gestures control
BixbyHome – far left screen with information and tabs from selected source – in practice a weak substitute for Google Feed and another place in which Samsung forces Bixby
changing the screen resolution
preventing the display from locking when the user is looking at it (Smart Stay)
Samsung Pass – a service for storing and filling passwords and logins data
Apps Edge – edge interface that uses the arced display of the phone. Additional interface that slides from the edge, in which the user can place selected apps, contacts or tools
Always On Display (AoD), that is notifications shown on a dimmed display, with wide personalization options when it comes to displayed elements.



We do not know how quickly Samsung will deal with providing an update to Android Pie. The Experience add-on (here in the 9.5 version) is enhanced and it basically interferes in every aspect of the system. Changes cover not only the looks of the interface and the usage of different stylus functions – the settings menu is completely different as well. Samsung has preinstalled a wide range of their own apps, for example Knox – for cyphering and securing data, Samsung Pay – for payment, Samsung Notes – an enhanced app for notes and drawing and Device Maintenance – that is an intuitive app for managing and optimizing power usage, internal memory and RM. There is a possibility to use two apps in social media (for example Facebook and Messenger). Besides there is a set of apps from Google and apps from Microsoft.
Sound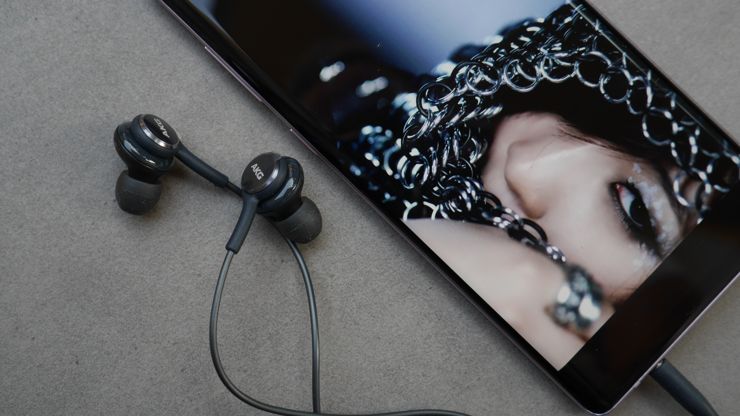 Dolby Atmos (turned off by default) is responsible for enhancing the sound in

Photos and video
Galaxy S9 Plus - a dual one, with the Super Speed Dual Pixel matrix, autofocus with phase detection (PDAF) and optical image stabilization. It is distinguished by a dual aperture as well – when the external lighting exceeds 400 lux, then the f/2.4 aperture is being used, and with a weaker lighting the camera uses the f/1.5 aperture. In the auto mode the change is being made without any interference form the user, while the manual regulation of apertures is possible in the Pro mode.




Note 9 will find itself among the best smartphones for mobile photography. It takes photos with a high level of details and with vivid colours. It instantly catches the focus, it works great both in landscapes and in close ups. It is even difficult to complain about night time photos, which have a good brightness and a high level of details. Great photos in the auto mode can be taken even by an amateur – and we still have the professional mode with the possibility of choosing your own settings for particular photos' parameters. Photos assistant proves to be useful as well, it can detect closed eyes, blurred shots, light in front of the camera or a dirty lens – it shows a notification shortly after a shot, thanks to which we can repeat it and not be angered with a failed photo after a while.




At the front there is an 8-megapixel camera with AF (but without OIS), with an f/1.7 lens. It offers great photos quality in different lighting conditions.




I have no concerns towards how Note 9 records videos in 1080p and 4K. Videos are smooth, with natural colours, with appropriate catching and maintaining focus and a good sound. If you have watched our video broadcast from the IFA convention, they were recorded using Note. There is an enhanced slow-motion mode as well. It uses an automatic recording function when there are moving objects in a specified field – in one video we can record up to twenty slowdowns. Here are video recording results:
Communication
As you could have expected, Note 9 Samsung offers the possibility of plugging in a monitor using a single USB-C to HDMI cable, which basically allows changing the phone in a PC. This is much more comfortable solution than using the Samsung DeX docking station. Now the smartphone does not need Dexpad add-on, to run the Dex mode. It is worth adding that in this configuration the smartphone works in the dual mode, that is why we can, for example, take notes in the S-Note app while watching a video.
Voice calls
Memory and efficiency
Samsung spent no expenses in this model when it comes to the memory. In the basic version of the

Battery
Galaxy S9+ model and by 21% when it comes to Galaxy Note 8. Samsung promises a whole day of work and I must admit that it is not far from truth. The smartphone was used during the IFA convention 2018 in Berlin as a default work tool – for taking photos of stands and during press conferences. We were recording videos and sharing them in social media, writing texts, making calls, texting and used it as a hot-spot. During this intensive time Note proved to be a reliable tool, which lasted for a whole day. When we are using the smartphone less intensively, we can easily charge it every second day – and maybe even less often… Detailed measurements in different scenarios look equally good:
lifespan with the display on (YouTube, Wi-Fi module active, 50% brightness) - 16 hours,
an hour of video streaming (Chrome, active Wi-Fi module, 50% brightness) - 9% of battery lost,
an hour of playing videos from the phone's memory (airplane mode, 50% brightness) - 6%,
half an hour of using online navigation - 6-7% of battery lost,
half an hour of playing Real Racing 3 - 10%,
PC Mark battery test result – 11 hours and 16 minutes,
8 hours in the standby mode - 4%.



How long does it take to charge 4000 mAh cell? Samsung uses a charger with the Adaptive Fast Charging technology. The time needed to charge the cell to 100% is 1 hour and 50 minutes. After 15 minutes the cell is filled to 17%, after 30 minutes – it shows 38%. After an hour the battery level is on 70%.



Summary
Note 9 is basically an enhanced Galaxy S9+, enriched with a stylus. If you think that S-Pen is necessary in an everyday usage, then the Note series – and its newest representative – is a great choice. If not, Galaxy S9 or S9+ will suffice. And if you already have the previous Note version, than switching from eight to nine will not be a good idea. The smartphone itself is not so different from the predecessor and you will not feel a major difference in efficiency or usage – it basically has a bigger display, more capacious battery, more memory and additional stylus functions. What is more, along with the appearance of source: GSMchoice.com