S-Pen
Note 9 S-Pen is basically a remote control device thanks to the Bluetooth connectivity. It can be used for making selfies, controlling slides and playing music. The colour of the housing in the purple version (Lavender Purple) resembles the colour of the stylus (just like in the black and cooper version), but if you will choose the blue Note (Ocean Blue) you will got a yellow stylus.
Samsung provides a comfortable app for configuring the stylus. It has configured a few of its built-in apps for work with S-Pen – including PowerPoint, Gallery, Camera, Recorder, playing multimedia and many others – and each of them can set different actions for a single and a double press of the button. Holding it a bit longer can, for example, run a particular app and then, depending on the app, it can execute additional activities. For example in the camera app a single press takes a photos, while a double one switches between the front and the main one – but we can choose for a single one to take a photo and a double one to record a video. It can be used for controlling the music as well. We can talk a lot about the usage of S-Pen (as a trigger, for signing documents and controlling music) – it can be used by artists as well. In the Google store there is a wide range of apps that can use the stylus (I will add that it is very sensitive – it has over 4 thousands pressure points) for creating digital images.
The power supply of the stylus is a novelty as well – it is a supercapacitor. The biggest advantage of supercapacitors is a short time of charging and discharging in comparison with other devices for storing energy (for example batteries). S-Pen can be charged fully in 40 seconds – we just need to place it in the phone. And for how long can it work? The manufacturer states that it is enough for 30 minutes of work or for 200 button clicks. But even if it runs out of energy, it can be used for writing and using the interface.
Biometric security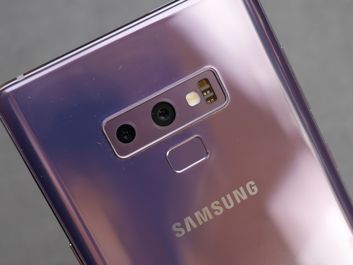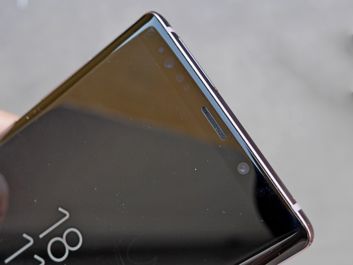 When it comes to facial recognition and retinal scanner, saving the record takes literally a second, but the work of the system is not ideal. Unlocking the display takes even 1-2 seconds – depending on the lighting. Unfortunately, for unlocking the phone we cannot simply raise the phone and scan our face (or eye) – we need to wake up the display first with the power/lock button. These biometrical securities do not work while we are wearing sunglasses, but glasses with corrective lenses are no problem neither for the facial recognition nor the retinal scanner. They cannot be cheated by a printed photo as well. The retinal scanner proved to be least comfortable in usage, mainly because we need to be looking at the upper part of the phone. And this is not always possible, for example when we are driving a car and the smartphone is plugged into a holder.




source: GSMchoice.com