This is a smartphone that many people have been waiting for. This is the cheapest and the smallest phone from the Galaxy S10 family, designed for those who are looking for a light, compact and an efficient flagship.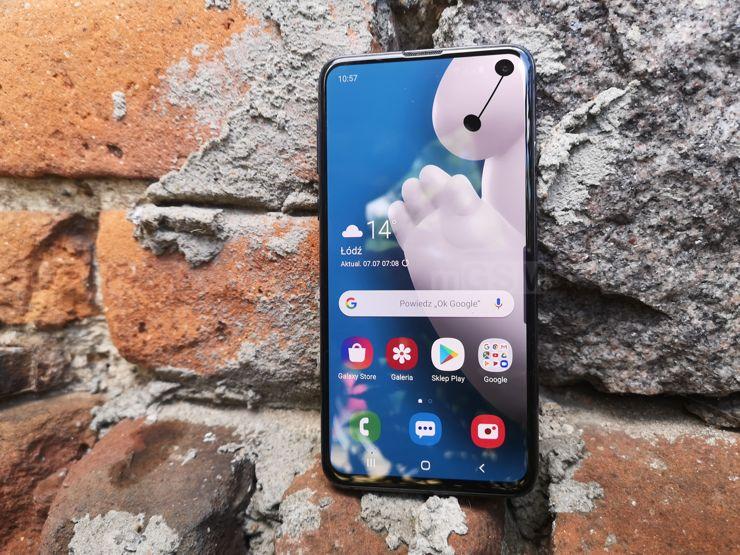 photo: Jolanta Szczepaniak/GSMchoice.com
Samsung Galaxy S10e ("e" stands for essential), is, as intended by the manufacturer, supposed to be a "budget flagship", which offers everything that is necessary in a flagship smartphone, but packed in a smaller housing and sold with a lower price. It is equipped with a great 5.8-inch OLED display, a dual camera with a wide angle and a waterproof housing, and in comparison to other models from the S10 family, it lacks the third camera with the telephoto lens, rounded Infinity Edge display and a fingerprint scanner built under the display.

Contents
Packaging and accessories
Samsung Galaxy S10e comes to use in a small, black cardboard box. Inside we can find a charger with not so impressive parameters (9V-1,67A/5V-2A), in addition there is a USB-USB-C cable, AKG earphones with a remote control and a cable in a braid material, as well as a needle for opening the tray for SIM cards and a paper manual and a warranty card.

Housing and display
Samsung Galaxy S10e is one of the flagship Samsung devices, therefore it is not surprising how much attention the manufacturer put to the quality of the construction. The bezel is matte and the front and back panels are made out of glass, protected with a layer of Gorilla Glass 5. Everything is of course well-fitted, materials have a high quality, there is a high attention to details – everything that you can expect from a flagship. Samsung prepared a wide variety of colours of the reviewed model. The housing can be white, black, green or yellow (the availability depends on the market).

Next to the quality of assembly we must mention sizes and the weight of the device. In the hour of devices, which diagonal exceeds 6 inches, Samsung Galaxy S10e offers a 5.8-inch display. This is not a big difference, but in an everyday usage it translates into the fact that the smartphone is light (only 150 grams), compact and it can be used with one hand, it is inconspicuous when thrown into your pocket and it perfectly fits smaller, feminine hands. It does not mean that this model should be omitted by men – I simply noticed, while being at work, that the reaction of my friends to the handiness of S10e was the main reason for which women would choose it.

When it comes to the housing, I do not like one thing – the power/lock button, which serves as a fingerprint scanner as well, is placed a bit too high. If it had been around 10-15 millimetres lower, our thumb would have rested on it perfectly – but when it comes to Samsung Galaxy S10e we always need to move the hand along the device for the finger to reach the scanner. Though on the other hand, not everyone will have a problem with this – those with longer fingers will probably be fine. Still, we can quickly adjust to this characteristic housing and grab the phone in a different way. The placement of the fingerprint scanner might not befit left-handed people – by grabbing the phone with a left hand it is difficult to reach it with our index finger.
When it comes to the housing it is worth mentioning about one more thing - S10e has the IP68 certificate, which means that it is dust- and waterproof in particular conditions – though the warranty mentions that despite this classifications the device can be damaged in particular situations. I used a water hose and it handled it without any problems, so the reviewed device at least proved its waterproofness.

It is time to move to the housing of the smartphone – let us start from the screen. This is a 5.8-inch (in practice, if we will count arced edges, it has 5.6 inches) Dynamic AMOLED display with the Full HD+ resolution (we cannot change it), with a high brightness, perfect black representation and colours, and the pixel density that exceeds 400 ppi – this is definitely one of the best OLED panels on the market. Contrary to other models from the S10 family this panel is flat, it does not have fingerprint scanner built in the display (which for me personally is an advantage). We can use the phone in every orientation while wearing glasses with polarization filters.

S10e has a single hole in the display, which is not bothersome while using the device (in my opinion, it is better than a notch), in addition it gives a wide area for those creating wallpapers (great images thanks to which we can hide holes in the Galaxy S10 series smartphones are offered in the Hidey Hole app). Apps deal with the hole in many different ways – in some of them the image can be stretched to bezels, in other the upper part is masked (along with the hole) with a black bar.
The back, glass panel, protected by Gorilla Glass 5, has the camera module, which slightly stands above the housing, a rather subtle manufacturers logo, as well as markings and certificates. The panel is slightly arced around edges, thanks to which the smartphone rests in hands easily. And just like any other phone with glass panels, it is rather slick and it catches dirt easily.
The frame of the device is metal, slightly arced and in places intersected with antennas' straps. On the right edge of the device there is the fingerprint scanner, which is the physical power/lock button at the same time. It works surprisingly fast and is sensitive, it did not have any problems with recognizing my fingers, though as I have mentioned before it is placed slightly too high. In addition, we can slide down the notifications panel thanks to it or run the camera (after pressing it twice). There is the second biometric scanner, which is facial recognition, though even Samsung warns at the beginning of configuring this function that it is less safe than scanning our fingers. In practice it works surprisingly well and it could not be deceived with a printed photo.
On the left side there are physical buttons for volume control and the Bixby button, which can be reprogrammed to be used with other apps. On the lower edge there is the speaker, microphone's hole, USB-C socket and a minijack, while at the upper one there is the additional microphone and the tray for SIM/microSD cards. The latter uses the hybrid solution, it can store either two SIM cards in the nano size, or a one SIM and one microSD card.
System and applications
The smartphone uses Android 9 Pie with security updates from the first of June 2019, along with the One UI add-on. It is friendly, aesthetical and intuitive, and it should not make problems for those switching from other systems or are accustomed to other add-ons from other manufacturers. It works fast and smooth, this is a big step forward when it comes to TouchWiz. It is worth noticing that during the first phone configuration we can see some windows because at some point there is a proposed set of apps from Samsung (9 apps in total, including their own browser or email client). If we do not want them, we do not need to install them.
The interface in Samsung Galaxy S10e has loads of function that are worthy of our attention:
we can change the display mode – we can choose natural and vivid, in which we can additionally set the white balance and RGB colours parameters,
fingerprint scanner gestures – using this element we can drop down and hide the notifications bar. This function is handy, though the scanner is sensitive and it is easy to drop the bar by accident,
Full screen gestures – we can use them instead of standard system buttons. If we do it, near the lower edge of the display there are different "zones", on which we can swipe our fingers to go to the main screen, last used apps or go back,
Bixby assistant – the button can be configured to run other, more useful apps. Though we cannot get rid of the assistant completely, we can use the button to run a selected app either with a single or double click,
Edge screen – with a single swipe of our finger we can show an additional menu with shortcuts to selected apps. Screen edge backlight is connected with this app as well,
Always On Display – shows date and the hour on a dimmed display, useful though it drains the battery,
Wireless PowerShare – wireless charging of other devices,
blue light filter,
Night mode – darker version of the interface,
Easy mode – a simple main desktop, with a maximum zoom and enhancing the screen and interface elements,
enhancing video functions,
dual communicator – we can create two separate accounts for the same app, for example Facebook or Messenger,
and a lot of gestures and functions connected with personalizing the device.
Sound
The smartphone has stereo speakers that should please most users. They provide a loud, full and nice sound – without any noises or wheezes that can be experienced in cheaper models. The main speaker is on the lower edge, while the second sound source is the speaker above the display, which is used mainly as the receiver.
When it comes to the sound, Samsung offers one more function – Dolby Atmos. Along with stereo speakers signed by AKG, as well as earphones from the set (also AKG) we received a high-class sound, full, rich, with a nice tone. It is a pity that there is no FM radio.
Photos and video
S10e has a dual main camera: 12-megapixel with a dual f/1.5-2.4 aperture and 16-megapixel camera with wide-angle (123 degrees) lens (f/2.2).
Samsung made a good move, it used the same cameras as in S10 and S10 Plus (standard and wide-angle), by dropping only the telephoto lens. Thanks to this the compact S10e ensures the same quality as smartphones from the highest shelf. Cameras are placed horizontally and are accompanied by a LED flash. We can switch between the standard and wide-angle camera easily using the switch on the main screen, we can choose a different angle by using the slider. And here are photography results:
In the Samsung camera we can select the particular aperture (f/1.5 or f/2.4, we can force the change manually or automatically). It offers something that is called Scene Optimizer – it uses Bixby to recognize a scenery and it selects the best photo parameters. Other smart functions cover receiving tips on shots and hiding flaws, like blurred photos or people photographed with closed eyes. In settings, what surprised me, there are no possibilities to change photos resolution – we can only change the ratio from the main screen.
The smartphone works great with photos taken during the day. It provides sharp, saturated (sometimes a bit too much, but this is nothing new in Samsung smartphones), there are no problems with focusing and zooming. The camera works nice in an artificial lighting and in a darker surrounding. There is a dedicated night mode – effects of its work are mainly lighting up photos, enhancing colours and reducing noises. This is not a level of night photos from cameras placed in latest Huawei models (P30 Pro or Mate 20 Pro), but most people should be pleased.
Here are photography results:
The 10-megapixel camera for selfies did not disappoint me – mostly due to natural photography results, providing a variety of colour effects, we can use the wide-angle (which is of course simulated with the software) and record in the maximum resolution of UHD (2160p).
Video recordings look great, and with the Full HD resolution the stabilization works perfectly. The image is smooth, with great colours and focus, which is not lost while recording moving objects. The camera can record in the maximum quality of UHD/2160p with 60 frames per second – they look great as well, though with a less efficient image stabilization. We can record in slow-motion as well: with 240 frames per second and 1080p resolution and with 960 frames per second in the HD quality. Among advanced recording options we can find the possibility to select the HEVC format and we can record in HDR10+.
Communication
Galaxy S10e has everything that is necessary in a contemporary smartphone. There is everything that we can expect from a flagship. From physical sockets the manufacturer placed USB-C 3.1 with the OTG function and a universal minijack, while wireless options cover Wi-Fi 802.11 a/b/g/n/ac/ax (2.4/5GHz), Bluetooth 5.0 BLE, ANT+, navigation system supported by GPS, Galileo, Glonass and BeiDou, and NFC for wireless payments.
Voice calls
In this aspect Samsung Galaxy S10e will definitely not disappoint you. It has a powerful speaker for calls and a great microphone, which translates into a high quality of calls. In addition it supports two SIM cards and VoLTE, it is a pity that it does not have a built-in function of recording calls.
Memory and efficiency
The smartphone is equipped with 128 GB of internal memory, out of which the user is left with slightly over 108 GB after running the phone for the first time. There are no problems with connecting an external drive or a memory stick through USB-C (of course with the OTG function) or we can use a memory card (placed in one of SIM cards' slot).
Exynos 9820 supported by 6GB of RAM is responsible for the efficiency. This is definitely a powerful specification, which will work in all usages: multimedia, recording videos, multitasking and gaming. I did not notice any slow-downs and lags in the work of the system, the efficiency is enough for a comfortable and smooth gaming even in the most demanding titles (Asphalt 9 or Fortnite in the highest settings). The work of these components translates to good results in benchmarks – if you are interested in numbers, a few benchmarks results can be seen in the gallery below.
Battery
The battery's capacity (or the weak system optimization when it comes to the power usage) is the biggest problem with which the users of S10e will have to face. The cell has a 3100 mAh capacity and it ensures average lifespans in an everyday usage. It is confirmed by results achieved with a more detailed measurements:
lifespan with the display on (YouTube, 1 SIM card, mobile network, 50% of screen brightness, minimal volume level) – 7 hours and 46 minutes,
PC Mark battery test result – 8 hours and 48 minutes,
Geekbench result (full discharge) - 3170 points, discharged after 5 hours and 17 minutes,
an hour of streaming videos (Chrome, 1 SIM card, active Wi-Fi module, 50% screen brightness) - 9-10% of battery lost,
an hour of playing videos from the phones memory (airplane mode, 50% screen brightness) - 6%,
half an hour of playing online navigation - 9%,
half an hour of playing Real Racing 3 - 10%.
In practice S10e had to be charged either every day or every 1.5 day, using it moderately (without the AOD function). In the more economical mode I managed to achieve two days, but on the other hand I had no problems with discharging the device in one day before the evening.
Charging is not fast, in order to achieve 100% we need to wait around 95-100 minutes. There is wireless charging and reverse inductive charging (Wireless PowerShare) – which in practice means that we can wirelessly charge a band, smartwatch or BT earphones. It works, and even though we might treat it as a not very useful feature, it can in fact be really useful in various situation (like a long weekend with a dedicated smartwatch charger). So if you have any gadgets that can use wireless charging, this function will be useful. We can run it from the notifications bar, after that we just need to turn the smartphone and place a device that we want to charge on it. There is a security measurement which prevents the smartphone from discharging itself – Wireless PowerShare turns off when the battery falls to 30%.
Summary
Manufacturers assume that smartphones from the highest shelf will be more popular when they will have bigger displays. While the reviewed model from Samsung is designed for slightly different customers – those that expect great specification, but are looking for a device that can be used with one hand. And this is the case with Galaxy S10e - it is light, compact, it lies in hands perfectly. It is waterproof, with great cameras (though not the best on the market), perfect display, dual SIM support and a high amount of memory. This is an almost perfect device for those looking for an efficient smartphone that can be used with one hand. You might not be entirely pleased with the battery and the slightly too high placed fingerprint scanner. But there are many more advantages than flaws and I think that this is a successful model from Samsung, which will work in all tasks that you will place in front of it.
Advantages and disadvantages
Advantages:
compact sizes, light weight
possibility to use it with one hand
great Dynamic AMOLED display with the support for HDR10+
fast and smooth work
dust- and waterproof housing (IP68)
photos quality in good lighting
video recording in the maximum resolution of 4K 60 fps
universal minijack
stereo speakers
high efficiency
Bixby button that can be programmed for a different app
additional interface functions, including personalization
fast and accurate fingerprint scanner
presence of the wide-angle camera
slot for a memory card
Wireless PowerShare function
Disadvantages
fingerprint scanner location is not the best one, it can be difficult for left-handed
lack of notifications LED
photos quality in weaker lighting
average lifespans on a single charge
relatively slow battery charging
hybrid solution for SIM/microSD cards
Source: GSMchoice.com