The Fan Edition of the Galaxy S20 model is one of the most interesting launches from Samsung this year, and a relatively low price and a nice set of functions should make it a popular model.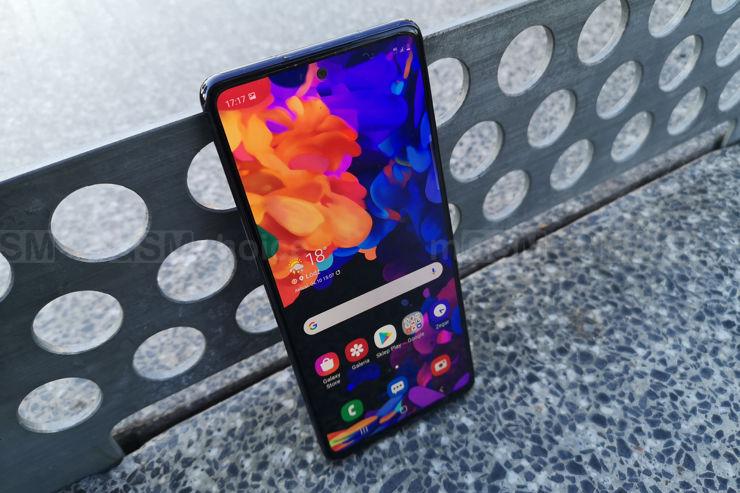 The year 2020 can hardly be considered as a successful one in many ways. However, even though the smartphone markets deteriorated, manufacturers did not let us down and there are a few interesting launches. Samsung Galaxy S20 FE - which stands for Fan Edition – is one of them. The smartphone is a bow towards the most faithful clients of the brand and a way to encourage those, who would like to buy the newest flagship, but do not want to spend more than 650 euro on it. The 6/128GB model which supports 4G networks is priced at 649 euro, but if you care about 5G and Snapdragon, you need to pay a bit more – because this version is priced at 730 euro.
Provided that the first edition for fans was created from a necessity, after the launch of the faulty, explosive Galaxy Note 7 model, in the case of Galaxy S20 FE the strategy is much more premeditated. Especially that the newest approach to flagships was visible in Galaxy S10e models and Lite versions of Galaxy S10 and Galaxy Note 10. What is more, there are rumours that after the successful launch of the S20 Fan Edition, the manufacturer intends to offer fan versions of flagship smartphone models regularly, which are supposed to be attractive both when it comes to the specification and the price. But it is time to get back to the hero of the review.
It is definitely impressive – it has a flagship CPU, a 120 Hz AMOLED screen, a large battery, cameras, which provide great photos, and in addition it has an attractive price for a premium segment.
Contents
Packaging and accessories
In the white box, which indicates that we are dealing with the S20 series model from afar, there is a 15 W charger, and when it comes to other models from the S20 series, we can find AKG earphones with a USB-C socket in them – here we cannot find them.
Housing and display
Samsung Galaxy S20 FE connects a metal frame with a housing made out of plastic, with a matte finish and a glass display. The whole is made out of high-quality materials, well-fitted and perfected in slightest details – it is difficult to find anything to complain about. Everyone of course judge the looks of the device subjectively, I personally like Galaxy S20 FE. And if we take the price into consideration, I can even forgive the housing made out of polycarbonate. I received a blue version for this review, but the manufacturer prepared a lot more – from more elegant and toned-down, to less conservative ones. The dust- and waterproofness (IP68), just like Gorilla Glass 3, which protects the front panel, are advantages.
The 6.5-inch AMOLED screen with a 2400x1080 pixels resolution provides a clear, readable and a bright image, with highly saturated colours (especially in the default, vivid colours mode). The pixels density is on the decent level of 407 ppi, we cannot see any rough edges, smaller texts remain readable. It is clearly visible where the manufacturer decided to save some money – other phones from the Galaxy S20 family provide higher resolution, with values exceeding 500 ppi. What is more, the matrix itself is Super AMOLED, while in the rest of flagships we can find Dynamic AMOLED. However, for most users these differences will not be noticeable, because the quality of the displayed image is perfect (though I recommend to warm colours a bit, otherwise they move towards colder areas). The touch panel in the reviewed device worked without any problems – I will put an emphasis on this, because there are some negative comments about the faulty, unwanted work of the panel among some buyers and reviewers.
All of this taken into consideration, this AMOLED is still an unquestionable advantage of Galaxy S20 FE, but I am even more fond of the 120 Hz refreshment rate. The user can switch between this and a typical value of 60 Hz – unfortunately, there are no values in between. And this is a pity, because we could benefit from 90 Hz, as the best compromise between a smooth image and power-saving. I like the fact that the manufacturer decided not to use curves near the edges – the glass is flat, so we can use 100% of the screen surface. What is more, it does not create unwanted reflexes, it will be easier to place a reinforced glass on it and it simply looks better.

In the vicinity of the display, or rather under it, to be precise, there is an optical fingerprint scanner – this element did not meet my expectations fully. It does not matter that I prefer scanners placed on the edge, integrated with the power button. The solution used in Samsung is simply not that comfortable, it is slow and it is not precise. I have seen the error message definitely too often. In other words – it is irritating. It is good that there is a facial recognition feature, which can be used to unlock the display much faster.

The display is surrounded by narrow bezels (it takes 84,4% of the front panel) – they are not as narrow as in standard models from the Galaxy S20 series, but they are narrow enough to give a premium look. In the upper part of the display there is an additional, centrally placed hole with the camera for selfies (I do not know why it is surrounded by a silver lining), and on the edge of the glass panel and the metal frame there is a narrow cavity with a receiver, which works together with the speaker on the lower edge, providing a stereo effect. It is worth adding that the display has a foil placed on it from the beginning. There is no notifications LED, but its role is taken by notifications showed on a dimmed screen, that is Always On Display. Those, who are using glasses with polarizing filters, should know that the display does not go dark in any orientation, but it distorts colours noticeably.
The matte finish of the back panel deserves a commendation mostly due to the elegant looks and the lack of visible fingerprints (though greasy stains will be visible). Thanks to this the smartphone does not slide on any surfaces. What is more, the manufacturer provided six colour versions (navy blue, lavender, mint, red, white and orange – all in matte finish), which will definitely appeal to those who like less conventional variants. I can complain about the fact of using less prestigious material at the back panel – plastic. I am not bothered by this, and in some situations it might be a better solution than a glass. Still, some might feel the lack of a characteristic cold of metal or glass, while taking the phone into their hands, which often translates into the feeling of using a premium product.
There is a camera module placed on the back panel, which is the least visible in the navy blue version. It stands by a one millimetre above the housing, and due to this fact it is best to buy a cover. In the lower part there is a subtle manufacturers logo.
The frame of the device is a metal one – and thanks to this it is appropriately solid and stiff. Edges, which are intersected in some parts with antennas, are curved and profiled in such a way that the smartphone lies in hands comfortably, it smoothly connects with the plastic housing and the glass front and it is simply a pleasure to use it. The placement of elements on edges is intuitive and comfortable – apart from the left side, which lacks them. On the lower edge there is a microphones hole, a USB-C socket and an external speaker. On the right there is a rather narrow, but placed high enough above the housing, button for volume control and a power/lock button, while on the upper edge there is a hole of an additional microphone and a tray for SIM/microSD cards. The tray can store either two SIM cards, or one SIM and one memory drive. The hybrid solution is not perfect if we care both about enhancing the space and having two numbers (the smartphone does not support eSIM), as a consolation, we can be glad that the smartphone supports memory cards at all.
System and applications
Galaxy S20 FE has Android 10 (with security updates from the 1st of September 2020), but Samsung does not provide smartphones with a pure version of the system. Which is why we need to come to terms with the preinstalled add-on, the One UI 2.5 interface.
Some like it more, others like it less, but this is, without a doubt, a mature, enhanced and a well-thought interface, which provides a lot of options connected with personalization, comfortable system usage or the work in the desktop mode, after plugging in a monitor or a TV and a mouse and a keyboard – that is the DeX mode.
What other functions are provided by Galaxy S20 FE? Among the most important ones, it is worth mentioning:
Always On Display
dark mode,
options connected with colours temperature and the white balance of the displayed image,
blue light reduction,
themes,
gestures and movements control,
edge screen, which is an additional menu with shortcuts to apps, selected functions and contacts,
edge lighting – another way of showing notifications.
When we turn on the phone for the first time, during the preliminary configuration, it is worth noticing a window with a suggestion of installing additional apps signed by Samsung – and only accepting those ones that can be really useful. There is no reason of installing bloatware from the start. Moving back to the system for a moment – Samsung promises 3 years of updates for the phone, so besides Android 11, Galaxy S20 FE will receive Android 12 and Android 13 as well.
Sound
Samsung Galaxy S20 FE receives a big plus for stereo speakers, which AKG is responsible for. They are supported by Dolby Atmos. They can boast with a good, rich sound, though I think that they are slightly quieter than in other models from the S20 family. It is a pity that there is no universal minijack – which would have been appreciated by many fans of this S20 version. Clearly, some manufacturers have ultimately decided not to use them in more expensive smartphones. Samsung belongs to this group and we need to deal with it. And buy good, wireless earphones.
Photos and video
The camera in Galaxy S20 FE surprised me slightly. I expected to be overwhelmed with megapixels, and it looks like the manufacturer invested in three neat cameras, which work basically in all conditions. It consists of:
standard camera, 12 MP, AF, OIS, f/1.8,
wide-angle camera, 12 MP, 123 degrees, FF, f/2.2,
telephoto lens camera, 8 MP, 3x lossless zoom, AF, OIS, f/2.4.
When it comes to the S20 family models, the only step the manufacturer took was to reduce the telephoto lens – instead of 64 MP there is an 8 MP one. It translates into the inability of recording videos in the 8K quality, which does not bother me especially. I like the fact that there are cameras placed here that can really be used every day – there are no useless depth measurement cameras, or special ones for macro.

Cameras – especially the main and the telephoto one – work great, they provide sharp photos full of details, with a rather natural colours and good dynamics. It sometimes saturates and brightens up photos too much, but we can always correct it in the Pro mode. Samsung promotes this camera as a one that can achieve a 30x zoom, but this is only a marketing trick – it is best to stick with the 3x optical zoom and forget about the digital one. If you really need to use it, I advise you to do it in a limited range. The HDR mode works great, the autofocus is fast and errorless. The wide-angle camera offers a slightly slower quality and it tends to overexpose the sky. What is more, there is no OIS, and the focus is fixed:
The camera provides a night mode, which lights up the shot subtly and it slightly enhances colours. With a good external lighting differences between auto and night are not that noticeable:
The camera app provides a few basic modes: Single Take, Photo and Video and a whole range of additions in the menu. We can find there the Pro mode, Panorama, Food, Night, Live Focus, Live Focus Video, Pro Video, Super Slow-Mo, Slow-Mo and Hyperlapse. In addition, there is Bixby Vision and AR Zone. What is more, thanks to icons on the main screen, we can quickly switch flash modes, we can set a timer, change a ratio, we can take a moving photo or we can add filters. We can switch between three lenses in a simple way. Only after going to settings we get access to HDR.
Galaxy FE provides a lot of capabilities when it comes to video recording, and the quality of videos themselves is definitely an advantage of the reviewed model – both when it comes to offered functions, as well as their quality, level of details, smoothness and colours. The maximum resolution is 4K, but it is worth noting that functions like auto focus, video effects and stabilization will not work in this mode. In the Pro mode we can record in 21:9 ratio as well.
The camera for selfies will definitely appeal to those, who take such photos for social media in a massive amount. It has an f/2.0 lens and it offers 32 MP, though as a default it uses the technology of connecting pixels, which results in photos with a resolution of around 6.5 MP. However, we can force photos in the full resolution. What is more, it has autofocus as well. Still, do not count on having natural, unedited photos – even with the beautifying off, the software softens faces in selfies to some degree. It is worth adding that the front camera can detect a larger group in front of the lens and it can force using a wider angle – we can force it manually as well. Vlogers will like the fact that the smartphone can record in 4K both from the front and the main camera.
Communication
When it comes to the communication side, Samsung Galaxy S20 FE does not disappoint. It has everything that a flagship needs (even in the slightly weaker fan version). It supports 5G networks (though I did not have an opportunity to use them), a fast, dual-channel Wi-Fi 6, Bluetooth 5.0, NFC and a fast and precise navigation (GPS, GLONASS, Beidou, Galileo). From physical sockets, we have USB-C (USB 3.1 z OTG), we can place two SIM cards or one SIM and one microSD one. The phone only lacks a 3.5mm minijack.
Voice calls
The quality of calls is a Samsung standard – impeccable. We can hear our interlocutor loud and clear, the same goes for the other side of the call. The microphone for calls gathers the sound nicely, and the additional one for reducing noises works well for decreasing the sound from the surrounding – my interlocutors were not aware of any of them. The support for two SIM cards is an advantage as well – we can choose in settings which one is supposed to manage calls, texts and data transfer.
Memory and efficiency
The smartphone arrives with 128 GB of internal memory, out of which the user is left with around 104 GB after turning the phone for the first time.
We can choose between Qualcomm Snapdragon 865 (in the 5G version) and Exynos 990 (in the 4G version) when buying Galaxy S20 FE. In addition, there are different memory versions: 6/128 and 8/256. I received the version with the flagship Snapdragon and 6 GB of RAM, and 128 GB of the UFS 3.0 internal memory. The phone cannot be slow with this configuration – it works fast, smoothly and without any problems. We can overburden it with the most demanding apps and games, we can work with many apps in the background or use it as a PC (thanks to the DeX support) – it works wonderfully.
Thanks to the strong specification, which does not give way to flagships, Samsung Galaxy S20 FE is different than typical models with Lite or Mini in their name. And it costs noticeably less. I definitely like such compromises.
Battery
The 4500 mAh cell lasted for a whole day of an intensive work without any problems, achieving 1.5-2 days during a typical usage. It is partially thanks to the modest, though completely decent resolution, but mostly thanks to Sanpdragon 865, which works great with power management and heat dispersion. All measurements were taken with the display set to the high refreshment, which is 120 Hz.
lifespan with the display on (YouTube, 1 SIM card, active Wi-Fi module, 50% screen brightness, minimum sound level) – around 18.5 hours,
PC Mark battery test result – 9 hours and 38 minutes,
Geekbench score (full discharge, dim screen) – 7790 points, discharge after 12 hours and 55 minutes,
an hour of streaming videos (Netflix, 1 SIM card, active Wi-Fi module, 50% screen brightness) - 12% of the battery lost,
an hour of playing videos from the phones memory (airplane mode, Netflix offline, 50% screen brightness) - 10%,
half an hour of using online navigation - 6-8%,
half an hour of playing Real Racing 3 - 7%,
8 hours in the standby mode - 2%.
Samsung Galaxy S20 FE supports 25W wired charging, and a wireless charging (15W). There is even a reverse charging (4.5W), which can charge, for example, earphones or a smartwatch, if needed. However, if a user cares about the fastest power, one must buy an appropriate charger – in the set there is a 15 W one, thanks to which we can fully charge the battery in a bit more than 90 minutes. This is a surprising move, because even with cheaper models like Galaxy M51 there are 25 watt USB-C PD 3.0 chargers with PPS and PDO.
Summary
Samsung claims that the Samsung Galaxy S20 FE model was created as an "answer" to meet expectation of users, who were not entirely pleased with the equipment and price of other models from the Galaxy S20 series. And this is an undeniably good decision, because the smartphone offers a strong specification in a reasonable price. What is more, the manufacturer offers this model with Exynos and Snapdragon – so users are not limited to a single CPU on the given market.
So where are savings when it comes to the regular S20 version? For example, there are no earphones, the housing is made out of plastic and not glass, the front is protected by Gorilla Glass 3, while other models from the same family have the newer version, the camera is slightly weaker… But, if we sum up pros and cones, they speak in favour of Galaxy S20 FE and if you decide to buy it, you will definitely not be disappointed.
Advantages and disadvantages
Advantages:
quality of construction
AMOLED, flat screen
120 Hz refreshment rate
matte finish of the housing
dust- and waterproofness on the IP68 level
great specification and efficiency
good cameras, including one with a 3x zoom
stereo speakers
5G, fast Wi-Fi, NFC, DeX
3 years of promised system updates
quality of photos and recordings
dual SIM support
fast UFS 3 memory
Snapdragon CPU and high efficiency
different colour versions
inductive and reverse charging
reasonable price
Disadvantages
backs are made not from glass but from polycarbonate (though this might not be a flaw for everyone)
older generation of Gorilla Glass slightly thicker bezels around the display
fingerprint scanner is slow and irritatingly imprecise
if you care about Snapdragon, you need to buy the 5G version – the cheaper one has Exynos
the resolution is not impressive
lack of a universal minijack
slots for SIM and microSD cards in a hybrid solution
lack of a faster charger in the set, no earphones or a cover
Source: GSMchoice.com