Sony Xperia 5 II is a smaller and a cheaper version of Xperia 1 II. It offers most of its advanced functions, but in a more comfortable, compact size. It will be a great choice for those who like multimedia, gamers and photographers. But they are going to reach deep into their pockets.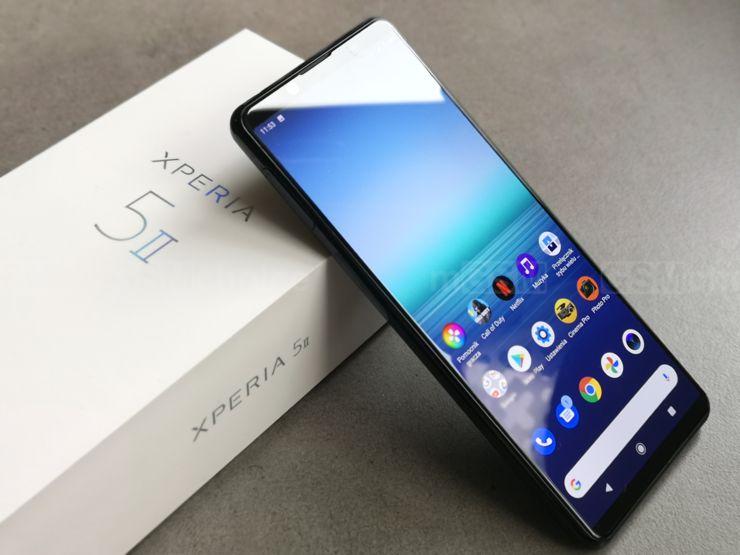 Sony Xperia 5 II is a successor to the last year's Xperia 5 and a more affordable equivalent of this year's – an expensive one - Sony Xperia 1 II smartphone. The Japanese manufacturer used a rather unconventional naming strategy, by adding Roman numerals resembling the new version of a particular product – in the case of the reviewed model it will be Xperia 5 mark II.
So what does the described Xperia 5 II offer? Besides a characteristic Sony design and a 21:9 ratio, there is a support for 5G networks, Snapdragon 865 CPU, 8GB of RAM, a 4000 mAh battery, the same set of cameras as in the more expensive Xperia 1 II and a 120 Hz display. And what are differences when it comes to the more expensive brother? Most of all, it has a smaller display – 6.1 inches in comparison to 6.5 inches in Xperia 1 II - with a lower resolution and it does not support a wireless charging.
The price of 899 euro is bearable, especially if we take the specification into consideration – after all, it does not offer anything below its competition in the same price shelf – but at the same time, it must compete with rivals such as Samsung Galaxy S20, Galaxy Note 20 and Huawei P40 Pro.
Contents
Packaging and accessories
The smartphone arrived to us in a white, cardboard box, in which, besides the Xperia 5 II itself, we can find an 18 W charger and a USB-C cable. And that is all, there is no cover, no earphones… It leaves a bit to be desired.
Housing and display
Sony Xperia 5 II is without a doubt a handy device – especially from a female's hand perspective. And this opinion is not just mine, but every person that had the opportunity to take it into their hands shared it. The display has a diagonal of over 6 inches, but the slenderness of the construction, the prolonged shape and the narrow bezel contribute to the fact that it is light, it lies in hands perfectly and it looks slightly different than all other models on the market – during these times, when it difficult to recognize a brand by looking at the front of the device (because virtually all smartphones look the same), Sony is an exception. The smartphone is available in two conservative colour versions – blue or black. Sony makes no efforts to create weird names for colours of their models – less is more. I will add that the device is light – it only weighs 163g.
Durability is its another advantage. First of all, its front and back panels are protected by Corning Gorilla Glass 6, and second of all, the smartphone can boast with a dust- and waterproofness at the level of IP65/68, which means that it is resistant to streams of water and a submersion of up to 30 minutes and at a 1.5 meters depth. On the other hand, the manufacturer states that the device cannot be fully submerged and it should not come into contact with drinks, salty or chlorine water. Xperia 5 II was tested for its waterproofness by placing it gently in a container full of tap water and dropped to the depth of 1.5 meters. After 30 minutes the device was gently removed from the container and its functions were tested.
The display in Xperia 5 II deserves our special attention – this is a 6.1-inch OLED FHD+ display (2529x1080 pixels, 449 ppi) with an HDR CinemaWide technology and a 21:9 ratio. The biggest novelty in this smartphone is the 120 Hz refreshment rate and reacting to touch with 240 Hz – which can be useful not only during an everyday work, but mostly while playing games. It is worth adding that we can choose between 60 and 120 Hz – there is no auto setting, which would turn on the higher refreshment according to our needs. Colours representation deserves a commendation as well, and the user can either use the standard image mode or the so-called Creator mode (based on professional Sony CineAlta technologies). In addition, it has a great contrast, HDR, great readability angles and a high brightness in the auto mode (with manual settings it is noticeably lower).

There is neither a notch nor a hole, which would distort the space around the display – instead there are symmetrical bezels. The 8 MP camera for selfies, along with sensors, are placed on a small, upper frame, at the front, and in cavities on the edge of connection between the glass and the frame, both above and under the display, there are placed stereo speakers. There is even a notifications LED. Is the presence of bezels bothersome? Absolutely not. In my opinion, the classical solution is still better than all notches and holes. The manufacturer did not put any foil on the display, but it is protected by Gorilla Glass 6. It is worth adding that the smartphone can be used in glasses with polarizing filters without any problems.
When it comes to the design, the back panel is not particularly original. In the upper, left corner there is a camera module that stands above the housing, in which cameras are placed vertically. In comparison with similar modules in models from Huawei or Samsung this one is much more modest and unobtrusive. The rest of the panel is made out of glass, on which there is the manufacturer's logo and printed markings and certificates.
Both glass panels are connected by an aluminium frame. The smartphone can be controlled via a number of buttons concentrated on the right edge: there is a relatively small volume control button, a fingerprint scanner integrated into a power button (this is the only biometrical security, there is no facial recognition), there is a – useless, in my opinion – Google Assistant button, and a physical, two-step camera trigger. The minijack is placed on the upper edge, while the USB-C socket is on the lower one. The tray for SIM and memory cards is placed on the left edge of the phone. I especially like the fact that we can open it without using an additional tool – we can pry it with our fingernail – and that the smartphone does not restart after taking it out – which was a trademark of Sony smartphones for a long time. We can either use two SIM cards in the nano size or one SIM and one microSD card.
If you are curious how this model looks like from the inside, on the PBKreviews channel they stripped apart Xperia 5 II. We can see the cooling system used in here, which is based on graphite sheets. Sony flagship has most elements, including the microphone, glued together in order to ensure waterproofness, and the USB-C socket is protected by a rubber gasket. Authors of that review suggest that it is easy to disassemble the smartphone and fix it – even the battery has two places, which we can pry to remove it easily and replace it.
System and applications
The phone runs on Android 10 - an update to Android 11 is planned, but we still do not know when the phone will actually get it. Security updates are dated on the 1st of August 2020.
The Xperia UX interface looks similarly to the original Android, though the manufacturer added a few of its own solutions, for example the way we use the divided screen or the Stamina mode. There are new background colours, a few fonts and icons. There is a side menu as well – this is a rather irritating function and a useless addition, which I turned off quickly – and a lot of preinstalled apps. As a standard, Sony adds Call of Duty, Linkedin and Facebook. It does not add its own app for browsing photos – it uses Google Photos. When it comes to the camera and playing music it provides its own solutions.

An important part of software, especially for gamers, is the Game Enhancer app, which is a set of advanced functions, which we can use while gaming. They cover, for example, selecting a power/efficiency profile, blocking notifications, turning on the automatic brightness, recording the screen and changing refreshment to 120 Hz for those games, which can achieve over 60 frames per second.
Other functions, which deserve to be described, are Always On display, a one-hand usage mode, settings connected with displaying the image (Creator mode, white balance, RGB) or different ways of controlling the interface (with gestures or system buttons). The smartphone can boast with the Widevine L1 certificate.
Sound
Sony puts a high emphasis on sound, which is why the presence of important audio solutions is not surprising: there is a high resolution sound, there is a 3.5mm minijack and stereo speakers placed forward. They are strong and they ensure rich tones, a perfect stereo sound and Atmos surround system and a sound full of details – from bass to higher notes.
The Dynamic Vibration System technology complements stereo speakers – it is supposed to enhance the experience of using the phone. The smartphone analyses played sounds and synchronizes appropriate vibrations with them. This function works independently from the currently running app – we can activate or deactivate it from the settings menu and we can control it from the volume control section. And I think that it can only be useful for gamers – in other cases it is useless and it does not enhance our feelings while using multimedia. We can listen to music through stereo speakers or through earphones – wireless or with an 3.5mm audio plug.
While viewing multimedia we can use Dolby Atmos sound settings, optimized in cooperation with Sony Pictures Entertainment. The improvement of the digital music, from streaming services with music and videos as well, is ensured by the DSEE Ultimate technology. The 360 Reality Audio decoder is responsible for the high quality of sound.
Photos and video
When it comes to cameras, the Sony Xperia 5 II model is almost identical as the bigger Xperia 1 II. It has a camera with three lenses, ZEISS optics and ZEISS T* coating, known from reducing reflexes:
ultra wide-angle camera: 16 mm 12 MP 1/2,2" dual-PD AF,
main camera: 24 mm 12 MP 1/1,7" dual-PDAF, OIS,
telephoto camera: 70 mm 12 MP 1/2,4", 3-krotny zoom, PDAF, OIS.
From technical novelties it is worth mentioning the Real-time Eye AF technology, which sets the focus on human or animal eye in real time, there is a large 1/1.7" image converter and noises reductor in the Bionz X for Mobile image CPU. There is no ToF sensor, which, according to the manufacturer, can translate into a slightly slower focus while taking photos in weaker lighting or for detecting a photographed person in the portrait mode. But in all other cases the autofocus works instantly, especially that there is a constant focus, which sets the AF/AE parameters 60 times per second, based on 247 points. Thanks to this we can take and save 20 photos (20 frames per second) with a high precision, perfectly set focus and optimized exposition.
And how do these cameras work in practice? Regardless of the selected photography mode, photos are full of details, with a great contrast and natural colours. They are basically identical to those from Xperia 1 II. We can even say that photos look more natural than those taken with cameras from its competitors – it is because of a more neutral tonal range, which software for processing images does not enhance them with stronger and more saturated colours, then they are in reality. The camera deals with unevenly lighted scenes, by using the HDR mode, though there are some shots in which it overexposes the brightest parts of the shot – mostly the sky. With the help of this reviewed model we will not achieve as impressive photos as those from Huawei or Apple – mostly due to the lack of a dedicated night mode.
More photos can be seen in the gallery .
Those who only use the auto mode and do not want to dwell into ISO, white balances, exposition times and other nuances, will enjoy the basic camera app. It has a simple interface and it offers basic functions, and the dedicated camera app works great for an everyday usage.
Besides the standard camera app, among the preinstalled soft we can find Photo Pro – which is an app with an interface known from the Alpha series cameras, thanks to which we can adjust all parameters of the shot and save photos to the RAW DNG format. The second of advanced apps is Cinema Pro, in which we can record in slow motion in the quality of 2K and 4K with 120 frames per second. These apps can use the maximum potential of cameras, especially in hands of professionals, but the hardware is the limit – and no one can beat this.
The camera can record videos with the 4K quality (with 24/25/30/60 frames per second) and 1080p (30/60/120 frames per second). Basic modes are available in the main camera app – less typical and those that require a higher knowledge – are in the Cinema Pro app. The quality of videos is great, both when it comes to details, smoothness and natural colours.
The 8 MP camera at the front is responsible for selfies, it has an f/2.0 brightness lens and the possibility to record videos in the 1080p quality of 30 frames per second. Photos can be taken in the standard or the portrait mode, available from the level of the icon on the app screen – in the latter we can complain about the inexact bokeh effect, which sometimes does not blur the background, but it blurs hair. Regardless of the selected mode, we can see that the camera does not deal too well with a bright background – it usually overexposes it. Sometimes it does not focus on the photographed face as well.
Communication and voice calls
The compact Xperia 5 II provides all necessary modules and connectivity options: 5G, NFC, Wi-Fi 6, Bluetooth 5.1, and navigation supported by GPS and Galileo. From physical sockets we have USB-C (USB 3.0) and a universal minijack.
I have no concerns towards calls taken with Xperia 5 II – interlocutors heard me loud and clear, without any noises from the background, I had no problems with hearing and understanding them as well.
Memory and efficiency
Xperia 5 II has 128GB of internal UFS 3.0 memory. In practice, the user is left with around 20% less memory after turning the phone on for the first time, which is slightly more than 102 GB. In addition, the smartphone supports microSD cards – by taking one slot for a SIM card.

Snapdragon 865, which supports 5G network (X55 modem), is responsible for efficiency, speed and smoothness of work. It is supported by Adreno 650 GPU and 8GB of RAM. In an everyday usage, the smartphone works flawlessly – it is perfectly fast and smooth, with the display almost entirely set to 120 Hz. You will not notice any lags or delays. Apps run instantly and there are no delays while switching between them. It works perfectly while gaming – I checked it with Real Racing 3 and Asphalt 9. Let us not forget about the software support for gamers – Game Enhancer – which controls the display refreshment rate, it can control the touch reaction and it manages the battery while gaming. To sum it up – Snapdragon 865 and 8GB of RAM ensures the efficiency of a true flagship and in this manner Sony Xperia 5 II will definitely not disappoint you.
Battery
In the reviewed model there is a 4000 mAh cell. Thanks to the good power management and effective modes, like Stamina, the smartphone can achieve a full day of work without any problems. And it can even exceed it – in practice, provided that I did not use it for gaming or running benchmarks – I had around 35-40% of the battery left in the evening. The biggest power consumers are recording in 4K and gaming – and let us remember that I had the 120Hz refreshment set permanently. After switching to 60Hz lifespans will be better.
lifespan with the display on (YouTube, 1 SIM card, active Wi-Fi module, 50% screen brightness, minimum sound level) – 13 hours and 34 minutes,
PC Mark battery test result – 13 hours and27 minutes,
Geekbench score (full discharge, dim screen) – 8189 points, discharge after 13 hours and 35 minutes,
an hour of streaming videos (Netflix, 1 SIM card, active Wi-Fi module, 50% screen brightness) - 7% of the battery lost,
an hour of playing videos from the phone's memory (airplane mode, Netflix offline, 50% screen brightness) - 6%,
half an hour of playing Real Racing 3 - 8%,
8 hours in the standby mode - 5%.
Let us move to charging. Here I need to mention that Xperia 5 IIsupports 21 W charging, but in the set there is a weaker charger, an 18 W one. How fast will it charge the newest Sony? After 30 minutes there is around 46%, after an hour – 80%, and after 90 minutes – 96%. The remaining percentages will appear after 15-20 minutes, so we can charge the smartphone from zero to 100% in less than 2 hours. The reviewed Xperia only lacks the wireless charging – so no popular Qi charger will work with it. But this is a conscious decision made by the manufacturer – they did not want to increase the thickness of the phone by adding a coil, and the efficient cooling system was a priority.
Summary
The reviewed smartphone continues the characteristic line of the design chosen by the Japanese manufacturer with a success, but it is a truly multimedia device as well, which benefits from technologies from other Sony departments: enhanced image (Bravia TVs), photography technologies (Alpha cameras), or communication when it comes to games (PlayStation). Xperia 5 II offers a number of functions, which cannot be found in phones of its competitors. It works basically in all aspects, from the efficiency, the image and the sound, through the camera, lifespans and the software. This just might be the best smartphone from Sony in years and a real alternative for Galaxy S20 or Xiaomi Mi 10 Pro. It has only one flaw – a rather high price – but this is a distinctive feature of all phones from the highest shelf. They only need to convince users to itself, who might be more tempted by the more affordable competition, like Samsung Galaxy S20 FE.
Advantages and disadvantages
Advantages:
parameters and the quality of the image
120 Hz display
great, prolonged shape and handiness – things that I always admire in all flagships of the Japanese manufacturer
dust- and waterproofness (IP65/68)
Gorilla Glass 6 at the front and at the back of the device
quality of assembly
the try for SIM/microSD cards can be removed without any additional tools
capabilities of cameras and apps for using them (standard, Photo Pro and CinemaPro)
powerful specification
efficiency, smoothness and the speed of work
fast and accurate fingerprint scanner
great lifespans, even with 120 Hz mode
notifications LED
minijack
memory cards support
quality of sound, stereo speakers
Disadvantages
not everyone might like the long housing
all buttons placed on one edge
hybrid solution when it comes to SIM and microSD cards
fingerprints left on the back panel and the overall slickness of the device
absolute minimum in the sales package
useless Google Assistant button
no inductive charging
average quality of photos from the front camera
a lot of useless soft
charger from the set is not the fastest one
high price, though lower when it comes to Sony Xperia 1 II
Source: GSMchoice.com