A few months ago I had a chance to test the Sony Xperia XZ2 model. Now I have received its successor. It offers a lot good things, but there is still a place for improvements and innovations.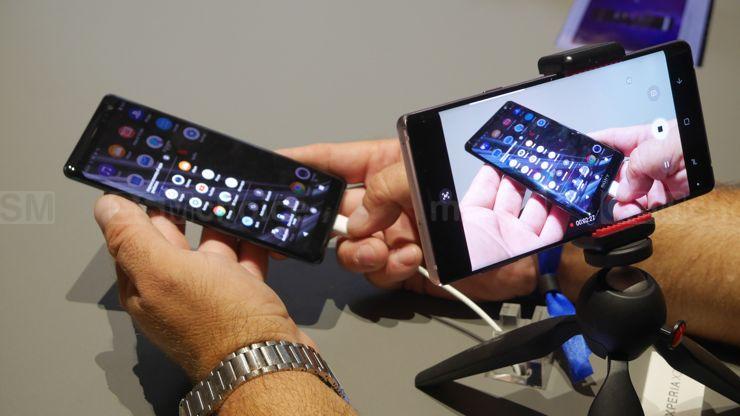 photo: Jolanta Szczepaniak/GSMchoice.com
Xperia XZ2 was a great model, though it had some elements, which irritated me. I did not like the location of the fingerprint scanner, the lack of a minijack or restarting the phone while changing SIM cards. Unfortunately, these elements in the new version of the flagship Xperia XZ did not change. But we do not need to be prejudiced :) Because on the other hand, when it comes to the display quality, efficiency and capabilities, the Japanese smartphone is the highest class.
We cannot fail to notice that Xperia XZ3 is similar to its predecessor under many aspects. But it has a few novelties, which can convince future buyers, like the newest Android 9.0 Pie system, or the OLED display arced on both sides, with active edges.
Contents
Packaging and accessories
The set that I received with the Sony Xperia XZ3 model is not an impressive one. Basically there is only a USB-USB-C cable and a charger (850 mAh) from the Greenheart series. But I think that I have received an incomplete set: it should have earphones with a classical 3.5mm jack and an adapter from jack to USB-C.
Housing and display
Sony Xperia XZ3 is an attractive smartphone. Though the manufacturer did not make a good impression, when it comes to ergonomics, I cannot deny one thing – it is a great looking model. This is not only my opinion, it caught attention of other people as well. At the front and at the back glass panels are protected by Gorilla Glass 5 and they are connected by a slim, metal frame. The whole is arced, it does not catch fingerprints too easy, but it is very slick.
And what about the ergonomics? I do not like the fingerprint scanner, which is placed too low – it bothered me in the XZ2 model and it bothers me in XZ3. I do not know if it is a flaw of my particular device, but the back panel was not perfectly fitted. Both in the upper and the lower part there is a noticeable cavity, which sometimes plucked out my hair when I was holding the phone next to my ear. Not everyone can like the weight of the device – it weighs almost 200 grams. I must add that Xperia is dust- and waterproof – it fulfils the IP68 standard.
The 6-inch display is one of the biggest advantages of the device. This is an OLED display (the first one in the Sony's smartphones portfolio), which can boast with using technologies such as HDR, X-Reality Engine and Triluminos Display. What is more, it has a 2880x1440 pixels (537 ppi) resolution, 18:9 ratio, no notch, great colours with deep black level and a perfect contrast. The display has curved edges, which has no major meaning in everyday activities, but it does not work in games – curved edges can "cut" elements of menus in games. The whole is surrounded by extremely narrow bezels, and edges are active. What does that mean? Thanks to them, Sony Xperia XZ3 can offer a function called Side sense – but more about it later. The front panel is covered with an arced glass, and the whole is protected by Gorilla Glass 5.
Above the display, in the upper frame, there is a typical set of elements: the speaker for calls, front camera, light and proximity sensors. In the left part of the frame there is the notifications LED. The lower frame does not have any additional elements apart from the logo – but in its lower part we will notice a notch, in which there is the speaker.
On the back panel we can see the camera lens (almost perfectly levelled with the housing), along with the LED flash and the fingerprint scanner. If the manufacturer had worked more on the ergonomics, I would not have any concerns towards XZ3. However, they have repeated the mistake from the previous model, and the scanner is placed way too low – the index finger hits the camera lens perfectly, but misses the scanner. I will add that the scanner itself is fast and precise, and I do not have any concerns towards it.
On edges there is a typical set of elements. On the lower edge there is a USB-C socket and a microphone's hole, another microphone is on the upper edge, along with the tray for SIM and microSD cards. I have some mixed feelings towards the latter element. On the one hand it does not require tools for removing it and it can store two nanoSIM cards or a single card and a memory drive, but on the other this is a hybrid solution, and the smartphone resets itself whenever we remove the tray. That is just the way it is…
On the left side the edge was not used, but on the right it is – here we can find the volume control, power/lock button and a dedicated camera button. The placement of these buttons could have been slightly better, volume is slightly too high and the lock button is slightly too low, and the camera button – you can have some problems with placing the smartphone in a card holder in a way that none of these buttons are pressed.
System and applications
XZ3 is my first contact with Android 9 Pie. What is more, we do not need to install any update – the smartphone has the newest system right when we take it out of the box. Of course Sony does not provide smartphones with pure Android – there is an add on, which can be considered as an advantage. It is a light one, visually and aesthetically attractive and simple in usage.
The left screen is taken by the Google Assistant panel, there is apps' menu and numerous interface personalization options (wallpapers, widgets, shortcuts, transitions and icons' grid). Icons in the shortcuts bar and notifications have a round shape, and the volume control is in the vertical orientation – these are features of the new Google system. The interface offers a lot of settings connected with displaying image (Colour gamut and contrast, White balance, Video image enhancement). The smartphone will take care of our eyes in the night mode and will make sure that the screen is on when we are looking at it. It can display information about data, hour, battery and notifications through Always On Display.
The side panel with apps is an interesting feature – Side sense. It is adjusted to the user – here we can find shortcuts to those apps and functions, which are used the most (we can of course set them manually). We can find here a place for 8 apps' icons, three shortcuts to settings and three shortcuts to other actions – it is a pity that there is no place left for favourite contacts. The panel can be shown by double tapping the edge of the screen – it will appear on this side and this height, on which we have tapped. It is an interesting function, though it requires some time to get used to it. Sometimes I have extended this menu by accident, and when I wanted the panel to show – the smartphone did not respond to gestures. Other action that uses active edges is swiping the finger up and down in order to get back to the previous screen. And it works just as selectively as the additional menu. The side panel function can be deactivated in the menu.
I like the fact that Sony, to some extent, gives the user an opportunity to choose software that will be installed in the device. Appropriate windows will appear after turning the phone for the first time. Thanks to this, among preinstalled apps, we will not have several useless ones (like Booking.com, AR Effect, AVG Protection, Amazon Shopping, Playstation App, Movie Creator, Sketch), which can later be installed from the Google store. This is a nice gesture towards its users – previously Sony's smartphones where full of useless apps, that could not be uninstalled.
Sound
Sony Zperia XZ3 will not fail you when it comes to the sound. It has two speaker directed towards the user: one is the speaker for calls located on the upper frame, and the second one is on the lower frame, in the cavity where the glass panel connects with the metal frame. They give an actual stereo effect, they are loud and offer a clear, strong sound – thanks to them watching streamed movies and series is a pure pleasure.
I do not enjoy the fact that the Xperia XZ3 model lacks a universal jack. This decision can be justified in different ways and we can of course use wireless solutions, but the lack of a minijack is always a disadvantage to me. As a compensation I can add that the smartphone supports the Hi-Res Audio standard and it supports the LDAC codec, in order to ensure the highest quality of wireless sound. For checking this aspect I have used Motorola Pulse Escape – in this aspect the Sony flagship works perfectly. Let us add functions and technologies provided by the menu, like DSEE HX, ClearAudio+, Clear BASS and a virtual surround sound. There is the Dynamic Vibration System function as well, that is a system adjusted to played sounds. I did not like this solution in XZ2 and when it comes to its successor I have similar impressions. Some will probably like this – especially gamers – but for me it is something useless.
We will not find an FM radio, but there is a great app for playing music, with basic tracks sorting options, playing songs not only from the local memory but from Google Drive as well and a possibility to download information about songs and covers.
Photos and video
The camera can be launched quickly by using the dedicated trigger button. Sony is probably the only manufacturer that offers a physical button in its smartphones and we should praise them for this. It makes using the camera and taking photos in different conditions a lot easier. An additional help is the auto-run of the camera preview, when the user will take out the phone out of his or hers pocket and will hold it in the horizontal orientation (Motion Eye). We do not need to waste time on running the camera. But let us move to the important stuff.
A single, 19-megapixel camera with an f/2.0 lens and 25mm focal length is responsible for taking photos. It has a laser autofocus with phase detection as well. We can record videos in the maximum resolution of 4K (with HDR), there is a super slow motion mode, which captures image with 960 frames per second. There is object tracing, lens correction, automatic smile detection… But there is no optical image stabilization or a second camera that could ensure a wider angle, optical zoom or depth measurements. Basically I think that Sony creates great sensors, but it does not fully use its potential in their own products. Sony's converters work best in its competition, where they provide better photos and what is more they use brighter lenses and OIS.
The camera app is enhanced, but well-thought as well – the most important things are at hand, like modes selections, as well as switches to the most important parameters of the photo.
In the Xperia XZ2 model I had problems with assessing the camera – in paper it looked great, but I was not fully pleased with the results of its work. In XZ3 it is better, though I think that noises reduction and focusing algorithms are too strong. On a phone or on a monitor – but without zooming in – photos look great, they have good colours and details level. And not only those taken during the day. Nigh time photos look good as well. However, when we will zoom into particular parts of photos and view files in the 100% size, we can clearly see that the noise level is high. Photos have poor level of details and they do not have a quality as should be expected from a model that costs almost 800 euro. I have written it in the review of Xperia XZ2 and I can repeat it for XZ3 - when it comes to photography, this smartphone gives way to flagships from the competition.
At the front there is a 13-megapixel camera with an f/1.9 aperture, which provides the bokeh effect and different beautifying modes. It works really good and where there is not enough light we can use the display to light our face.
Xperia records super slow motion in 960 frames per second, both in HD and in FHD. It offers 32x slowdown of the captured scene, however the recording time of 0.1 second will not be enough in every situation, there is no auto mode that could detect movements on its own. It requires a good lighting – otherwise the video will have a lot of noises. I will add that there is a possibility to record videos in 4K in HDR. This is a unique feature of Sony's smartphones and I must admit that effects look decently – images are full of colours and details, they are smooth and sharp. However in order to use the image stabilization, we need to lower the quality to FullHD. These effects can be seen below:
Communication
In the newest Xperia there are all the most important communication and connectivity modules. It supports LTE of the cat. 18, there is a dual-channel Wi-Fi in the 802.11b/g/n/ac standard, Bluetooth 5.0, NFC and navigation modules (GPS, GLONASS, GALILEO i BEIDOU). In addition there is accelerometer, gyroscope and a USB-C socket for charging and data transfer.
Of course there is a strong support for other product of the Japanese manufacturer – the PS4 console. Because there is the PlayStation 4 Remote Play function. We just need to install an appropriate app.
Voice calls
As you could have expected from the Sony's flagship, the quality of voice calls is great – I heard my interlocutors loud and clear and they heard me as well. The sensor was the only problem – during calls the smartphone unlocked sometimes and it happened that I turned on some functions with my cheek or my ear, like muting the call or even accidentally ending it.
Memory and efficiency
Sony Xperia XZ3 offers 64GB of internal memory for files and apps – in practice we are left with around 49.3GB after turning the phone for the first time. In addition we can enhance it with a microSD card – the slot working in the hybrid solution can use drives of a maximum capacity of 512GB.
The model that is supposed to be a flagship one, cannot stand from its competition when it comes to the efficiency. Xperia XZ3 has Snapdragon 845, Adreno 630 GPU, 4GB of RAM and 64GB of internal memory – though this hardware ensures a fast and a smooth work, it leaves us unsatisfied. These are not quantities that could impress us in the highest price shelf – smartphones from the premium class can offer the same numbers. I expected something more from a flagship… If we will just consider numbers, a better set of parameters can be offered by Pocophone F1, which costs twice less than XZ3... Still, the smartphone from Sony is fast, it works smoothly and it can handle even most demanding games an apps – so we cannot complain. It scores high in benchmarks – though of course how it works everyday has a bigger meaning. The smartphone has no problems with multitasking, it does not heat up, there are no lags or slow-downs.
Battery
I had no major reasons to complain about the battery in the Xperia XZ2 model. Maybe it did not have an incredible performance, but it could last for a whole day with an intensive usage. And with a more toned down – even longer. When it comes to the XZ3 model it is similar. Here are measurements in different scenarios:
lifespan with the display on (YouTube, 1 SIM card, active Wi-Fi module, 50% screen brightness) - 8 hours and 42 minutes,
an hour of video streaming (Chrome, 1 SIM card, active Wi-Fi module, 50% screen brightness) - 11% of battery lost,
an hour of playing videos from the phone's memory (airplane mode, 50% of brightness) - 8% of battery lost,
half an hour of using online navigation - 8%,
half an hour playing Real Racing 3 - 12%,
PC Mark battery test results – I did not manage to finish the test – at the end of benchmark the app shut down,
8 hours in the standby mode - 3%.
While lifespans are acceptable, the charging time – using the charger from the set – is far from what a flagship should represent. Sony has placed in the set the EP800 charger, which parameters are 5V – 850 mAh. The cell has 3300 mAh, so it takes a lot of time to charge it – not only when we consider modern standards, but how fast flagships should be charged as well. After 15 minutes we only have several percent, after 30 minutes – less than 20%. After an hour the charge level shows 35%, after two – 71%. As you can see, fully charging the batter takes a few hours – around 3.5. Though of course we can use a faster charger.
I will add that Sony uses Qnovo Adaptive Charging technology – it is supposed to ensure a prolonged life of the cell by monitoring charging parameters. However, for most users how quick we can charge the battery in a short period of time is much more important. Xperia XZ3 can, in a longer perspective, offer a better efficiency, but in an everyday usage – it does not astonish. I will add that there is a wireless charging possibility (Qi standard).
Summary
Sony Xperia XZ3 has a lot of advantages, though it is a smartphone that costs 799 euro – and it has a strong competition. For such a price we can buy flagship models from Huawei and Samsung, and maybe even iPhone from the last year. What does it stand out with? Mainly with an attractive looks, perfect OLED display, great sound quality (both from speakers and through Bluetooth) – in other words, Sony has made an almost perfect multimedia smartphone. Why almost? Mainly due to the lack of a minijack. In addition it has the newest Google system, interesting housing colours (for example Forest Green and Bordeaux Red) and a high efficiency, for which Snapdragon 845 is responsible. Our enthusiasm is lowered by average lifespans, slow charger in the set, not entirely ergonomic placement of elements on the housing and photos, which gives way to the competition when it comes to the quality.
Advantages and disadvantages
Advantages:
great design and attractive looks
perfect OLED display without a notch
physical button of the trigger shutter
Android in the 9.0 Pie version
waterproofness and dustproofness confirmed with the IP68 certificate
possibility to record videos in 4K HDR
super slow-motion mode
we do not need additional tools to replace SIM/microSD cards
strong and loud speakers
thanks to the software we do not need to install useless apps
Always on Display
videos recorded in 4K
Disadvantages
fingerprint scanner is not comfortably placed
housing is not perfectly fitted
the smartphone resets when removing SIM cards tray
lack of minijack
Side sense is not perfect
no possibility to unlock the phone with a facial recognition
single main camera
no OIS in the camera
slow charger in the set
smartphone weighs a lot
extremely slick housing
high price
Source: GSMchoice.com; viewed: 1072 times.