Vivo X51 is one of the first models introduced by Vivo on the European market. At this moment it serves the role of a flagship, though it is simply a powerful, middle-tier phone. And how does it work in this role?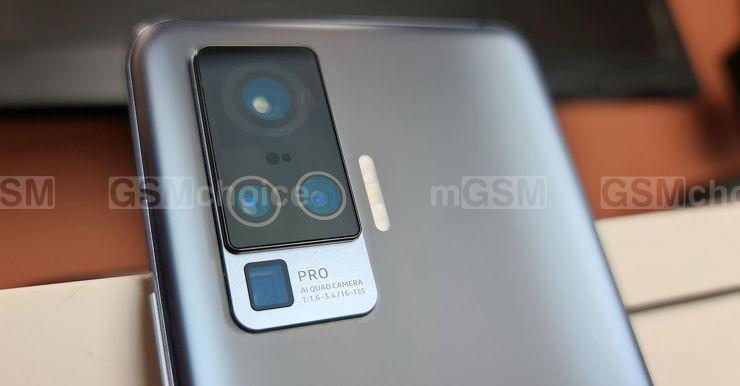 photo: Adam Łukowski/GSMchoice.com
Vivo X51 is related with a model known from Asian markets, Vivo X50. These devices share looks and the overall hardware. However, the described model received a different software, created especially according to needs and expectations of European clients.
To put it simply – with a lighter interface, which lacks many additions and useless apps. A bit of a simplification – but you can relate a large part of this review to the Vivo X50 - provided that you want to ship it on your own.
Contents
Construction, set, quality of assembly
Though as I have mentioned before, Vivo X51 shares its stylization with its slightly older kin, it looks really good. At the front it has a display with narrow bezels, with a hole for selfies camera, while at the back – it looks even more interesting. The colour is a combination of gray with other colours, through navy-blue shades.
The phone has a "dual-layer", unusual frame of the camera, with a strongly accented main lens. The frame stands above the housing, but the cover added to the set slightly negates this problem. Unfortunately, it will cover up one of the advantages of the stylization, which is the AG Frosting matte finish, which makes the phone not only look good, but it does not get dirty too fast.
Another interesting detail is the flat plate with an ornamented print, integrated into the flattened wall. The bottom of the housing, on which we can find the speaker, the USB-C socket and the tray for cards is similarly flattened. Unfortunately, it only stores two nanoSIM cards, we cannot use a microSD drive.
I have no concerns towards ergonomics. Power and volume buttons are where they should be, and the whole device lies in hands comfortably. Vivo X51, due to its matte back, can be gripped firmly. The device does not slide down from flat surface, but, unfortunately, it wobbles while lying on them.
After putting on the cover – the wobbling is slightly limited, and the grip – even firmer. But the phone loses a bit of its beauty. Vivo X51 is not that heavy, and it is thin – 8.04mm. It is a pity that it is not waterproof. In this segment I expected at least a hydrophobic layer.
A few more words about the set. As you have already noticed, we can find a silicone cover in there. There are of course necessary papers, a needle for opening the tray, a USB cable and a rather large 33W charger. We will find there decent earphones as well – but more about them in a moment.
Display
Vivo X51 is equipped with an AMOLED screen made by Samsung, with a 6.65-inch diagonal and a Full HD+ resolution, with the support for HDR10+. The matrix can refresh the image with a 90 Hz frequency, but there is an auto control of this parameter, for battery-saving purposes. The display has strong, vivid colours (this intensity can be regulated), there is of course the eye-protection mode as well – the image can be "yellowish" or switched to shades of gray. I assess the display positively – it does its job in a bright surrounding, it does not tire our eyes at night, it is clear and it does not distort the image. The touch panel works as it should. The display is protected by the Xensation Up glass from the Schott company.
Interface
What can we see on the display of Vivo X51? A preinstalled Funtouch OS10 add-on, based on Android 10! The manufacturer claims that this interface was prepared based on our, European expectation. And it must be true, because I asses it positively.
I remember that when I reviewed Vivo iQOO 3 5G from the Chinese market, I was stunned with the amount of options and additional apps unknown to me. In the European version, which can be found in all Vivo entering our market, the interface is much more toned down and thinner. What is the most important – the manufacturer did not try to enhance it with an abundance of preinstalled or recommended apps. Basically, Vivo added only two. One manages the system and the second presents novelties and submitting opinions.
I like this approach, because I only install what I need and what I use. There is of course the full package from Google and all typical functions that can be found in a typical, pure Android. We were spared from an abundance of personalization additions. Besides those offered by Android itself, we can modify scanner or charging animations, we can change themes or wallpapers. And this is enough, those, who need more, can use "external" apps.
There is of course the dark mode, as well as Always-On-Display, with a rather wide modification range. There is a mode for gamers or a possibility to navigate through the interface using gestures. However, here is a little flaw – because gestures were hidden in the "System" submenu. This can be fixed with a patch. If you like the pure version of Android, you will like the Vivo interface.
Security
Vivo is one of the pioneers of display scanners. Vivo X51 gives the feeling that the manufacturer have been developing this technology for a long time and it led it to a truly satisfactory level. This is a rare case when the scanner was almost errorless and it worked fast enough so that it could compete with good, classic scanners.
Truth be told, this is the first smartphone, which convinced me to this solution in 100%. The sensor of Vivo X51 connects good reads with speed, which goes in pair rarely. The facial recognition works nicely as well. I have no concerns towards this solution – though I remind you that a fingerprint scanner is a better protection, than an image captured by the selfie camera. The camera reacts to changes in facial hair nicely, it does not unlock the phone when our eyes are closed, and in weak lighting – it can help us with flashing the display.
Communication
The phone is fully equipped with communication interfaces. Vivo X51 supports 5G networks, it has NFC, a dual-channel Wi-Fi or Bluetooth 5.0. All connectivity modules work without any problems, just like navigation systems.
I tried GPS with a few most popular apps and I did not notice any alarming symptoms. The quality of calls is great.
However, I have major issues with the work of the proximity sensor. It works randomly. When we hold the device with our hand, it works rather appropriately, but if we just slightly move the device, the display unlocks, which might result in, for example, muting the microphone or ending a call.
It happened to me a lot, especially that I often make calls by holding the phone with my shoulder. With Vivo X51 we cannot talk this way… The voice and the text communication is handled to Google solutions, so there is nothing to be criticized. The quality of the sound during calls is good.
Sound
The multimedia speaker is rather average. There is a single one and no matter how much it tries, it will not replace stereo. What is worse, the phone does not have a minijack.
It is a pity, but fortunately Vivo adds great, or should I even say perfect (for a manufacturers set!) earphones. They are inconspicuous, but they are remarkably comfortable and they sound decently. There is a nice bass, higher tones are clear and not aggressive, vocals are reflected nicely… For earphones from a "box" – they are great. What is more, they fit perfectly to my ear, which rarely happens. They do not fall out, they are not bothering me…
I cannot remember when was the last time that I had such comfortable in-ear earphones. What is interesting, I do not know why, but these earphones have a removable USB-C adapter, thanks to which we can use them with other devices with a minijack.
I am glad, because I like them a lot. Vivo X51 in pair with its earphones work great. It has an AK4377A chip and a rather enhanced audio settings section. We can even adjust the sound to our ears capabilities, like in Samsungs.
Efficiency
Inside this reviewed smartphone there is Snapdragon 765G with Adreno 620 GPU, along with LPDDR4x and UFS 2.1 memories, in 8 and 256GB sizes. This is not a weak phone, but not a flagship either, this is a model from a slightly lower shelf.
Taking this into consideration, I cannot complain about the efficiency. It fits into the middle-class. I did not notice any lags or overheating while using the device.
Benchmarks results are not far from what the competitive models from this segment can achieve – I am referring to stronger middle-tier phones with Snapdragon 765G. However, I must complain about the lack of a microSD cards socket. 256GB, in reality 228GB from the start is not that much – I takes me around 2 months to fill this, using clouds at the same time.
Battery
I cannot complain about lifespans of Vivo X51. The battery is not the biggest in its class, I would say it is rather small for today's standards – but it is wild.
I checked how long can Vivo X51 last while being moderately used. I did not turn off neither Wi-Fi, nor mobile data nor Bluetooth – but I was not running apps, only using the phone in its basic role. It survived for four days. When I used it normally – I had to charge it every second day, after 40 hours I was left with a few percentages.
An average SoT is 7-7.7 hours. Of course if you try hard, you can deplete the battery faster – but you will charge it equally fast. Vivo took care about the fast charging and contrary to current fashion, which tells manufacturer to remove them from the box, it adds a 33W one to the set. The 4315 mAh battery will charge in less than an hour, but after 30 minutes we already have 60%. It is good. But, as usual, I must complain… there is no inductive charging.
Photography and video
Vivo X51 does not have to be ashamed of its cameras. We will not find here tragic and useless 2-mpx. Selfies are taken with a 32-megapixel camera hidden in a small notch in the display. While at the back we have a rather unique set.
Its base is a 48-megapixel matrix that works with an f/1.6 aperture lens and a gimbal mechanism of the image stabilization. This solution does not move lenses of cameras, like a common stabilization – it moves the whole module.
It provides a three times higher movement range than a typical OIS. Another back module, 12 Mpx, is equipped with a portrait lens with an f/2.46 aperture, a 2x zoom and an equivalent of a 50mm focal length. The next matrix, 8 Mpx, works with the telephoto lens as well, but it is a periscope one, with an optical image stabilization, an f/3.4 aperture, a 5x lossless zoom and a 60x digital one. There is a wide-angle lens as well. It has 8 megapixels and a 120 degrees field of view.
And how does this unusual camera work? In an everyday usage – it works perfectly, without any major concerns. However, I will complain about the fact that shots from particular lenses differ slightly when it comes to colour representation. It is visible the most in wide-angle shots.
We can notice a loss of details typical for wide-angle lenses in edges of the shot. Photos taken with a telephoto lens with a higher zoom are great as well, but I will underline that the "useful" zoom with the telephoto lens does not exceed 10-12x. After that, the digital zoom looks nicely, but we will not avoid the loss of details.
Night photos are almost as good as daytime ones – especially if we use a dedicated mode. The bright lens and the advanced image stabilization do their work, it is difficult to complain about the quality of photos.
However, let us remember that we cannot deceive physics and it is best to forget about taking photos in full darkness. But in places where we can find some light – we can, provided that we use the main lens. Telephoto and wide-angle ones are worse, but not tragic. Photos are viewable, but I recommend viewing them on a phone, without enhancing. Unless you like photos full of noises.
There are numerous, additional modes and filters. Due to the presence of a portrait lens, there are numerous options connected with background blurring and photos stylization. There are even special templates for portraits, which tip you on how to position a model optimally.
There are filters for night time photos as well (for example, a golden glow or cyberpunk), or more enhanced functions connected with beautifying. There is a cinema mode as well, thanks to which we can track an object in the shot thanks to the gimbal lens, there are, for example, programs for photographing the Moon (for now, the weather prevents me from testing this) or for scanning documents with a perfectly working scan geometry, using AI.
Photos of the Moon look surprisingly well, but we can clearly see how the software "tweaks" original shots, so that they look as expected. However, document scans are something incredibly practical and useful, especially while working remotely. Basically – all software additions work as they should, but the manufacturer could have added tips to every one of them, so that we knew how to use a given function.
Selfies are on a good level as well, though in an extremely weak lighting they are not as pleasing as those taken with the back camera. The background blurring is "so-so" as well. Still, we can assess it rather positively. During the day – auto portraits are perfect, just like videos.
Videos taken with Vivo X51 look completely different than those taken with regular videos from smartphones. We can clearly see the effect of the work of the gimbal stabilization, the more dynamic the shot is, the more visible it is. Even when we record while running – the image remains stable. The only problem that I noticed during test shots were some strange artefacts appearing in darker parts of the image, during night shots. It is possible that this is some kind of a side effect of a stabilization connected with opening the shutter for a longer time.
Summary
Vivo X51 is an interesting construction, which stands out on the market. I am not surprised that Vivo chose this model to be the "motor" to power the promotion of all others, more budget models. Vivo X51 draws our attention with an interesting looks, while being handy and practical. In addition, it has a decent efficiency and an equally decent battery, which can be charged fast. The smartphone can be commended for a fingerprint scanner that works well, it has a reasonable software – but with a room for improvement.
Vivo X51 distinguishes itself with a unique camera, equipped with functions unseen in direct competition. I appreciated the good sound and great earphones added to the set. With the price of 799 euro, for which this smartphone is offered, it only lacks waterproofness and inductive charging, as well as a minijack and a socket for microSD cards. It is a pity that Vivo X51 is not the only model from its segment, which has these shortcomings.
The manufacturer should work on the proximity sensor as well. It works badly – and this is not the user's fault for holding the phone inappropriately. In other models (besides maybe two or three exceptions over the last few years) I did not notice these problems… Still, you can buy this model, especially if you like recording videos.
Advantages:
Good display
Decent efficiency
Unusual stylization
Gimbal stabilization
Reasonable interface
Night time photos
Quick and errorless fingerprint scanner
Quick charging
Cover in the set
Perfect earphones (from a set)
Average:
Selfie
Night videos
Single speaker
Unattractive price during its launch
Disadvantages
Lack of a microSD cards socket
Lack of a waterproofness
Lack of a minijack
No wireless charging
Weak proximity sensor
Source: GSMchoice.com