A smartphone that is impressive in terms of size, equipment and possibilities, with a screen designed for playing and watching movies. A real flagship at such a good price that we will stop looking at Apple, Samsung or Huawei products.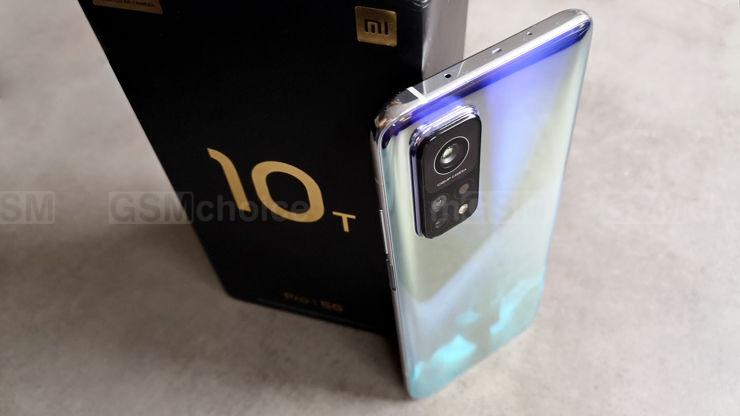 A quick look at the key elements of the specification - 144 Hz refresh, 108 MP camera, Snapdragon 865 processor - would suggest that we are dealing with a smartphone which price may well exceed the national average. Meanwhile, Xiaomi Mi 10T Pro surprises positively - the device is valued at less than 700 EUR. Profitability goes hand in hand here with performance, which will satisfy demanding but cost-effective users. Mi 10T Pro has no serious flaws, and the ones that disqualify this model in my eyes are highly subjective - it's about huge dimensions and just weight, too ostentatiously protruding photo module and a shiny, mirror finish that gets dirty just from looking.
Table of Contents
Packaging and accessories
Xiaomi Mi 10T Pro is sold with everything that may be useful to the user. The package includes a one-meter USB-USB-C cable, a 33 W charger and a pin for opening the SIM card tray, manual and an adapter with a 3.5 mm mini-jack to USB-C.
The set also includes a soft, silicone cover with a large Xiaomi logo. It is really good quality, it protects the device well, the matte finish provides a better grip, but to some extent it additionally enlarges the already large dimensions of the smartphone.
Construction and screen
Solid workmanship is one of the distinguishing features of the Mi 10T Pro model, but before you decide on this model, it is worth taking it in your hand at least once - we have to reckon with the fact that it is a large (165, 1x76.9x9.5 mm) and heavy (218 grams) smartphone (once we would say it's a phablet). And it is something that the hand will feel during everyday use of the device. Not to mention that one-handed smartphone use is out of the question. Xiaomi Mi 10T Pro is not dust- and waterproof by IP standards, but the manufacturer took care of its solid construction. The frames are made of aluminum, and the front and back panels are protected by Corning Gorilla Glass 5.

The higher the refresh rate, the smoother everything displayed on the screen will be. While typical smartphones offer 60 Hz, mid-range and top-shelf models of 90 or 120 Hz, the refresh rate of 144 Hz was reserved for the gaming segment. Xiaomi Mi 10T Pro is not strictly a model for players, but it can boast a 144-hertz screen. What's more, the user can set the refresh rate to 60, 90 or 144 Hz - but these are not fixed values especially when selecting 144 Hz. The screen itself selects the optimal timing value - maximum while playing, lower - when it is unnecessary, for example while watching Netflix (which also saves the battery). This is Xiaomi's proprietary technology called AdaptiveSync, which can automatically switch between defined refresh parameters - from 30 to 144 HZ, depending on what is currently displayed on the screen.

Will you be bothered by the fact that it is not AMOLED? Recall - the screen in this technology had the predecessor, Mi 9T Pro, as well as a whole lot of high and mid-range models that debuted this year. And thanks to this, they could boast of readers mounted under the screen or the Always on Display function. Mi 10T Pro has "only" IPS LCD, and a traditional, capacitive reader is mounted on the side edge. Personally, it does not bother me at all, because it is faster, more accurate, more intuitive and easier to feel than optical or ultrasonic readers embedded in glass. An additional biometric security feature is the face recognition function, which works great (as long as you do not have to wear a face mask).
The flat, 6.67-inch display has Full HD+ resolution (2400x1080 pixels, 395 ppi), great viewing angles, high brightness level, offers excellent colors (DCI-P3 color space) and supports HDR10. This is a really good panel that can compensate for the lack of an AMOLED panel.
There is a small hole within the screen for the selfies camera, and above it, on the upper frame, a small notification LED. The whole is protected by a factory-applied foil. I would like to add that the smartphone can be easily used with glasses with polarization.
The backs attract attention with a mirror finish, which starts to get dirty a second after the first touch. There are mandatory markings printed here, but the most noteworthy is the massive camera module, which protrudes very much above the housing surface (by about 2.5 mm). It protrudes to such an extent that the unevenness is not even eliminated by the cover.
On the edges of Mi 10T Pro there are the necessary buttons and connectors. On the right side, the manufacturer has installed the volume control buttons (in the form of a single bar) along with the on/off button of the screen (this is integrated with the fingerprint scanner). I had no problems locating them - my fingers almost hit the right places by themselves. On the upper edge there is a microphone opening and an infrared emitter, while on the lower edge there is a USB-C port, a microphone opening, an external speaker and a tray for two nano-sized SIM cards - without support for storage media. The left edge is devoid of extra elements.
System and applications
Mi 10T Pro works under the control of Android 10 with the MIUI 12 overlay. This interface significantly changes pure Android and is clearly inspired by Apple smartphones - for example, the top bar is divided into the notification bar (on the left) and the quick shortcuts bar (pulled down) on the right side of the screen). Of course, this can be turned off to download the bar "normally", just locate the "Control Center" tab in Settings. Inspiration with the iPhone can also be seen in the appearance of the buttons - they are large, with rounded corners. By default, it is also set that all icons land on the home screens, without the application menu - this can also be modified through the settings. People who switch from iPhone will find themselves here quickly, for Android smartphone visitors it may be less intuitive.
Of course, the system has a lot of additional functions that cannot be found in pure Android. You can use gesture control, themes are supported, which can also change the appearance of icons, there is the possibility of one-handed operation, Game Turbo mode and a second space, a function useful especially when the phone is used both for business matters and as a private device. Xiaomi has also added some more or less unnecessary applications (e.g. AliExpress, Netflix, WPS Office) and several proprietary tools. It is worth adding that it supports the Widevine L1 certificate, i.e. it allows you to play recordings in Full HD quality from services such as Netflix or Disney Plus.
Sound
Xiaomi did not put a 3.5 mm mini-jack in the Mi 10T Pro model, but there are stereo speakers (an external speaker on the bottom edge, supported by a speaker for calls located in the gap between the upper frame and the top edge of the phone). Working in tandem, they ensure high volume as well as loud and good-sounding sound.
Bluetooth supports the aptX HD codec, which means it can transmit high-quality audio to headphones or a speaker. In the settings we will find a lot of configuration elements regarding sound, and after connecting the headphones, you can adjust the sound to the headphones (applies to Xiaomi sets) and use the equalizer.
Photos and video
The photographic module on the rear panel of the Mi 10T Pro smartphone is really large - which is also to deepen the impression that the reviewed model is a strong competitor in terms of photography. The biggest eye with a 108 MP camera attracts attention. There are four additional points below, which would suggest that there are more cameras than in reality. In practice, the photographic set in Mi 10T Pro consists of:
108 MP main camera, f/1.69, recording in 8K 30 fps or 4K 60 fps, PDAF, OIS.
13 MP ultra wide angle camera, 0.6 zoom, f/2.4, 123 degrees, recording in 4K 30 fps, FF.
5 MP macro camera, f/2.4, AF.
Two additional eyelets in the photo module do not fit cameras. One is an illuminating lamp, the other is blinded - it provides at most symmetry.

The main camera provides great photos in good lighting - by default they are 27MP. Focus is instantly set and photos are saved as soon as you touch the virtual shutter button. The colours are natural - the image processing software does not interfere with their saturation excessively, as is the case with other smartphones. It does quite well in worse light and at night - especially when we activate the night mode. Then the camera controls the light better, emphasizes the contours and draws them out of the dark. You need to wait a few seconds for the frame to be saved (2-3 seconds for taking a photo and 2-3 seconds for processing it), but the fact that the photos do not look artificial, the changes (compared to automatic mode) are more subtle, the images are clearer and the colours are more vivid. Night mode can be used with the 2x zoom, but will not work with the wide-angle camera.
The camera also allows you to take photos in full resolution, which provides not only more detailed photos, but also large file sizes. Saving them does not take longer than a standard photo, but the files have a resolution of 12032x9024 pixels and take up about 30 MB. Although none of the cameras will provide an optical zoom, with a high resolution camera, even a digital zoom to a certain point gives a very good effect. An icon for taking photos using a 2x zoom is added to the main panel - here the relevant frame is cut from a photo taken with a 108MP camera.
Here are the shooting results:
Additional sensors are much weaker than the main camera and I would not include them in something that Xiaomi Mi 10T Pro should boast about. The ultra wide-angle camera is devoid of autofocus, and the macro camera does not provide any spectacular photos to justify its presence - while in the lower price shelves manufacturers stuff the macro module to increase the number of cameras, Xiaomi might not do it in its cheaper flagship.
The main camera in the reviewed model is very good, but let's face it, among the similarly priced models there will be several smartphones that are better equipped in this respect, e.g. with a telephoto lens. And they provide better shooting effects, for example night photos (I am looking mainly at Samsung and Huawei smartphones).
To some extent, Xiaomi must have followed the iPhone model when designing the camera application. For example, the default setting is that the photo preview fills the entire screen, with no black borders. But this translates into an inconvenient format of photos that must imitate the screen proportions - we get photos with highly extended aspect ratios of 20: 9. Of course, in the settings you can change the format to a more handy one. In addition, the application has a watermark enabled by default and provides a multitude of operating modes.
If you want the highest quality video, Mi 10T Pro will be a good choice. It enables recording in 8K and 4K 60/30 fps. The quality of the films from the main camera is at a high level - basically there is nothing to fault. They look good even at night. It is worth adding that during the shooting it is not possible to change the camera. You can also record 10-second super slow motion movies at 960 frames per second in Full HD (1080p).
A 20 MP camera with an f/2.2 lens was designed to record selfies. It is supported by artificial intelligence, HDR mode, portrait mode and several filters and beauties for the photographed face. It gives great, sharp photos, although you can notice that even without activating the beautification modes, the software still fiddles with the face.
Communication
As we can expect, Mi 10T Pro offers all the communication standards necessary in the flagship. There is NFC and IR emitter, Wi-Fi 6 (802.11ax) and Bluetooth 5.1 with support for SBC, AAC, LDAC, aptX, aptX HD and LHDC codecs. GPS, Galileo, Glonass and Beidou systems are responsible for geolocation services - fast, stable and accurate in operation.
From the physical connectors, we only have a USB-C port, which is used both for data transfer and listening to music. Although Xiaomi added an appropriate adapter in the set, it is a pity that it was decided to completely get rid of the universal headphone jack.
The smartphone supports two nano-sized cards, supports 4G and 5G networks and ensures high quality of calls, the interlocutor's voice sounds loud and clear, the microphone collects sound well, and no noise from the environment penetrates the conversation.
Memory and performance
The smartphone provides 256 GB of UFS 3.1 internal memory, and in practice about 238 GB for the user after the first start. And this must be enough, because Mi 10T Pro does not support memory cards.
The specification of the phone includes the Qualcomm Snapdragon 865 processor (apart from the Snapdragon 865+, it is currently the most powerful Qualcomm chip), which supports 8 GB of LPDDR5 RAM and Adreno 650 graphics. There are no surprises here - the phone is extremely fast and fluid, applications open instantly, and using the interface, scrolling long web pages, using multimedia or playing is pure pleasure thanks to the high refresh rate. What's more, the smartphone does not tend to heat up, it gets warmer on the back panel near the camera (intense, longer gaming sessions, recording in 8K or 4K, several benchmarks in a row), but these are not temperatures that would cause user discomfort.
Battery
A huge smartphone is equipped with a huge battery - maybe the 5000 mAh capacity is not particularly impressive, but together with a well-optimized soft and effective energy management, it provides great working times. Even when using the highest refresh rate (which does not work continuously draining the battery, only adaptive, when the application is actually able to use a higher frequency), I was getting 2-day working times without any problems. During intensive work, you can discharge the battery in one day, but you really have to do it.
working time with the screen on (YouTube, 1 SIM card, active Wi-Fi module, 50% screen brightness, minimum sound level) - 18 hours and 22 minutes,
PC Mark battery test result - 15 hours and 50 minutes,
Geekbench result (full discharge, dim screen) - 9820 points, phone discharge after 16 hours and 22 minutes,
an hour of video streaming (Netflix, 1 SIM card, active Wi-Fi module, 50% screen brightness) - 7-8%,
an hour of playing videos from the phone's memory (airplane mode, Netflix offline, 50% screen brightness) - 5% less battery,
half an hour of using online navigation - 6%,
half an hour of playing Real Racing 3 - 7% battery less,
8 hours in standby mode - 3% battery less.
The smartphone supports fast charging of 33 W (Power Delivery 3.0), and with the help of the charger and the cable from the set, we will charge the smartphone in 30 minutes to 56%, and up to 100% in just over an hour. Unfortunately, there is no wireless and reverse charging.
Summary
In European countries, Xiaomi Mi 10T Pro is sold for 649 euro for the version with 256 GB or 599 euro for the version with 128 GB of memory. This is a price that is significantly lower than the flagships from the competition - and it clearly shows that Xiaomi is returning to this pricing policy, thanks to which it has gained popularity around the world. That is, offering well-equipped models that are much cheaper than the competition - simply profitable. The manufacturer has already learned that changing this policy is not a good idea - the valuation of Mi 10 and Mi 10 Pro models meant that they were not popular models. Therefore, with the Mi 10T and Mi 10T Pro, it has returned to what buyers expect from Xiaomi.
There are some savings here that make Mi 10T Pro not a premium model, but it is still a device worth attention. It is a powerful smartphone with rich accessories, offered at an attractive price. Its biggest rivals will be OnePlus 8/8T, Poco F2 Pro and Samsung Galaxy S20 FE. Let's not forget about a cheaper alternative - for example Realme X50 Pro or Xiaomi Mi 10T, although this one has "only" 128 GB of memory and a 64 MP camera, but costs 599 euro or 649 euro (for the 6/128 GB and 8/128 versions respectively GB).
Xiaomi Mi 10T Pro is a phenomenal device that can easily handle all activities and applications that the user will want to implement with its help. It is not a typical gaming smartphone, but it will satisfy even the most demanding players. It is perfect for "consuming" multimedia, surfing the web and all communication. I would not like to have it for one very subjective reason - it is just too big for me. For two weeks of using Mi 10T Pro, I did not manage to get used to its weight and dimensions, and therefore I did not feel completely comfortable with it.
Pros and cons:
Pluses:
large screen working surface
144 Hz display with AdaptiveSync technology, which adjusts the number of hertz depending on the content displayed on the screen
performance that will satisfy even the most demanding players
great specification, which translates into fast and smooth operation of the system and applications
high-quality cameras with 8K recording
fast and correct fingerprint scanner on the side edge
necessary communication options, including 5G
nice battery life
33 W quick charge
attractive price, adequate to the equipment and possibilities
NFC, IR, dual SIM support
stereo speakers
a small notification LED on the upper frame
case and mini-jack adapter included
Minuses
noticeable weight and considerable size
housing that attracts dirt (especially around cameras) and fingerprints
MIUI is not for everyone, in many areas you can see a clear inspiration from Apple's smartphones
AMOLED would be a better solution than LCD
does not support microSD cards
no 3.5 mm mini-jack (but there is a USB-C adapter)
does not meet the standards of water resistance
massive photographic module, strongly protruding above the casing - even with the case on
no camera with a telephoto lens, average cameras supporting the main camera
quality of photos from the ultra wide angle camera at night
Source GSMchoice.com