Mi 8 Lite is another representative of the newest flagship family from Xiaomi. We have already reviewed the basic model of this series,which proved to be uneasy to assess. And how did its Lite version turn out?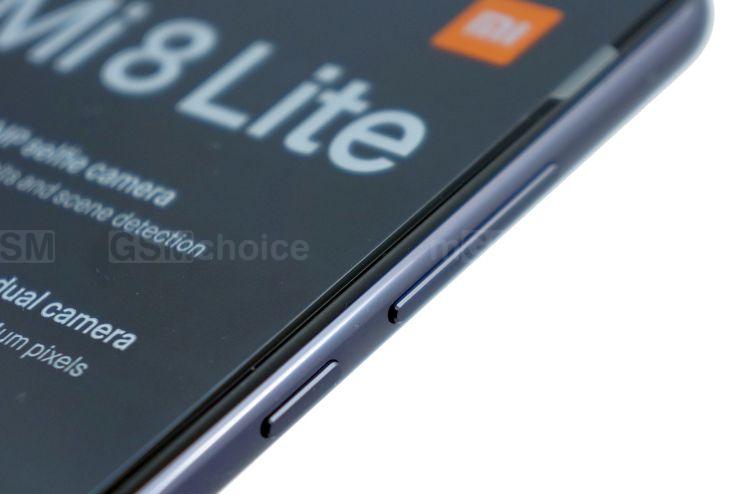 photo: Adam Łukowski/GSMchoice.com
In the last incarnation of the Mi series there were three versions of smartphones: Mi 8, Mi 8 SE and Mi 8 Explorer. Later on two additional variants appeared: Mi 8 Pro and Mi 8 Youth/Lite. For this review I received the latter model – as a proposition for those, who are going to look for a smartphone in the middle-price shelf.
As we know, the competition among the middle-shelf models is huge. Xiaomi handles itself in this shelf perfectly and along with the Mi 8 Lite model it places another representative in it. Which is not only attractive – it looks almost like a premium model, but it is efficient and reasonably priced as well. And taking Xiaomi's popularity into consideration, I think that it is going to be a hit.
Contents
Packaging and accesories
The sales package looks pretty decently. In its content, besides the phone, there is a 5V/2A charger, cable for data transfer and charging and an adapter from USB-C to 3.5mm minijack. But this is not all, there is a tray for opening SIM/microSD cards tray, some papers and a silicone etui as well.
Housing and display
Mi 8 Lite draws our attention mainly with the quality of construction. It has glass panels connected by a metal frame, they are well-fitted and perfected in the smallest details. Edges are curved and well-profiled, thanks to which the smartphone lies in hands comfortably – despite its large size. The big surface of the display prevents it from being used with one hand – unless you have huge ones.
The display takes 82% of the front panel. It has arced edges, a large diagonal (6.26-inch), 19:9 ratio and a high resolution, which results in 403 ppi. It ensures a perfectly sharp and contrast image. I hand no reasons to complain about brightness, readability angles and the responsiveness. Problems occur only when looking at the screen through glasses with a polarizing filter – when we are holding the smartphone vertically, the image is dimmed, in the horizontal position there are no problems.
Of course there is the notch, that is an element with a debatable aesthetics. Though it is slightly less debatable than the one in Mi 8, because it is not as wide. Unfortunately, just like in Mi 8, notifications icons are not shown next to the notch. In order to see what new is going on in our apps, we need to slide down the shortcuts and notifications bar. The notch can be hidden, but I must say this – the black area around the notch is bigger than it should – it goes around 2 mm below the notch.
The notifications LED placed above the speaker is a small comfort. Besides the speaker for calls and notifications LED mentioned before, the notch stores the front camera and basic sensors.
The back panel is covered with a 2.5D glass, and the finish is the top notch. Of course it makes the phone incredibly slick and it instantly catches all dirt. The manufacturer has prepared a few colours versions – next to the traditional black we have gradients – it offers gold-red and blue-purple ones. The review model is in the black colour, but it gives interesting, grey reflexes. Apart from printed markings and the manufacturer's logo on the back of Mi 8 Lite there is a fingerprint scanner and a dual camera with a LED flash.
Let us start from the scanner – it works fast and precise, I had almost no problems with unlocking the phone – and in addition it can serve as a trigger for the camera shutter. It is placed where our index finger rests naturally, though it would have been great if the scanner had been placed slightly lower than the housing. It is almost on the same level as the glass panel and it is sometimes hard to feel it. The camera on the other hand is placed in a module with a horizontal orientation – and this one stands too high above the housing. But when we will dress the smartphone in the etui from the set, the situation becomes much better – the convex camera disappears, and the fingerprint scanner goes deeper. The etui helps protecting the glass panels from any damage, it keeps the device clean and it prevents it from sliding on all surfaces.
Edges are made from metal (sometimes intersected with antennas), comfortably profiled and they have all elements necessary for proper usage of the phone. On the lower edge there is a USB type C socket with the speaker on the right and a second row of holes, which ensures a symmetrical looks and hide the microphone. On the upper one – there is only the hole of the additional microphone. On the right there are volume and power/lock buttons – they are on an appropriate height and they have a nice "click". On the left there is only the tray for SIM (in the nano size) and microSD cards – in the hybrid solution.
System and applications
The smartphone works under Android in the 8.1 version with the MIUI 9.6 add-on, with the security update from the first of September 2018. It worked fast, smooth and without any problems through the whole time of the review. It has a few cool functions, but some irritating as well – out of which the most important one is not displaying notifications on the upper bar – even though there is enough space for this. On the right side of the notch it shows the battery status, Wi-Fi and mobile network ranges, and on the left – just the clock. There is more than enough space for other apps and all other manufacturers can use this space – apart from Xiaomi…
What functions are provided by the software? We can adjust the display's colour to some extent, we can hide the notch (it is worth noting that the black area around the notch is bigger than it should – it goes around 2mm below it), use the reading and night time modes. Gestures are supported (though without drawing signs on a locked display), there is a floating button, decreasing the screen to be used with one hand, working on a divided display, app cloning and the SOS function, in which after pressing the power button five times the system will make a phone call with the emergency number and will enable the phone's location. MIUI does not use apps menu – all apps can be found on main desktops. And, contrary to other interfaces, we cannot change it in settings. I enjoy the "Second space", that is a possibility to create a separate space in which we can hide particular files and apps – this can be used when Mi 8 Lite is our business phone. The Xiaomi add-on does not appeal to me when it comes to colours and aesthetics – but we can install a completely different launcher from the Google store.
The basic security is the fingerprint scanner, but there is other popular biometric security – facial recognition. You can like the add-on or not, but we must admit that it does not strain the system and it provides a lot of personalization options.
Sound
The single speaker placed on the lower edge is responsible for the sound. It plays surprisingly well – it is clear and loud enough – some distortions appear only in the upper volume scale. It sound even slightly better than Xiaomi Mi A2 Lite, which I have reviewed at the end of August. It will work while watching movies and series or while gaming, but it might not be enough for those who are sensitive to the sound quality.
I do not enjoy the lack of the minijack – as a compensation the manufacturer add an adapter to the set, thanks to which we can plug-in earphones with a minijack. Of course we can always use the Bluetooth module and wireless earphones.
Photos and video
Up to this moment Xiaomi's smartphones where known from many things, but not for their good cameras. Now the manufacturer is trying to change this. In Mi 8 Lite there is a 12-megapixel main camera with the Sony IMX363 sensor with the f/1.9 brightness. There is the Dual Pixel as well, which is being used for faster focusing. The second matrix offers only 5 megapixels and an f/2.2 brightness – and it is meant for measuring the depth of field. There is an AI system for recognizing scenes and adjusting appropriate parameters for the photo as well.
The camera app is friendly and it has many modes, through which we can switch by swiping our finger through the screen:
Short video,
Video,
Photo (auto mode, with HDR in the auto mode, support for AI and colours effects),
Portrait,
Square,
Panorama,
Manual mode (with the possibility to set the white balance, focus, sharpness, opening the shutter and ISO).
The photo's quality is really satisfying. They have good dynamics and natural colours, they are neither under nor overexposed. Of course when we are talking about daylight or a well-lighted room. In night shots it will not be as good – but this is normal in this price shelf. There are some noises and photos lack details, especially at night – but I still think that for a middle-price shelf model Mi 8 Lite works really good. You can see photography results below (photos in the full resolution can be found here):
The camera allows video recording with a maximum quality of 4K. There is a FullHD mode 60 frames per second and the slow-motion mode, in which the video can be record in 720p (with 240 frames per second) or in 1080p (with 120 frames per second). If we would like to use optical image stabilization, then it is worth setting Full HD with 30 frames per second.
Mi 8 Lite has a good main camera, but we should really take a look at the selfie one. This is a 24-megapixel Sony IMX576 camera with an f/2.2 lens. And software solutions that are supposed to brighten the face and add beautifying effects. In the portrait mode the smartphone tries to separate the background from the photographed person. After all the smartphone is intended for younger users, so we should not be surprised that the selfie feature is so important. And here are effects of its work:
Communication
Xiaomi Mi 8 Lite has almost all connectivity modules. The Wi-Fi module works in 2.4 and 5GHz frequencies. There is LTE, Bluetooth 5.0, GPS modules that supports the most popular navigation systems and a USB-C socket. These modules work without any problems. I tested the navigation while driving and walking – the fix was almost instant, the accuracy was around 3 meters, the signal was not interrupted not even for a second. The Bluetooth module worked without any problems with a smartwatch and wireless earphones, I have no concerns towards the quality of connection with Wi-Fi networks either. However, there is no minijack and NFC – which will definitely bother those using wireless payments.
Voice calls
Mi 8 Lite can use two SIM cards – and both can work in 4G standards. The user can choose a default setting of cards for calls and the Internet. The quality itself is impeccable, I had no problems with hearing and understanding interlocutors. I was well heard by the other side of the conversation as well. The additional microphone, responsible for noise reduction, works great as well – thanks to it calls were not interrupted by an external noise or passing cars. The possibility to records calls to an MP3 format is an advantage.
Memory and efficiency
Xiaomi intended 64GB for files and apps – in practice the user is left with around 51GB. If that is not enough we can always place a microSD card – with the expense of one of SIM cards. The maximum supported capacity is 256GB.
Snapdragon 660 (four Kryo 260 2.2GHz cores and four Kryo 260 1.8GHz cores) and Adreno 508 GPU are responsible for the smartphone's efficiency. It is a pity that the manufacturer did not use a slightly newer and more efficient unit, like Snapdragon 670 or 710. But we have what we have – and Snapdragon 600 works decently. In addition there are 4GB of RAM. Parameters are basically enough for all tasks that we will set before the smartphone.
Apps run and close without a delay, interface works without any lags, in addition the smartphone has no problems with multitasking, apps working in the background, a few mail boxes synchronizing through the whole day, using multimedia… Mi 8 Lite even works as a gaming device as well. We can comfortably play in casual titles and some more ambitious ones. Slightly less demanding 3D games will work smoothly, using the full potential of the smartphone, while in those more demanding we need to lower the graphic settings, there can be some lags as well. I checked the smartphone with games like Real Racing 3, Asphalt 9 and Tekken - Mi 8 Lite handled them without any problems.
Below you can see results achieved in benchmarks.
Battery
The device is being powered by a 3350 mAh cell, which supports Qualcomm Quick Charge 3.0. However, in the set there is a slower charger, thanks to which we can charge the phone in exactly 1 hour and 50 minutes.
And how does lifespans look like? You can see detailed measurements below, on average I managed to keep the phone away from charger for around a day and a half. Of course in a more intensive usage we can discharge the phone in one day, especially when we are going to use the navigation and the camera more often. The high power drainage in the standby mode is surprising – you need to remember this when leaving the phone at evening with a weak battery. In the morning it can be depleted…
lifespan with the display on (YouTube, 1 SIM card, active Wi-Fi module, 50% brightness) - 11 hours 32 minutes,
an hour of video streaming (Chrome, 1 SIM card, active Wi-Fi module, 50% brightness) - 12-15% of battery lost,
an hour of playing videos from the phone's memory (airplane mode, 50% brightness) - 6-7%,
half an hour of using online navigation - 7%,
half an hour of playing Real Racing 3 - 13%,
PC Mark battery test results – 10 hours and 19 minutes,
12 hours in the standby mode - 10-12%.
Summary
Mi 8 Lite - which functions under the name of Mi 8 Youth - is destined for younger users, usually with a smaller budget, but who expects attractive looks, high quality of construction and a great efficiency. And I think that the review model will fulfil their expectations. Especially that it works great and it looks like a much more expensive smartphone than it really is. Let us add that it can be bought for less than 300 euro.
Who can be the biggest competition for Mi 8 Lite? My first thought is Xiaomi Mi A2 or Redmi Note 6, maybe Honor 8X, Honor Play (if you care about gaming) and Huawei P Smart+ (it looks almost identical and has a minijack).
Advantages and disadvantages
Advantages:
looks and quality of construction almost from the premium segment
efficient enough for almost all tasks
fast and precise fingerprint scanner
notifications LED above the speaker for calls
photos quality both from the main and the front camera
microSD cards support
Quick Charge 3.0
silicone etui in the set
attractive price
Disadvantages
lack of dust- or waterproofness
no notifications icons
lack of a minijack
lack of infrared sensor and NFC
the housing catches fingerprints easily and is slippery
charger from the set does not support quick charging
Source: GSMchoice.com; viewed: 1431 times.