When yesterday in the afternoon I caught in the services a glimpse of the announcement of "something big" from Nokia, for a moment I had a vision of a stunted giant miraculously recovering its former position. Meanwhile, today Nokia announced the launch of Lumia 625 model.
Do not get me wrong, I have nothing against innovations of the Finnish company assisted by the U.S. tech solutions. I am full of admiration for the engineers who designed the impressive camera in Lumia 1020. I am full of praise for the Finnish promotion team that is able to break through with information about any new product on brand websites, while most clients rest in seaside resorts or roams the warm countries. We just received another wonderful device operating under the control of Microsoft system and finally a useful FM radio and nearly a 5-inch display with a 200 ppi density..., and I have a justified feeling of insufficiency.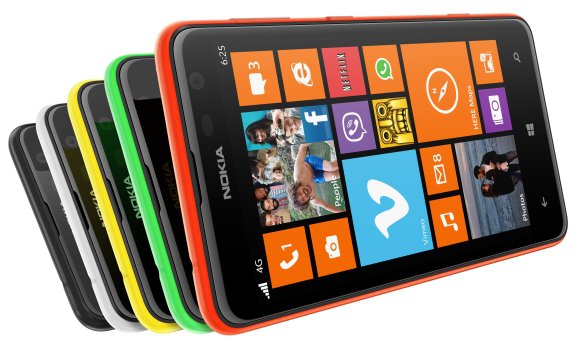 Nokia Lumia 625 in colours
photo: Nokia
Nokia Lumia 625 is a device with a non-replaceable battery, works in LTE networks, takes pictures with a 5 megapixels camera and video at 1080p - obviously with the same matrix. As it is not easy with this sensor size to squeeze a reasonable quality, there is needed a powerful engine. In this role there is a dual-core Qualcomm processor: MSM8930. This bone belongs to the Snapdragon S4 family. Under its control there also work HTC 8XT and Samsung Galaxy Express. I regret terribly that the manufacturer has not posted video samples, but those who dealt with the HTC smartphone should have a picture, because it also captures video at 1080p.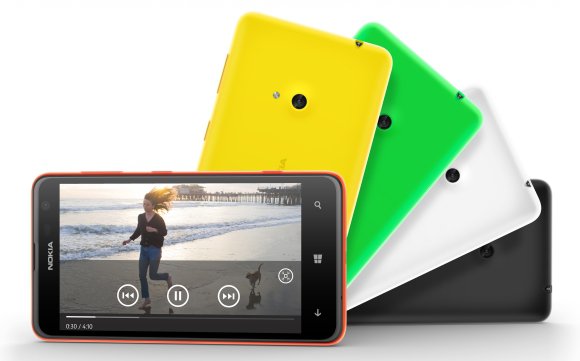 Nokia Lumia 625 in colours
photo: Nokia
For the revival of the image of a classic smartphone with windows and micro-SIM cards support Nokia has prepared five coloured casings matching the colours of the tiles. Nokia Smart Camera will be certainly appreciated by all those who love to take photos and have fun editing photos. Similarly to Lumia 620 we'll find here 8 GB of a built-in memory, 512 MB of RAM, the ability to take advantage of the 7 GB disk in SkyDrive and support of cards up to 64 GB.
The bright side of the Nokia Lumia 625 smartphone's launch may seem its price for European countries. The device in orange, yellow, light green, black and white, with removable rear covers, will be in stores in the third quarter of 2013 in China, Europe, India, Middle East, Africa and Latin America. The pre-tax price recommended by the manufacturer is 220 euro. Supporters of the brand should slightly tighten the belt on holidays. May Nokia Lumia 625 was worth it.
Source Nokia