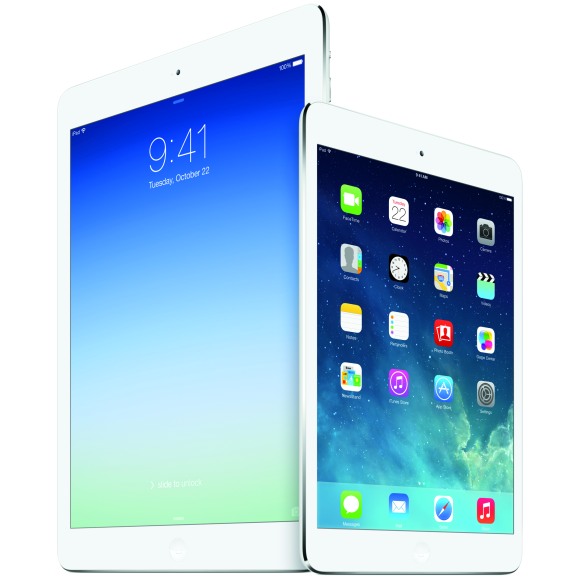 photo: Apple
In the Yerba Buena Center for the Arts in San Francisco there was held from Apple conference. There were presented the new OS X, new applications, as well as MacBooks and Mac Pro... And of course the new iPad Air and iPad Mini with Retina.
Tim Cook entered the stage, beginning the statement by mentioning the recent presentation of iPhones. Tim praised the rapid adoption of iOS7 by users - now 64 percent of their devices are running iOS 7. He finished listing successes with the news about one million app in the AppStore.
It's time for the presentation of new version of OS X. The Mavericks will be lighter, faster and more energy efficient. There will apear new applications and features, the system will also cleverly manage main memory, compressing in it some data. Upgrading is free and available from today on Macs manufactured after 2007. Storm of applause...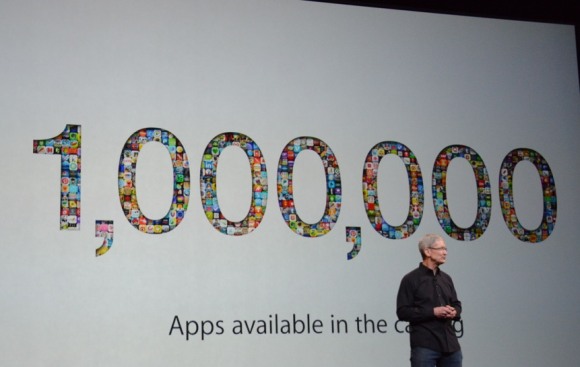 Apple conference
photo: GSMchoice.com via Apple livestream
After the system presentation it is time for new notebooks. At the beginning the upgraded MacBook Pro. Lighter, slimmer, with Haswell processors and Iris graphics. On-board flash storage and a battery for 9 hours. The price for the 13" will start from $ 1,299 , and 15" - from $ 1999. Available immediately.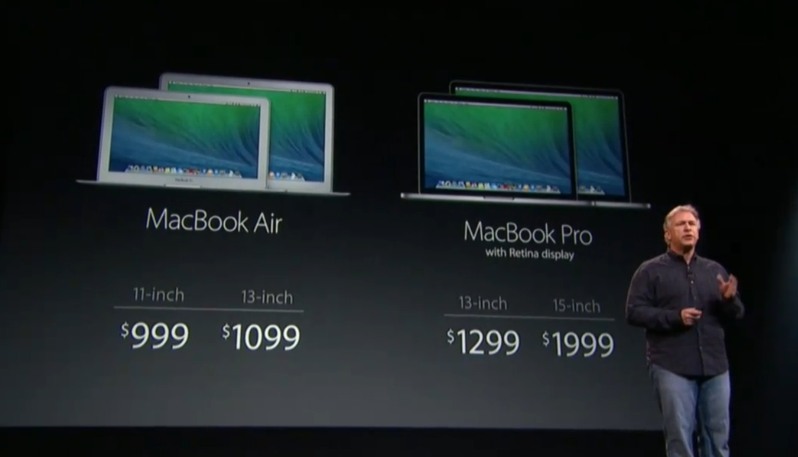 Apple Mac Book
photo: GSMchoice.com via Apple livestream
The Mac Pro was waiting next in the queue. This is a powerful workstation locked in an unusual cylindrical housing. The cheapest version for only $ 3000 - on sale at the end of the year. However, let's take care of a bit more mobile devices...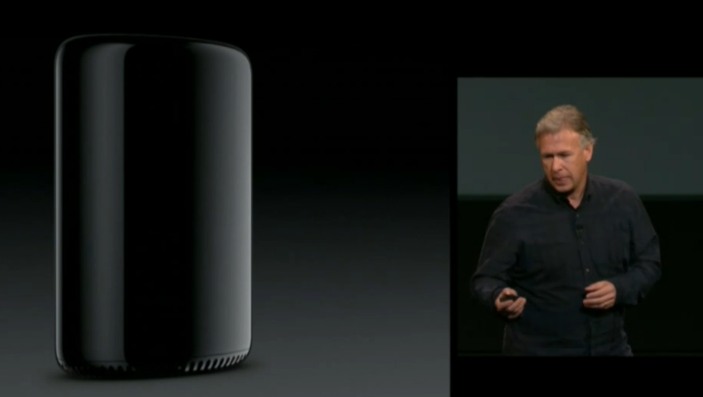 Apple Mac Pro
photo: GSMchoice.com via Apple livestream
The Mavericks system will be introduced with new versions of Apple applications: iPhoto, iMovie and Garage Band. Modifications and new features appear in both versions on the OS X and iOS. The application will be free (and now I start to applaud as well...), but after a while I found out that only for the holders of units acquired from tomorrow. I stopped clapping... Modernization included the iWork applications. These you will also get for free, buying Apple hardware.

Apple applications
photo: GSMchoice.com via Apple livestream
We waited, finally, the new iPad! Tim Cook came back to the stage and again listed successful achievements of the company. 170 million sold iPads. iPad takes 81 % of the market leader in tablets and buyer satisfaction rankings. There are now more than 475,000 apps in the App Store custom-designed for the iPad.
A few minutes later Phil Shiller entered the stage. It was he who introduced the next generation iPad. It's called the iPad Air. It is smaller than its predecessor, and weighing about 0.5 kg it became the lightest tablet of its class. It has a 64- bit A7 processor – which is eight times faster than the first generation iPad. There's expanded LTE support with more carriers across the world. There is a 5-megapixel iSight camera and improved WiFi MIMO technology (Multiple In, Mutiple Out). The new iPad will be available in ilver/white and space gray/black, at a cost of $ 499 or 629 (more expensive with LTE). iPad 2 will be available - for $ 399.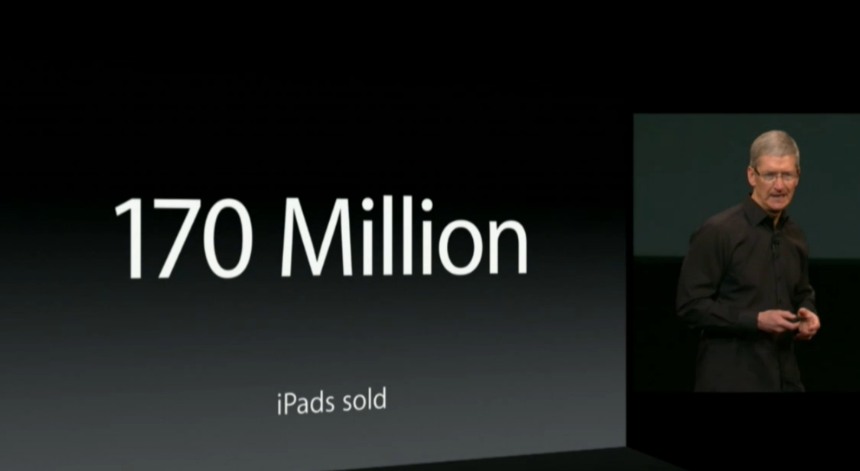 Apple conference
photo: GSMchoice.com via Apple livestream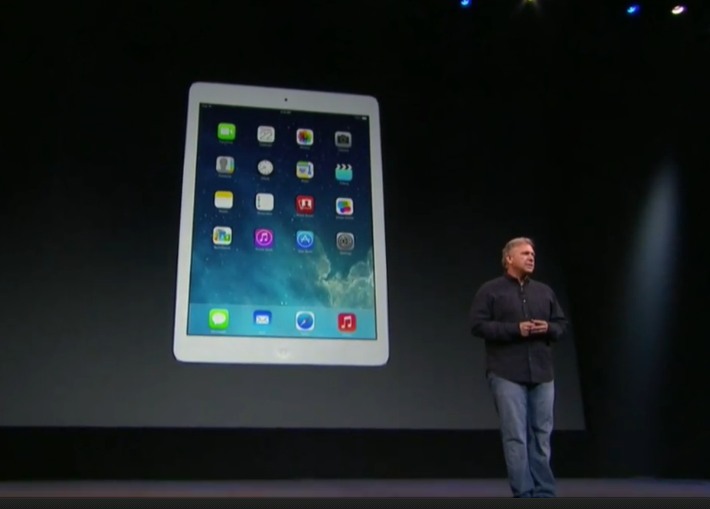 iPad Air
photo: GSMchoice.com via Apple livestream
iPad Mini received Retina display! Along with it the A7 processor, faster WiFi with MIMO and a wider range of LTE, as well as a new 5-megapixel camera. Prices? From 399/529 dollars for a version WiFi/WiFi+LTE, but the last generation iPad Mini is sticking around with a price drop down to $299. There's a new iPad cover, starting at $39...

Apple iPad
photo: GSMchoice.com via Apple livestream
After a quick presentation of the iPads Tim Cook came back on stage to sum up the conference. When he did, the mystery was over... And with it our report.
Source: GSMchoice.com