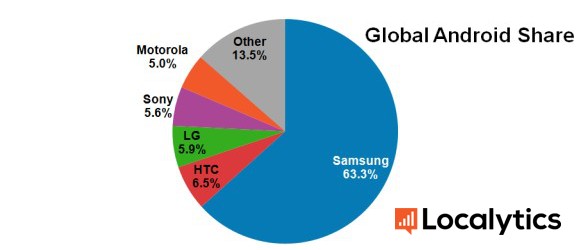 fot. Localytics
The analyst company Localytics presented an interesting report. It shows that Samsung rules in the world of Android. The data is quite reliable because it is based on the activation of 25 million units in Google.
According to the report, most of the currently used devices with Android was established under the name of Samsung. That's over 63%. Other companies have to do with the remaining scraps of "the cake". It is worth noting that all the others leading manufacturers such as Sony, HTC, Motorola and LG have achieved more or less similar level of market penetration - around 5-6 %.
The next chart shows the most popular Android smartphones. Here again seven top positions are occupied by Samsung. Its Galaxy S3 has over 15 % share, and the first phone of another manufacturer - HTC One - has only 1.3 % share. Here it is worth paying attention to the high position of the well-worn model Galaxy S2 - the third in terms of numbers. On the market of android tablets Samsung does slightly worse - but still sensational. This represents the last of the charts. The first two sites, with a total share of nearly 39 % take the models from Galaxy Tab 2 family. The models from Asus and Amazon are trying to catch them, but their market share is much smaller.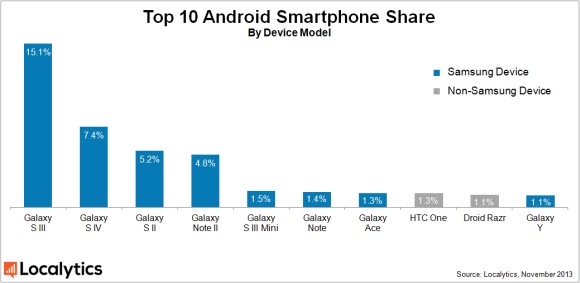 Popularity of smartphones with Android
photo: Localytics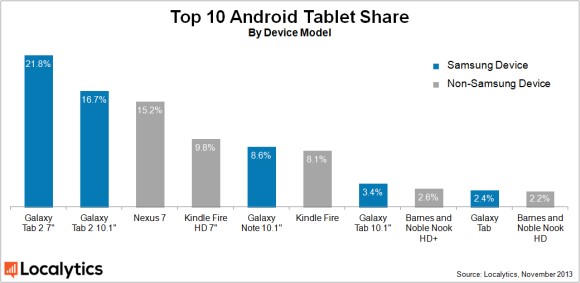 Popularity of tablets with Android
photo: Localytics
These figures are a little shocking, but it is difficult to challenge them. There was examined the origin of 25 million units - which gives a sufficiently wide attempt to ensure the reliability of the estimates. Anyway - just look around . How many of you have or have had a Samsung smartphone or tablet?
Source Localytics; viewed: 4654 times.