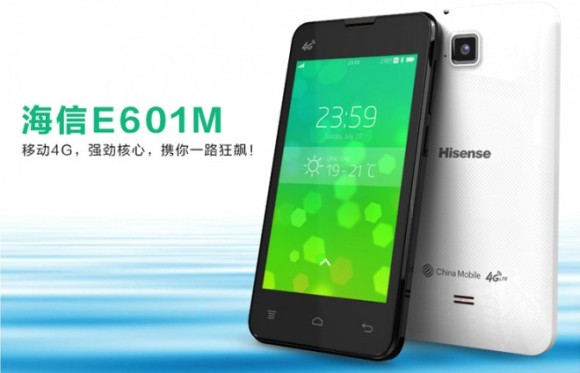 photo: Hisense
The Chinese company Hisense proves that the phone running in 4G does not have to be expensive. Their E601M costs $ 64, which is as much as simple, clumsy dual-SIM phones from the lowest shelf. Unfortunately, apart from faster connectivity, this model does not have much to offer...
Naturally, we still talk about price on the local Chinese market. In Europe Hisense E601M would be much more expensive, but it would remain one of the cheapest ways to enter the world of high-speed mobile Internet.
Hisense E601M is a simple, single-SIM terminal that supports TD-LTE and TD-SCDMA. It won't be, however, a speed demon. Admittedly, it has a 1.3 GHz quad-core MediaTek MT6582 processor, but only 512 MB of RAM and Android 4.4.2 on board. After such a statement one cannot expect smooth operation. To complete the purchaser will have 4 GB of memory (ie, real little over 2 GB), which also does not allow for too many follies. Although the images of a 2-megapixel camera does not occupy too much space, and battery capacity of 1500 mAh runs out faster than you will be able to fill the memory - but the purchase of a microSD card in this case is obvious. Fortunately, the phone has a socket in which the lucky purchaser of this device will be able to mount it. Then he is left to look at an image on a 4-inch WVGA display.
If - despite such a weak specification – you felt yourself attracted by a low price and LTE module, I have bad news for you. Hisense E601M will be available only in China, with the local operator China Mobile. After all, a bit of a shame that such structures do not go to Europe. The phone with LTE for such a low price would surely find a large group of consumers who are ready to put up with poor performance, a poor camera and a poor display. Do you think the same?
Source GSMdome; viewed: 1834 times.