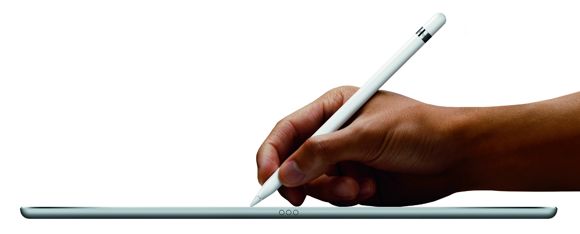 photo: Apple
Time for a brief summary of yesterday's Apple conference. The company presented two new iPhones, two iPads and Apple TV. Let's take a closer look at the new devices. iPhone 6S and 6S Plus
iPhone 6S and 6S Plus
The new iPhones look almost the same as the previous generation, but that does not mean that there are no changes. On the contrary. There is a new colour version - in a delicate pink. There is also the new technology of 3D Touch, widely known as Force Touch. The screen recognizes the degree of finger pressure on the screen - a stronger emphasis causes additional features such as shortcuts panel. How it works - you can see on the video below.
Another of the elements is an improved camera: now it has a 12-megapixel, records video at 4K and features a two-colour LED flash. In 6S Plus the camera has optical image stabilization. In the menu appears an option to save animated images with sound. The front camera also went through changes. It has 5 megapixels, and when taking photos, you can support with a camera flash. Its role plays a strongly backlit screen.
The parameters of the displays, measuring 4.7 and 5.5 inches weren't changed. They have a resolution known as Retina HD respectively, 1334x750 and 1920x1080 pixels. It should be noted that the contrast ratio is higher in the lower model, 1400: 1. The iPhone 6S Plus has 1300: 1.
Both smartphones feature a 64-bit processor with an additional co-processor A9 responsible for handling the functions associated with movement and gestures. Of course it is to be faster - but Apple does not provide information about the number of cores and clock speeds. It doesn't provide information about memory, but there has to be some. I suspect that there is more than 2 GB. We know the capacity of the flashROM. Apple proposes a 16, 64 or 128 GB. The microSD card? And what is that?!
Both models support LTE-A, they also have NFC, Wi-Fi with MIMO and Bluetooth 4.2 and GPS/Glonass. Apple bows to users of Android. To encourage them to buy the iPhone, there was added a special application that facilitates the transfer of data and settings from the current smartphone on the iPhone. Apple will also offer new covers and docks. The dimensions of the phones are: 6S - 138,3x67,1x7,1 mm; 6S Plus - 158,2x77,9x7,3 mm. Weight is respectively 143 and 192 g. The prices of iPhone 6S are 739, 849 and 959 euro, while the iPhone 6S Plus - 849, 959 and 1069 euro. Of course, we are talking about memory versions 16, 64 and 128 GB.
iPad Pro
This is an absolute novelty in the range of Apple. We haven't seen such a device yet. The tablet has a screen size of 12.9 inches and a resolution of 2732x2048 pixels. The heart of the device is a processor A9X with an additional co-processor - but here again we have no further information. iPad Pro is available in three colours with memories 32 or 128 GB, while a version with LTE modem is available only in a variation with 128 GB. Both variants have a dual-band Wi-Fi and Bluetooth 4.2.
The device also includes an 8-megapixel camera with FullHD video recording and a front 1.2 megapixel webcam. The tablet measures 305,7x220,6x6,9 mm, weighing 713 or 723 g (with modem it is heavier). Prices are: 799 or $ 949 for the Wi-Fi models and $ 1,079 for the version with the modem. For the tablet we can buy accessories - Apple Pencil for $ 99 and Smart Keyboard for $ 169.
iPad Mini 4
iPad Mini 4 is basically iPad Air 2 in a smaller format. It has a 7.9-inch screen with a resolution of 2048x1536 pixels, A8 processor and an 8-megapixel camera and a 1.2-megapixel front webcam. iPad Mini 4 is available in versions Wi-Fi and with LTE modem and the memories 16, 64 and 128 GB. Prices are as follows: 399, 499, 599, and 529, 629 and $ 729. The tablet measures 203,3x134,8x6,1 mm and weighs 298.8 or 304 g.
Apple TV
Apple TV appears in the new version, with a brand new remote control equipped with a touch panel. The device is based on tvOS system that allows the installation of applications created by outside developers. Apple TV also features a personal assistant Siri integrated with the film base. How are the sessions with Siri, you can see on the video below:
Apple TV has USB-C, Ethernet, HDMI, it also has Wi-Fi and Bluetooth 4.0. The heart of the device is A8 processor, but the resulting image has still "only" FullHD resolution. The device is offered with memory 32 or 64 GB prices 149 and $ 199.
Source: GSMchoice.com