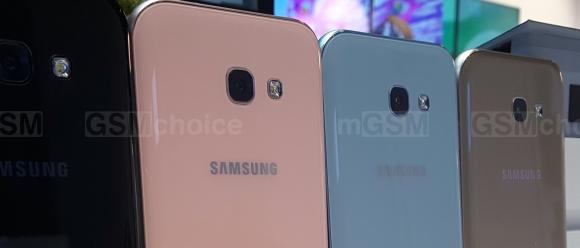 Samsung presents new smartphones from the Galaxy A series (2017). Samsung Galaxy A3 and Galaxy A5 models that we have seen during a closed show at the end of the previous year will hit the market first. Please join us for this short preview of the new models!
New models from the Galaxy A series were moved to devices of the higher segment. They are still "middle ones", but they are closer to premium models than to the lower shelf. New Galaxy A received elegant housings with a metal frame and an arced Gorilla Glass. All models are waterproof, fulfilling the IP68 certificate requirements. All models will have USB-C connectors and minijacks.
They are equipped with fingerprints scanners and the manufacturer will offer a line of dedicated accessories, like NeonFlip covers with a backlight, others with the S-View stand and traditional, silicone ones.
Phones received some additions in the software as well. For example, a "Safe folder", Always On Display or an access to Samsung Cloud that offers a 15GB space free-of-charge. It is worth mentioning that the camera interface received a new, floating trigger, the possibility to illuminate a selfie with the phone's display and a range of new filters and creative effects.
Samsung Galaxy A3 2017 has a 4.7-inch HD display and an Exynos 7870 CPU supported with 2GB of RAM. The hardware covers 16GB of internal memory and an 8-megapixel front and a 13-megapixel main camera. Both have f/1.9 lenses but the autofocus can only be found in the main one. The phone is powered by a 2350 mAh cell, while dimensions of the housing are 135.4x66.2x7.9mm. The phone weighs 138g.
Samsung Galaxy A5 2017 has a 5.2-inch FullHD display. The heart of this model is an Exynos 7880 CPU supported with 3GB of RAM and 32GB of internal memory. The phone is powered by a 3000mAh cell, while in the photography area we have two 16-megapixel camera with f/1.9 lenses. The autofocus is only in the main camera as well.
Both new models will receive Android 6.0 for their launch, but they are promised to have an update to 7.0. Both have separate sockets for microSD cards of up to 256GB and their cameras do not stand above the line of the back panel. Displays of the Galaxy A series are made in the SuperAMOLED technology. At this point I cannot give you official prices. Galaxy A (2017) is available in four colours: Black Sky, Gold Sand, Blue Mist and Peach Cloud. It will be available in Europe at the beginning of February.
Source: GSMchoice.com