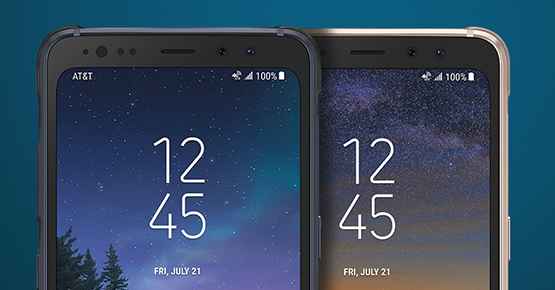 photo: AT&T
US operator AT&T has announced the launch of Samsung Galaxy S8 Active. This can be considered as the official launch of this phone, but there is nothing to enjoy - it will be available only with one operator and only in the US.
Active Samsung models were usually the equivalent of the Galaxy S series - clad in reinforced casings with larger batteries - but generally quite closely related to the prototype. This year's there are a bit more changes - in addition, they pretty much stand out.
First of all, unlike Galaxy S8, the Galaxy S8 Active model has a flat display. It probably meant to increase its endurance. In addition, the smartphone has a reinforced housing bezel and a plastic back, instead of glass. The housing complies with MIL-STD-810G and is of course waterproof and dustproof. It will be available in two colour versions, unfortunately there won't be an effective "camouflage" version.
Samsung Galaxy S8 Active has a 5.8-inch Super AMOLED screen with a resolution of 2560 x 1440 with Gorilla Glass 5, and a 4000 mAh battery with wireless charging. The rest of the specification is similar to Galaxy S8. We have a Snapdragon 835 processor, 4 GB of RAM and 64 GB of internal memory. There was also a powerful 12 megapixel camera with OIS and a f/1.7 lens at the back and 8 Mpx on the front.
Samsunga Galaxy S8 Active is priced at $ 850, but with an AT&T subscription it can cost as little as $ 29 a month. Unfortunately, there is no information on distribution outside the AT & T network and there is little hope for it.
Source AT&T; viewed: 1050 times.