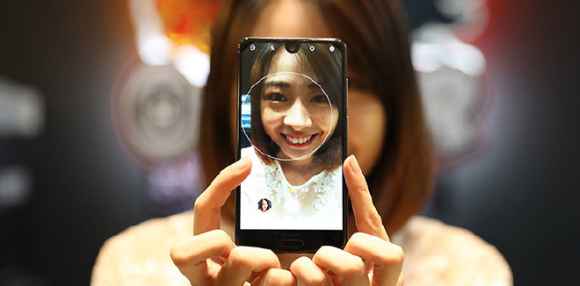 photo: Sharp via Weibo
Sharp presented the Aquos S2 model in Beijing. The phone is eye catching with a frameless screen, and photo enthusiasts will love it too.
Sharp Aquos S2 joins the group of the smartphones with a frameless display. Its 5.5-inch IGZO screen with a resolution of 1080 x 2040 pixels occupies almost the entire front of the phone - only a distinctive indentation on the front camera is left. It's pretty average, it has 8 megapixels. But the rear camera is already more advanced. It has two lenses and allows you to achieve a blurry background. The main body of the rear camera is 12 megapixels and it lurks behind the f/1.75 lens, while the secondary is 8-megapixel. A fingerprint reader is mounted under the screen.

Sharp Aquos S2 will be available in two variants, quite different in design. The first of the variants will get the Snapdragon 630 processor and 4 GB RAM and 64 GB flash memory, while the second will have the Snapdragon 660 and a 6 + 128 GB memory. There will also be a slot for microSD, NFC, USB-C or LTE, Wi-Fi, Bluetooth and GPS. All supplies a 3020 mAh rechargeable battery. The phone has dimensions of 141.8 x 72 x 7.9 mm and weighs 140 g and the casing will be offered in black, white, blue and turquoise colours. Prices will be 2499 and 3499 yuan, or 373 and 521 dollars.
Source Sharp via Weibo; viewed: 1046 times.