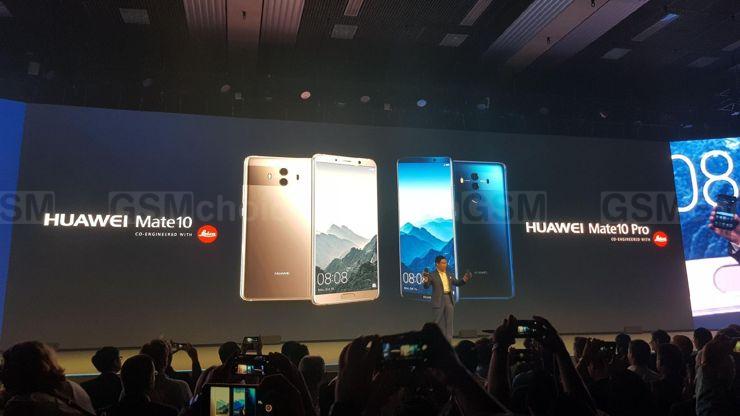 photo: Jacek Filipowicz/GSMchoice.com
Huawei today announced four new models from the Mate 10 family. These include Huawei Mate 10 Lite and Huawei Mate 10 Pro, and the latter is offered in an exclusive Porsche Design.
Huawei Mate 10 and Huawei Mate 10 Pro are the first smartphones to use the Kirin 970's eight-core processors in a 10-nanometer process. It uses an improved artificial intelligence to provide faster mobile work and more personalized experience.
For the first time there were used the Mali-G72 dual-core GPU and NPU chip, specially designed for mobile devices. The Kirin 970 is also a new dual-processor ISP that leverages the capabilities of the AI-based image capture system. The Kirin 970 is 20% more efficient and 50% more energy efficient when performing AI tasks. The phones feature dual SIM 4G and dual VoLTE connectivity.
With the combination of the NPU processor and cloud intelligence, the new Huawei Mate smartphone series immediately responds to user movements. In this way, real-time object recognition and scene mode recognition can be realized and an even faster artificial translation tool is used.
Huawei Mate 10 features a 5.9-inch FullView screen with 16: 9 aspect ratio, a narrow front bezel and HDR10 technology for vivid colours. The 6-inch Huawei Mate 10 Pro features an 18: 9 OLED display and HDR10 technology.
The smartphone is enclosed in a 3D glass casing with symmetrical curves on each of the four sides. The Huawei Mate 10 fingerprint reader is placed in the front while in Mate 10 Pro it is on the back of the device. The model Mate 10 Pro is additionally dustproof and waterproof with IP67.
Huawei re-merged with Leica brand. The camera combines a 12-megapixel RGB matrix, 20-megapixel monochrome sensor, an optical image stabilization (OIS) and dual f/1.6 aperture. It also has the function of blurring and digital zoom, which are based on artificial intelligence.
Nowe opcje rozpoznawania obiektów i trybów tematycznych w czasie New Real-time Scene Recognition and Scene Options automatically select camera settings based on the subject and its surroundings. You can also use advanced AI-based digital zoom combined with motion detection, which also uses this technology.
The Mate 10 and Mate 10 Pro models feature a 4000 mAh battery, adding a new Huawei SuperCharge technology with TUV safety certification. The battery also has an intelligent charge management system that understands user's behavior. Smartphones support standard low-speed charging with 4.5V/5A. Connecting the charger for just 10 minutes will allow you to charge it in 20% and a 30 minutes charge to as much as 58% of the battery capacity.
Mate 10 and Mate 10 Pro were introduced to the market with the new EMUI 8.0 interface based on Android 8.0. Among the features there is the Smart Screen option, which allows intelligent management of the split screen. It allows you to run two applications side-by-side or take full advantage of the desktop mode. By selecting this option, you can extend the display of your smartphone or duplicate it. This feature allows you to keep the privacy of your personal notifications, calls, or messages private.
The "European" price of Huawei Mate 10 Pro is 799 euro. Pre-sales will begin on October 27th. The price of the Mate 10 model in Europe will be 699 euro. Huawei Mate 10 Porsche Design, with 6 + 256 GB, was priced at 1395 euro.
Huawei Mate 10 Lite will surely be the most popular model from the new family. Despite its reasonable price, it offers really great possibilities. In fact, it is a renamed Huawei Maimang 6, featuring a 5.9 "display with a resolution of 2160x1080 pixels and an 8-core HiSilicon Kirin 659 processor, powered by 4GB of RAM. This model also has 64 GB internal memory, Bluetooth 4.0, mini, Android 7 and a 3340 mAh battery. Mate 10 Lite features two dual cameras. The rear has 16 and 2 Mpx sensors, with f/2.0 lenses, and the front has 13 and 2 megapixel resolution.
Huawei also unveiled three accessories for Huawei Mate 10: EnVizion 360, PowerBank SuperCharge, and an intelligent weight. With the EnVizion 360, you can take 5K photos and record a 360 degree movie with 2K resolution, with multiple display modes and easy sharing in social media.
PPowerBank Huawei SuperCharge supports fast 4.5V/5A low current charging. Intelligent weight can monitor your health based on, among other things, body fat percentage analysis, body mass index. All data is sent to the smartphone and presented in the application.
Source GSMchoice.com based on Huawei; viewed: 1999 times.