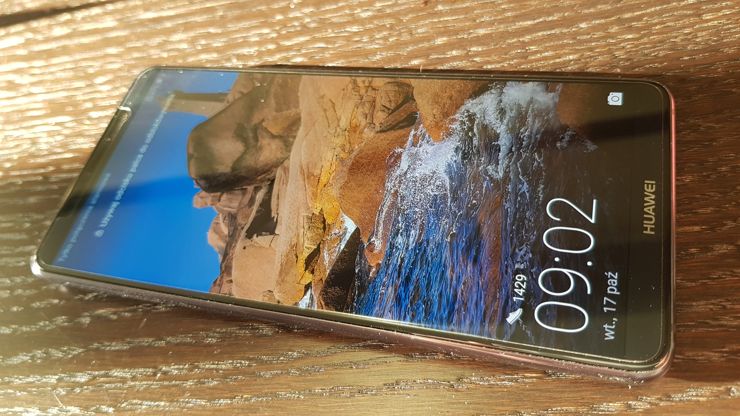 photo: J.Filipowicz/GSMchoice.com
At the first glance, Huawei Mate 10 Pro will not make a revolution when it comes to using AI in smartphones. However, after few hours of using it I can objectively say that this is a perfectly crafted premium smartphone that will bring a lot of joy for its users.
Huawei Mate 10 Pro – for those that are not afraid of 6 inches
A new star in the form of Huawei Mate 10 Pro has appeared on the flagship smartphones scene. Well, in Munich I have seen the basic and the super Porsche Design version, but I will not talk about them, since I have only glanced at them for a moment during a quick browse after the manufacturer's press conference. If you are not interested in 6-inch, almost bezel-less devices equipped with two Leica-signed cameras, an OLED display with a knife-sharp contrast and with added 6GB of RAM and 128GB of flash then you can basically finish reading. If you are not afraid of such smartphones – please enjoy this short review of Huawei Mate 10 Pro.
Powerful OLED display
The display makes the first, great impression. It has this thing that some like to call the Wow! effect, while others are simply referring to as jaw-dropping. This is not the first OLED display that I have seen, neither is this the first HDR display, but still this is the element that will convince to itself even non-believers. It has a decent FHD+ resolution, it stretches so much that there is almost no space left for the bezel, at the bottom it leaves just enough space for the manufacturer's logo with a bit of space around it, and it is similar at the top – there we can find the selfie camera and the speaker. The display is slightly curved on edges with the profiled Corning Gorilla. It is difficult to scratch it, but I will definitely try not to drop it.
Dual Leica with f/1.6 aperture
The second thing that catches our attention is the camera module. The back of the phone is really symmetrical. About a centimetre from the top edge we can find two centrally placed lenses – one next to another. On the left there are two LED flashes and on the right there is the rangefinder for the auto-focus. There is of course the Leica logo, there is a small information of the SUMMILUX-H standard and another astonishingly large f/1.6 aperture. I took quick few shots, but I need some more time to get to know the camera better. However, I can already say that cameras' bezels that stand above the housing collect dust. Aesthetes will have to devote plenty of time for cleaning. A few shots can be seen below, at the end of this review – they will be available in the full resolution on the phone's tab soon.
Directly under lenses there is my favourite detail of Huawei's smartphones – the fingerprint scanner. I can approach other technological marvels offered by this manufacturer with caution, but I am absolutely sure that no one does scanners as good as these. After scanning my finger I can place it in any way. The display is unlocked instantly.
There is infrared and USB-C – there is no 3.5mm jack and no memory card support
On the upper edge of the housing we can see the eye of the infrared sensor: couch potatoes should be pleased. On the lower edge there are holes of the external speaker and a USB-C socket. Have you noticed what is missing? There is no 3.5mm jack. In the box we can find the adapter, but for those who have their favourite earphones on a plug might find this solution uncomfortable. The connector must be carried with earphones or we must buy earphones with USB-C or wireless BT.
On the right edge of the housing there is a volume control button and the power one, and on the left we can find the SIM card tray. It supports two nanoSIM cards and both can work in 3G and 4G networks (but not simultaneously). Why I am not writing about the support for memory cards? Because Huawei Mate 10 Pro cannot use them. This bitter news is less bothersome when we realize that the smartphone has 128GB of internal memory, from which around 108GB is left for the user.
God knows which version is more "Pro"
I have written that I will not mention about Huawei Mate 10, but I must say a few words about it. The basic version of the smartphone – the one without "Pro" – has a 3.5mm jack. It supports memory cards. I would like to draw your attention to the resolution of both displays. I am writing about this because if you are considering buying Mate 10, than maybe you would like to choose the less "Pro" version, because it just might suit you better.
I will talk about intelligent machines later – I have to enjoy it first
I could write something about the built-in translator, recognizing objects in photos and everything else, which according to the manufacturer, makes Huawei Mate 10 Pro an intelligent machine, but this is my first contact with the device and I need some time to get to know it better. More about it – in the review. For now the smartphone brings me a lot of joy while taking photos and during the simple usage – and this looks like a good promise for the future.
Source: GSMchoice.com; viewed: 1785 times.