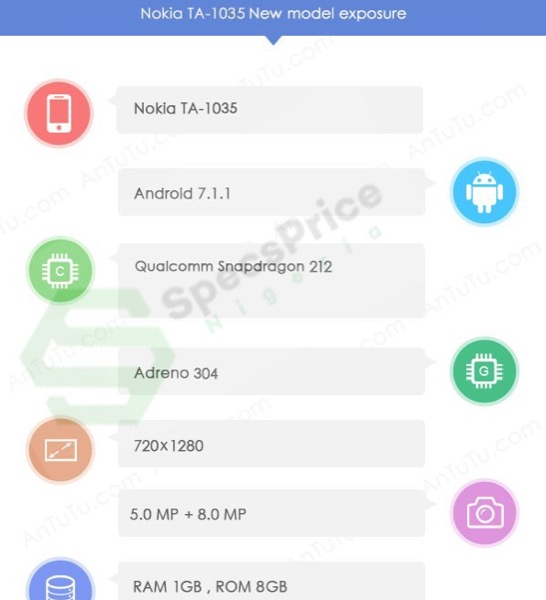 photo: AnTuTu via Specspricenigeria
The launch of the cheapest Nokia smartphone is coming soon – therefore it's not surprising that the phone appeared in the popular benchmark.
Benchmark reading confirms what seemed obvious: Nokia 2 has a very budgetary specification. According to the benchmark, Nokia 2 has an HD display and a quad-core Qualcomm Snapdragon 212 processor, powered by a gigabytes of RAM and an Adreno 304 graphics chip. Nokia 2 also has a modest 8GB of internal memory from which for the user there will remain at most half. At this point the presence of a slot for a microSD card can be considered as certain.
According to AnTuTu, Nokia 2 will also have an 8-megapixel rear camera and a 5-megapixel front camera. Everything will be controlled by Android 7.1.1 Nougat. Nokia 2 recently appeared on the site of one of the US stores where it was indicated that the phone would cost $ 99. The legendary brand can, however, help this model a bit ...
Source Specspricenigeria; viewed: 894 times.