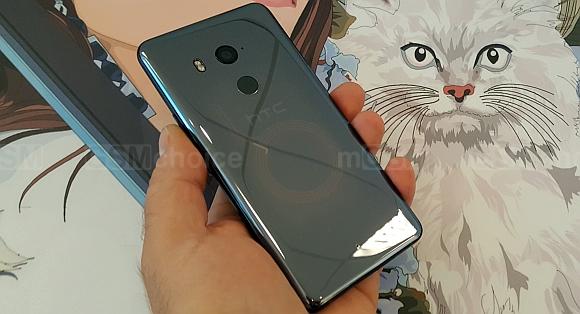 photo: Adam Łukowski/GSMchoice.com
HTC today introduced two new models - HTC U11 Life and HTC U11+ - belonging to the HTC U family.
Both new models are similar in styling and their capabilities to the flagship HTC U11. Both have also Android system in their latest version 8.0 Oreo.
HTC U11+ is - as suggested by the name - an enlarged and improved version of the flagship. The model uses a 6-inch SuperLCD 6 with 18: 9 aspect ratios and a QHD+ resolution with 1440x2880 pixels. The smartphone has a metal frame and two glass panes, and the screen protects Gorilla Glass 5. The HTC U11+ housing is fully dustproof and waterproof, according to IP68 certification. HTC U11+ is uses an eight-core Snapdragon 835 processor, powered by 6 GB of RAM. The UFS 2.1 data storage capacity is 128 GB and can be expanded up to 2 TB with a microSD card. Regionally, a variant of 4 + 64 GB will also be available.
HTC U11+ features an enhanced HTC Sense interface. We'll find in it HTC U11 Edge Sense - that is, support for compression - now in an improved version with wider capabilities. The phone also supports Google Assistant and Amazon Alexa, as well as Sense Companion - a system of hints based on the user behavior. HTC U11+ also has advanced audio features. There are U Sonic headphones - actively muting ambient noises and adjusting the sound to the user's ears - as well as Boom Sound speakers with an enlarged acoustic chamber inside the smartphone casing. The phone is Hi-res audio certified and supports the aptX and LDAC codecs.
Of course we'll find in HTC U11+ the LTE cat.15 module, as well as dual band Wi-Fi, Bluetooth 5.0, NFC and GPS/Glonass. Powered by a 3930mAh battery with Quick Charge 3.0 charging and a wireless charging option that was lacking in U11. There are two single-lense cameras responsible for photography.
The rear has a brightness f/1.7 lens, 12-megapixel BSI UltraPixel, a fast autofocus and an optical image stabilization. The camera records RAW files and FullHD movies in slow motion at 120 fps and high definition 4K, and also has an audio zoom with 4 microphones. The front camera has 8 megapixels and a lens with a f/2.0 aperture and a field of view of 85 degrees. Both cameras can record images in HDR Boost mode, combining multiple frames with different exposure levels.
HTC U11+ will be available in a traditional black casing, as well as in a bizarre geek version - with semi-transparent "back", revealing a wireless coil. The price of HTC U11+ will be 799 euro.
HTC U11 Life is a slightly lowered positioned model from the flagship U11 and U11+. The phone belongs to the Andoid One program, which means the raw form of the system and frequent, regular updates to the system with security patches. In the US, however, there will be a version of this model with a HTC Sense interface overlay.. HTC U11 Life comes with a metal frame and a front and rear finished with two pane glass panels that give the device a distinctive look. Just like in HTC U11, the fingerprint reader is placed on the front of the casing, under the 5.2-inch SuperLCD FullHD display. The housing is dustproof and waterproof, according to IP67 certification.
The heart of the phone is an eight-core Snapdragon 630 processor that will be paired with two memory variants. The first set includes 3 GB of RAM and 32 GB of flash memory, and the second one is a 4 + 64 GB memory, both of which, of course, can be upgraded with up to 2 TB with a microSD card. HTC U11 Life powers a 2600 mAh battery. The smartphone has LTE, Wi-Fi 2.4/5GHz, Bluetooth 5.0 and NFC, GPS/Glonass/Beidou, and USB-C connectivity.
HTC U11 Life is equipped with the HTC flagship solutions, first used in HTC U11. We're speaking primarily about Edge Sense - the ability to handle selected functions of the phone by squeezing the casing. Now it has expanded the functionality of this interface - for example, to zoom in on text or maps, and to create additional, quick menus for one-hand operation. HTC U11 Life also features HTC, powerful speakers and headphones with active noise reduction and U Sonic, which adjusts to the user's hearing capabilities. In the photo section we have two single cameras - both with 16 megapixels. Both are equipped with BSI and aperture of f/2.0. Both have HDR Boost, combining multiple shots with different exposures into one high-pitched image, and the main camera has the option to record RAW and 4K movies (front-shoot FullHD video).
HTC U11 Life will be available in black or navy blue for 369 euro.
Source GSMchoice.com; viewed: 1858 times.