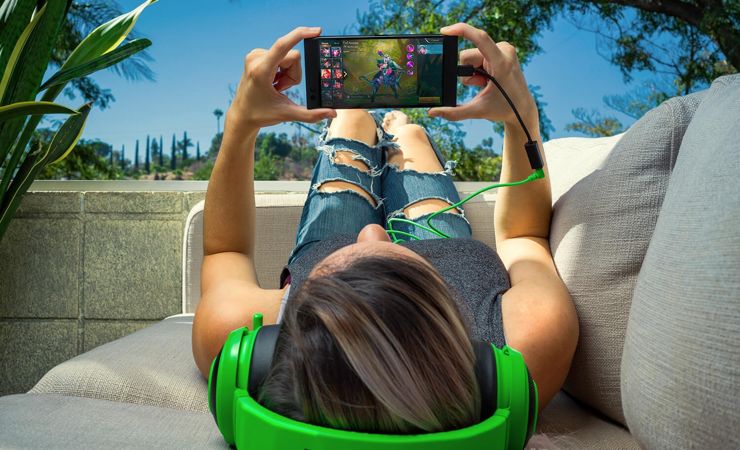 photo: Razer
The Razer company has officially presented Razer Phone - the first smartphone from this brand, created for the players.
Razer Phone does not astonish with its looks. It has a display with a rather wide bezels along its shorter sides and a rather simple shape that lacks any visible ornaments. Fortunately wide bezels are not empty – we can find there stereophonic speakers with the Dolby Atmos system, in order to ensure a decent sound in games.
Another element used with players in mind is the display – this is a 5.7-inch IGZO matrix with a 2560x1440 pixels resolution with a refresh rate on the level of 120 Hz – the same as in decent TVs or monitors. The Ultramotion technology is responsible for the smoothness of animations, it is worth mentioning about a wide colour range that can be displayed as well, and the whole is protected by Gorilla Glass 3.
A gaming phone must be efficient – and it will be, because Razer Phone has a Snapdragon 835 CPU and 8GB of RAM, but – what is interesting – it has 64GB of internal memory, which might not be enough for advanced gamers. As a consolation there will be a 4000 mAh battery with the quick charging option in the Quick Charge 4+ standard. Razer Phone has of course all necessary connectivity modules, like LTE, Bluetooth 4.2, NFC, GPS or Wi-Fi. It does not have a minijack socket, but it has an adapter with the THX certificate.
Razer Phone does not have the latest Android version – though it has already been promised. For now the device uses Android 7.1.1 with the Nova Launcher Prime Razer Edition interface. In the photography section of Razer Phone we will find a dual main camera with 12 and 13 megapixels matrixes and – respectively – with f/1.75 and f/2.6 (tele) lenses, as well as the front 8 Mpx f/2.0 camera. Razer Phone will hit stores on the 17th of November and its price will be 699 dollars in the USA or 750 euro in Europe. The standard version has a white logo on the housing, but there will be a special (probably more expensive one) – with a green logo.
Source: Razer; viewed: 1508 times.