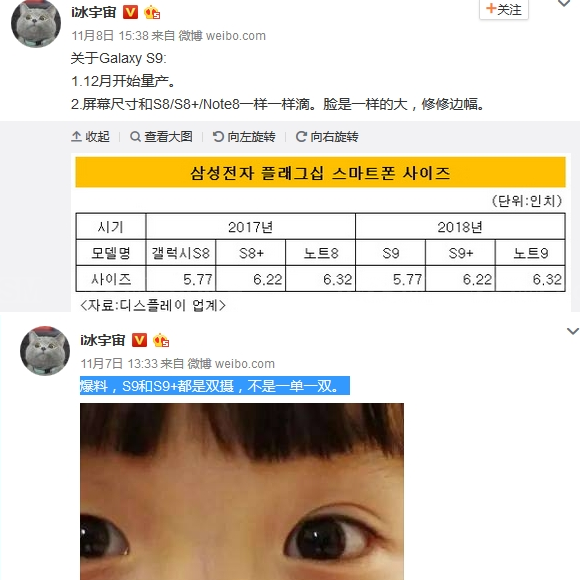 photo: IceUniverse on Weibo
The well-known Chinese leakster claims that Samsung Galaxy S9 will debut much earlier than the last generation of Galaxy S. It will be announced in February.
A popular Chinese leakster known as IceUniverse claims that the next generation of Samsung flagship will appear earlier than we thought. Some time ago Samsung's flagships debuted at the MWC (February) and Note - in September at the IFA. In recent years Samsung has changed its launch calendar - and Galaxy S was shown in March, and Note's - in August. Now we are expecting another change, at least in the case of Galaxy S - the launch will be accelerated.
The Chinese maintains that Galaxy S9 will be launched in December this year, the launch will take place in January 2018, and in February the phone will be on store shelves. We do not know why it is to happen like this, but at this point we may suspect that Samsung will show the phone at the beginning of January at CES, or will organize a separate event, just before the MWC, which will begin at the end of February.
IceUniverse will also reveal details about the new Galaxy S model. According to him, the smartphone will keep the screen size the same as Galaxy S8 and S8+ - 5.77 and 6.22 inches. Previously, he also wrote that Galaxy S9 will have a minijack slot as well as a dual camera like Note8. We can also assume that it will be the first model to be equipped with a Snapdragon 845 processor, alternating with the new Exynos 9810. If IceUniverse is right, then this year we are waiting for many leaks on Galaxy S...
Source IceUniverse na Weibo; viewed: 1110 times.