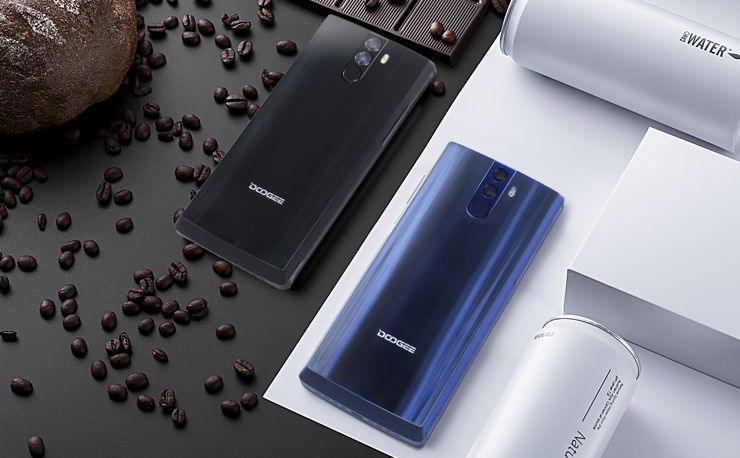 photo: Doogee
Doogee unveiled the Doogee BL12000 model, standing out with its remarkable battery life.
Interestingly, the battery with a capacity of up to 12000 mAh (consisting of two packets of 6000 mAh) did not have too big influence on the dimensions of the phone. Doogee BL12000 is 14 mm thick, which makes it with this battery acceptable. It's a bit worse with the weight of the smartphone - it weighs as much as 300 g. But something for something - we gain up to 5 days of normal use, as the manufacturer says. According to factory data, it can still be converted to 90 hours of continuous talk, 25 hours of watching movies or 42 days of standby. Obviously, the manufacturer's promises concern the use in ideal conditions - but even sharing it in half - Doogee BL12000 is fine. It is worth mentioning that the battery can operate as a powerbank - via USB-OTG.
In addition to the large battery, Doogee BL12000 also has a large, 6-inch screen with an aspect ratio of 18: 9 and a resolution of 2160x1080 pixels, giving a contrast of 1100: 1. The heart of the phone is the eight-core MediaTek MT6750T processor, powered by 4 GB of RAM and the MALI-T860 graphics chip. Internal memory is 32 GB and can be expanded with a 256 GB microSD card, but in a hybrid slot, at the expense of the DualSIM.
Doogee BL12000 also includes a dual camera with 16 and 13 megapixels and an aperture of f/2.0, as well as a self-contained dual front camera with 16 and 8 megapixels, with a wide angle lens of 130 degrees. The device complements the fingerprint reader, and all is managed by Android 7.0. The smartphone supports LTE (including B20), and the price is (according to unofficial sources) about 175 euro. The phone is available in black and navy blue.
Source Doogee; viewed: 1720 times.