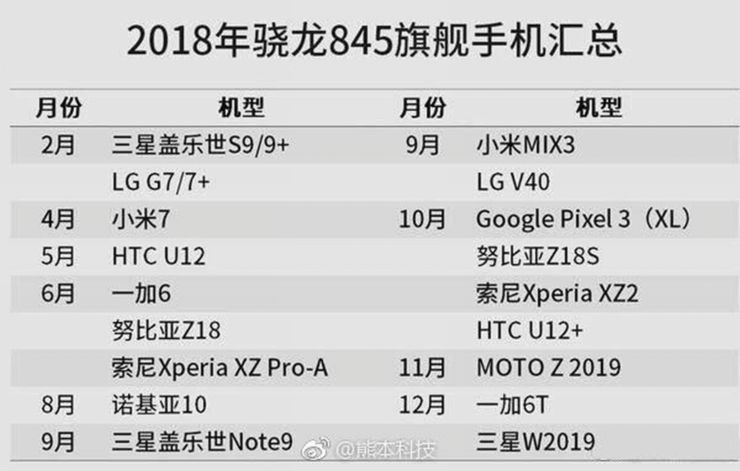 photo: Weibo via Gizchina
A curious list came to us from the Chinese Weibo community. It mentions smartphones that will be equipped with the Snapdragon 845 processor. What's more, the dates of their launches are indicated.
It's been a long time since there was such an interesting, yet simple and significant leak. We have a table that lists all next year's smartphones that will receive the strongest Snapdragon. We learn not only the exact names of individual models, but also the schedule of their launches, broken down into months. Of course, this is not a completely reliable leak, which is why I suggest treating it with a healthy dose of skepticism. Nevertheless, let's look at the list...
Here is a list of models that we can expect in the entire next year. It is worth noting that the processor - according to previous information - will go to the first devices in February.
FEBRUARY: Samsung Galaxy S9 and S9+, LG G7 and G7+
APRIL: Xiaomi Mi 7
MAY: HTC U12
JUNE: OnePlus 6, ZTE nubia Z18, Sony Xperia XZ Pro-A
AUGUST: Nokia 10
SEPTEMBER: Samsung Galaxy Note9, Xiaomi Mi Mix 3, LG V40
OCTOBER: Google Pixel 3 and 3 XL, Nubia Z18S, Sony Xperia XZ2, HTC U12+
NOVEMBER: Motorola Moto Z 2019
DECEMBER: OnePlus 6T, Samsung W2019
Source Gizchina; viewed: 670 times.