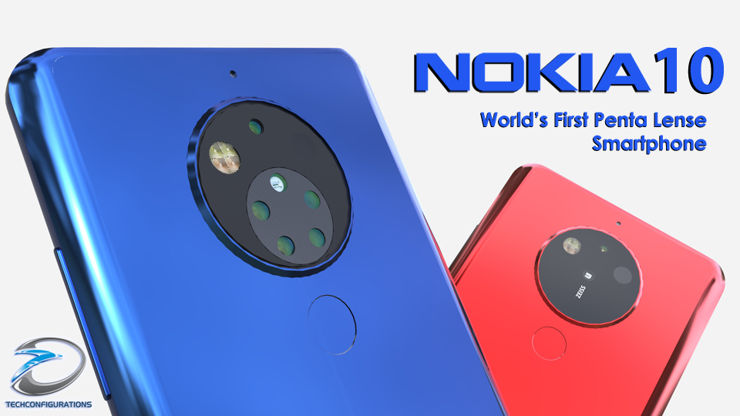 photo: TechConfigurations
A few weeks ago we described how the five-lens system in Nokia 10 may work. Today - we can share with you conceptual graphics and animations that present this solution.
Although we are still not really sure if the solution described in the Zeiss patent will actually go to Nokia 10. However, this should not be ruled out considering the video that Nokia released at the time.
Nokia smartphones to feature ZEISS optics. Together, we look forward to an exciting journey into the future of smartphone imaging. pic.twitter.com/GNWwuMAveK

— ZEISS Camera Lenses (@ZEISSLenses) 6 lipca 2017
The clip clearly shows the layout in which the lens changes mechanically, and thus the parameters of the lens. Exactly like in the Zeiss patent. Lenses mounted on the wheel would move over the matrix, so we would have different focal lengths at our disposal. The mechanism would be a bit thicker than a fixed lens module, but still thinner than a variable focal length lens.
How a smartphone with such a solution can look like - you can see on the attached graphics and film. As you can see, a rather large, round frame of the camera has been used here - but similar element has already appeared in Nokias produced in the time of marriage with Microsoft. There would be nothing unusual in this stylization. The internal construction would be different. The concept assumes that the wheel with different lenses is hidden under the cover - and only two lenses, a rangefinder sensor and an LED flash are visible outside.
There will be a round fingerprint reader under the camera, as it should be assumed that Nokia 10 will have a 18: 9 frameless display- it should be AMOLED with a diagonal of approx. 6.2 inches. In the interior of the phone we expect Snapdragon 845 and 6 or 8 GB of RAM. Rear cameras should have a resolution of 16 megapixels, while the front cameras - at least 8. These are the general assumptions - but remember that this is only a concept created by hobbyists. We will have to wait a bit longer for specific information - Nokia 10 is unlikely to be in the range of models that will be presented at the MWC.
Source Techconfigurations; viewed: 961 times.