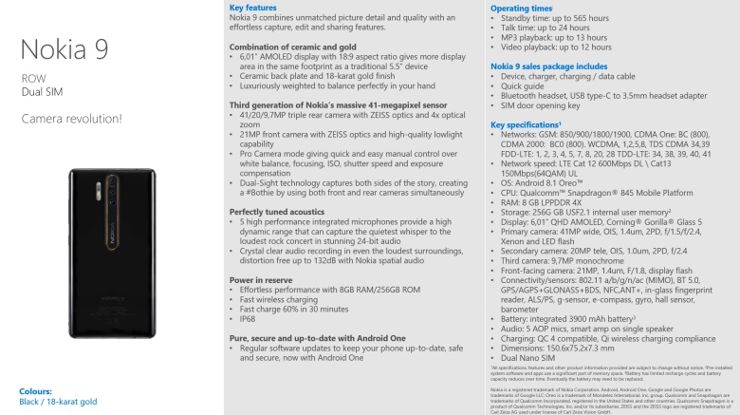 photo: Pocketnow
The week greets us with a curiosity about Nokia. There is a Nokia 9 specification that looks impressive enough to raise concerns about its authenticity.
On the network appeared the alleged specification of the upcoming HMD flagship, containing quite detailed information. If they confirm - it will be a very interesting phone. Interesting enough to approach the data disclosed today very carefully. Here they are ...
Nokia 9 is to be promoted with the slogan "Camera revolution". This is probably due to the back camera signed by Zeiss, which is to include three matrices with resolutions of 41, 20 and 9.7 megapixels. The first two are supposed to have optical stabilization, while the smallest one will be monochromatic. The 41 Mpx matrix will have a lens with a variable f/1.5-2.4 aperture and a 20-megapixel lens will be hidden behind a f/2.4 telephoto lens. The combination of sensors will allow a lossless 4x zoom. There will also be a manual mode or two-way image of the Bothie, supported by the front camera 21 Mpx, f/1.8. There will also be a combined lighting lamp connecting Xenon and LED flash. Cameras will be complemented by a system of 5 microphones, recording 24-bit sound ensuring good quality even when recording sounds with a strength of 132 dB.
As befits a flagship, Nokia 9 will also receive a 6.01-inch QHD AMOLED screen, Gorilla Glass 5, and a ceramic casing with gold accents, meeting the requirements of the IP68 resistance certificate. The fingerprint reader is to be integrated with the display. The heart of the phone is to be Snapdragon 845 with 8 GB of RAM and internal memory of 256 GB. Nokia 9 is to have Bluetooth 5.0, NFC, dual band Wi-Fi, LTE cat.12/13, Dual SIM and a gyroscope, and the power supply will provide its battery with a capacity of 3900 mAh with the possibility of accelerated (QC4) or wireless charging (Qi). A minijack will be replaced by the USB-C adapter. Everything is supposed to work under the control of Android 8.1, and the housing dimensions are set to 150.6 x 75.2 x 7.3 mm. It sounds fantastic, but is it true ...?
Source Pocketnow; viewed: 629 times.