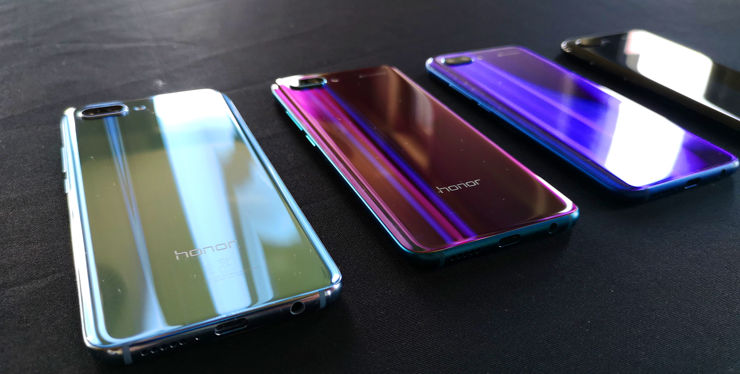 photo: Jacek Filipowicz/GSMchoice.com
Honor 10 today, on May 15 in London, has its launch in versions for European markets. The tenth jubilee model will be released in 4 colour versions, including two opalescent ones.
First in China, then in London
We had to wait for Honor 10 for a long time. The official Chinese plaunch took place on 19 April - and then we got to know the specification of the smartphone. Today, we know which versions of the model we can buy directly in stores, or choose in operator offers. The smartphone will be available in green (Phantom Green), blue (Phantom Blue), light gray (Glacier Gray) and black (Midnight Black) in two versions of memory, except that the green one will be available only in the more expensive version.
Honor 10 almost like Huawei P20
The smartphone is very similar in technical terms to Huawei P20, but there are minor differences. The Kirin 970 processor is common for both smartphones, they have very similar sizes and display resolution, the dimensions and weight of both smartphones are similar. It is worth using our comparison site to check the similarities and differences a little more closely, paying particular attention to the cameras.
A glance at the technical specification
Honor 10 was based on a strong main unit with a 2.4 GHz clock. In Europe, we will get 4 GB of RAM and 64 or 128 GB of flash memory. - To calculate the capacity left for the user, we should subtract about 12 GB per system and installed applications. The IPS display has 5.84 inches, works at a resolution of 1080x2260 pixels and - as it is easily seen - fills almost the entire previous smartphone panel. The characteristic notch has a front camera, loudspeaker and a light/proximity sensor.
Cameras and a battery with AI support
The dual back camera is equipped with 24 and 16 megapixel matrices, a LED flash and invisible, but effective photo artificial intelligence, which can choose the right parameters so that the picture taken looks optimally. Artificial intelligence recognizes more than 20 different scenes and objects: it can make a great portrait, landscape, photo of your favorite pet, flowers, greenery, snow, blue sky, and also manage in worse lighting conditions. I invite you to look at a few photos in original sizes and without any processing. - If someone does not like invisible helpers and does not quite meet the parameters chosen by AI, he can easily give up its help. The button responsible is always visible in the camera interface.
In the front, we have 24 megapixel matrix, which is noteworthy for a selfie camera. In addition, the software has the ability to take a portrait with several artistic effects. The 3400 mAh battery is responsible for supplying the whole device, which also works optimally thanks to the additional software allowing for personalized selection of the economical mode of operation of the device. Additionally, it supports SuperCharge. Up to 50% can be charged in 25 minutes.
Honor 10 - a well-connected smartphone
Honor 10 has a USB-c socket, it has a 3.5 mm audio jack - which will probably be appreciated by supporters of wired headphones. It also has a BT 4.2 interface (for those who do not like cables) and WiFi, both 2.4 and 5 GHz. Payments without cash and wireless will be possible thanks to NFC. In addition, an infrared diode can be found on the upper edge of the case: you will not have to move from the sofa in search of a TV remote control or audio equipment. The whole works under the control of Android 8.1.
Aesthetics of performance
The smartphone is made extremely aesthetically, as this size of the display it is compact and fits perfectly in the palm of our hand. A multi-layered housing makes a great impression, which opalesses in all versions, but in green and blue it also seems to change colour depending on the type of lighting. The set of rear cameras protrudes slightly above the surface of the casing, so you should immediately think about buying an additional protector.
Both the casing and the pre-protected with foil screen easily catch fingerprints, but thanks to the oleophobic coating it is very easy to remove all dirt. One disadvantage may be the lack of memory card support. Honor has a double drawer for nano-SIM cards, but it does not allow the addition of external memory. When configuring from 64 or 128 GB of internal memory, this is not a great inconvenience, but still.
The manufacturer decided to put a fingerprint reader under the display. Thanks to the technology of fingerprint recognition using ultrasounds, the reader does not protrude above the casing, it is barely visible and almost imperceptible - aesthetically pleasing.
Honor 10 - software
In the software, we find applications characteristic today for the Huawei and Honor brands. There is therefore an invaluable phone manager that optimizes energy consumption, cleans the memory and scans the smartphone for viruses. There is a versatile multilingual translator, HiCare, or intelligent remote control. - However, the Booking, Netflix and eBay applications are not quite needed from the beginning on the smartphone. On the plus side: all can be easily uninstalled if you do not use it.
Honor 10 - prices
Not available in Europe versions of 6 GB RAM + 64 GB flash and 6 GB RAM + 128 GB flash cost in the calculation (without taxes and duties), respectively, about 346 and 400 euro. Those that will be available on European markets, ie 4 GB RAM + 64 GB flash and 4 GB RAM + 128 GB flash will cost respectively: 399.90 and 449.90 euro.

I think that whether it is a lot or not much it is worth deciding after comparing the prices of the Honor 10 smartphone with the prices of the Huawei P20 also available here, but you need to consider better cameras in the first.

is a pleasant device to use - at least for the moment since I have it in my hands. It makes really cool photos and looks amazing. It will be difficult not to pay attention to it on store shelves. Somewhat closer we will look at it after the launch, during tests. - And for now, I invite you to:

Source GSMchoice.com; viewed: 442 times.