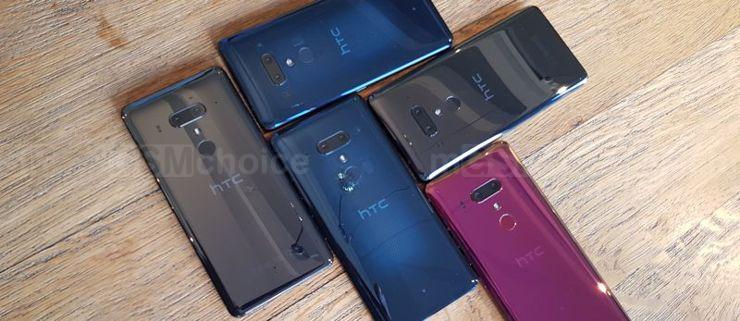 photo: Adam Łukowski/GSMchoice.com
HTC today officially announced its flagship for 2018 - HTC U12+. The new model refers to its predecessor, tried and tested solutions were used, adding some significant new ones.
We may start with what you are most interested in. HTC U12+ has been priced at £699/€799 and will soon be in stores. HTC U12+ will be available in three different colours: classic black, red and "technical" with semi-transparent "backs". They all look really great. The housing - similarly to U11 - was based on a metal frame and two glass panes. The front - it's Gorilla Glass 5, and the back - as I learned unofficially - Gorilla Glass 3. The casing is waterproof (IP68), and now even stiffer, thanks to the replacement of mechanical buttons that require the holes in the frame - electronic. Touching them signals vibrations and gives an interesting but clearly perceptible feeling. The phone measures 156,6x73,9x9,7 mm and weighs 188 g.
Do you wonder where the U12 model is...? It's not here! Last year, HTC showed the flagship U11 model, and in the second half of the year, the "more flagship" U11+. This time we have only one top model - maybe it's better...? But do not worry, it's possible that there will be some smartphones from the cheaper Desire series, and let's not forget about the announced, super safe smartphone HTC Exodus, based on blockchain technology. Let's return to what we have here and now...
Let's take a look at the specification. HTC U12+ has a 6-inch screen SuperLCD 6 with a resolution of QHD (537 ppi) with support for HDR10. The bezels have been narrowed, but fortunately there is no notch. The heart of the phone is Snapdragon 845, supported by 6 GB RAM and 64 internal memory. It is possible that there will also be a variant with 128 GB memory - but for now it has not been announced. The phone also has a microSD card slot, dual-band Wi-Fi, Bluetooth 5.0 and NFC, it is also known that it will be offered in both the DualSIM hybrid and single-card version.
There will be of course also LTE, GPS navigation, Glonass, Beidou and Galileo, as well as Usonic technology and BoomSound speakers. Speakers use the inside of the housing as a resonance box, and the headphones are the same as in U11 - automatically adjust the sound to the user's hearing capabilities and at the same time reduce the ambient noise. It is a pity that they do not use a minijack - but the technology used in them probably just excludes it.
HTC U12+ debuts with Android 8.1, but will receive an update to Android P, it also has, of course, the Sense interface with support for Edge Sense. This interface has new functions. In addition to those we know from U11, we now have the option of squeezing an additional semicircular panel with shortcuts. It fits perfectly under the thumb, and the shortcuts behind it can of course be defined by yourself. Another new feature is the option of "duplicating" the system buttons at the edge of the screen - also squeezing. This makes it easier to handle the phone with one hand. HTC U12+ also introduced intelligent screen blanking (does not go out while we look at it) and control the rotation of the interface - the phone has to guess whether the device rotation is accidental or intentional.
HTC U12+ also has a whole new set of cameras. Both are double, according to the prevailing fashion. The front has two 8-megapixel matrices with f/2.0 lenses and a field of view of 84 degrees. We have a background blur effect, an AR sticker and the option of using a screen flash as a backlight. The front camera records video in FullHD and supports face recognition. The rear camera is also dual, with 12 and 16 Mpx matrixes, f/1.75 and f/2.6 lenses, and optical stabilization and lossless 2x zoom. You can also get a digital zoom up to 10x, blurring the background, AR effects, and also record movies in 4K/60kl/s. During the filming, you can use the automatic "cinematic" zoom in (approach), as well as the sound zoom, using the four microphones of the phone.
Power supply of HTC U12+ provides a battery with a capacity of 3500 mAh, equipped with a quick charging system - but unfortunately the new model doesn't have wireless charging. According to the manufacturer, the battery provides up to 23.8 hours. calls in 3/4G networks, and up to 50% will fill in 35 minutes.
Source GSMchoice.com; viewed: 921 times.