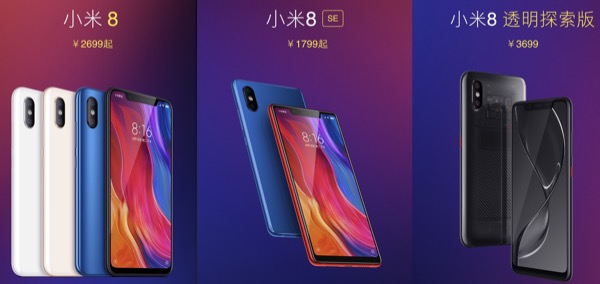 photo: Xiaomi
The Xiaomi Mi 8 model was officially presented – as announced – in China. Together wit it debited models: Xiaomi Mi 8 Explorer and Xiaomi Mi 8 SE.
It's hard to talk about a surprise - a lot of information about the phone was known a few days before the launch. From the chronicler's duty - we must, however, confirm the data and equipment of the jubilee Xiaomi.
The model for the 8th anniversary of the company has a 6.21-inch AMOLED display from Samsung, with an aspect ratio of 18.7: 9 and a resolution of 2248x1080 pixels. The screen has a notch, which may not be liked by some - but there is an option in the software that allows you to "hide" the undesirable detail. The heart of Xiaomi Mi 8 is the Qualcomm Snapdragon 845 octa-core processor, supported by 6 GB of RAM. In turn, the internal memory will be available in three variants - 64, 128 and 256 GB. Unfortunately, it cannot be expanded. There is also no minijack, but there is a dual GPS, using the bandwidth used in the aviation for communication - and thus giving greater precision in positioning.
Xiaomi Mi 8 has a face recognition system that uses an IR sensor and operates even in low light - while the front camera has 20 megapixels and a lens with f/2.0 aperture. The rear camera consists of two 12-megapixel sensors (Sony IMX363 and Samsung S5K3M3), with lenses f/1.8 and f/2.4, the second of which is a telephoto lens that provides lossless zoom. Of course, all cameras are supported by software using artificial intelligence. The Mi 8 camera has reached 99 points in the DxOMark photo-benchmark. Power is provided by a 3400 mAh battery.
Xiaomi Mi 8 will also be offered in the Mi 8 Explorer version, which will have a memory of 8+128 GB, a translucent back panel and a fingerprint reader integrated with the display. It is powered by a 3000 mAh battery. There will also be the Xiaomi Mi 8 SE version, a 5.88-inch AMOLED screen, a Qualcomm Snapdragon 710 processor and a rear camera with 12 and 5 megapixel sensors. A new Xiaomi Mi Band 3 band was also shown, with a 0.78 inch 128 x 80 pixel OLED screen, a heart rate monitor, a pedometer, Bluetooth 4.2 and a 110 mAh battery. The band will also be offered in the NFC version, enabling contactless payments, and the prices will be 169 or 199 yuan, or 27/31 dollars.
Xiaomi Mi 8 prices will be:
6+64 GB - 2699 yuan, 422 dollars.
6+128 GB -2999 yuan, 469 dollars.
6+256 GB - 3299 yuan, 516 dollars.
Explore Edition 8+128 GB - 3799 yuan, 594 dollars.
Mi 8 SE - 1799 yuan, 280 dollars.
Source Xiaomi; viewed: 499 times.