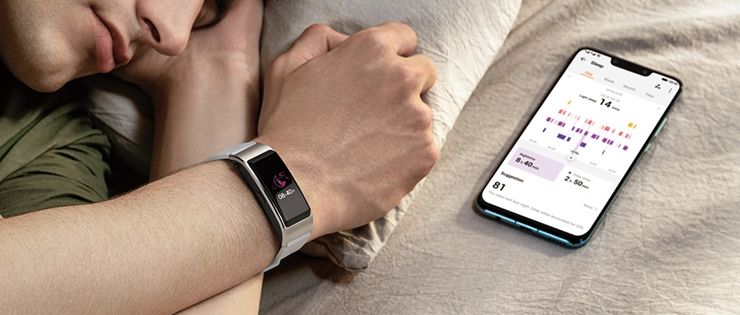 photo: Vmall/Huawei
PSimilarly to Huawei Nova 3, the promised TalkBand B5 wristband also jumped into the Vmall store.
Therefore, almost everything is known about this device - except for the price, which will probably be shown during the "more official" launch. TalkBand B5, like the previous generations of this device, is a combination of a simplified sport smartwatch with a Bluetooth headset.
For this reason, the steel casing was sealed in accordance with the requirements of IP57 certification, topping its surface with a 1.13-inch AMOLED display and a resolution of 300x160 pixels. The headband has 16 MB of internal memory, 1 MB of system memory and 512 KB of RAM. The power supply provides a 108 mAh battery that charges for 2 hours and allows for 6-hour talk or 3-3.5 days of TalkBand use as a band. The equipment includes a heart rate monitor, an acceleration sensor, Hall and a gyroscope. The device uses Bluetooth 4.2 and works with phones with Android 4.4 or iOS 9.0 and newer.
The band has a colour screen and transmits messages from the phone, and besides, it can monitor the pulse, sleep, exercises and display training tips. As we are dealing with the function of the handset, you can answer and end calls at the device level. As far as I understand Chinese translation, caller identification and contact list support are possible only in cooperation with Huawei phones with EMUI 4.1 or newer overlay.
Source Vmall; viewed: 921 times.