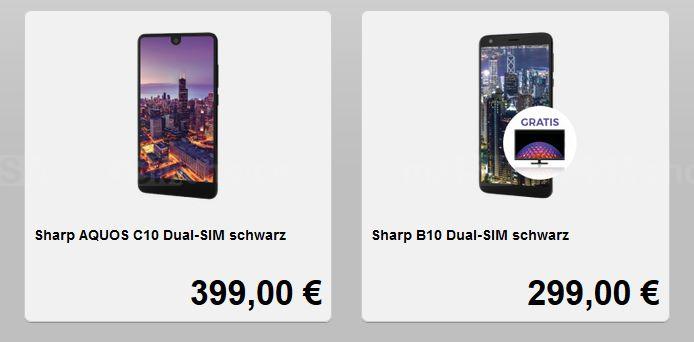 photo: HandyFlash
Rumours about the introduction of Sharp smartphones to the European market have been heard for a long time, actually from the IFA 2017 fair - and probably something has finally shifted. Sharp B10 and Sharp Aquos C10 appeared in Germany.
We waited and waited - and finally here they are. In one of the German stores, two out of the five models announced for the European market appeared. Contrary to earlier information, the phones will probably get to us with Sharp's names, and their prices will be more affordable than previously anticipated. Deliveries - supposedly in three weeks. Both models can be bought in bulk and with subscriptions in Germany.
Sharp Aquos C10, formerly known as E-H1 is a model closely related to Aquos S2 - has a characteristic cut, 5.5-inch screen with a resolution of 1080x2040 pixels with a fairly wide bottom frame, hiding a fingerprint reader and the Snapdragon 630 processor, supported by 4 GB of RAM. The phone also has 64 GB of data memory, cameras with resolutions of 8 (front) and 12 + 8 (back) megapixels and a battery with a capacity of 2700 mAh. Its price is 399 euro.
Sharp B10, formerly known as E-M1, is 100 euro cheaper. Cheaper - means weaker. This smartphone has a 5.7-inch HD + screen, an octa-core MT6750T processor with 1.5 GHz clock speed and 3 GB of RAM and 32 GB internal memory. The device is also equipped with two 13-megapixel cameras (rear with an auxiliary matrix of 8 Mpx) and quite a large battery - 3840 mAh. Unfortunately, unlike the model described above, using Android Oreo, this one works on Android 7.0. To make it more interesting, a 24-inch TV is added to the Sharp B10 in German pre-sale, which suggests that the phone itself may be slightly cheaper later than today.